My ad hoc series on Holy Week liturgies continues (see here and here). I realize this is too late to make much difference this year for folks, but perhaps some useful conversations will ensue.
Seriously, this one is for liturgy geeks. Others can move right along…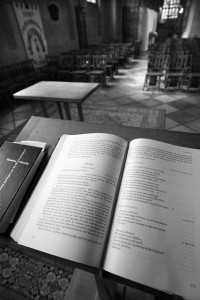 I've had two conversations with friends recently in which some confusion was expressed about the proper readings for Holy Week. It's understandable that there would be some confusion, because the Standing Commission on Liturgy and Music for the Episcopal Church has introduced a bit of a mess with the Holy Week readings.
Let's back up and see how we got to where we are, and that will allow us to see how to fix the mess. For most Sundays and Major Feasts, the readings are listed in the back of the Book of Common Prayer in a lectionary beginning on page 888. Keeping the material outside the "business part" of the prayer book allows the lectionary (in further confusion, this is called the "Table of Lessons" in our church's constitution, see Article X) to be revised easily at General Convention, in one sitting. The prayer book itself requires two meetings of General Convention and a more rigorous voting process. So the framers of our prayer book intended that we would not revise the prayer book lightly, but the framers did make it not too difficult to update the lectionary. So far, so good.