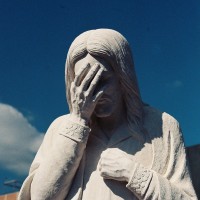 As we start our Lenten journey, I've been thinking about how easy it is for us to cheapen discipleship to the point it's no longer recognizable. Certainly I often fail to follow Jesus when it involves risk or great cost, so I'm not pointing the finger at everyone else here. Rather I'm noticing how hard it is for all of us, especially for folks like, I suspect, many readers of 7WD who are likely to be pretty comfortable.
In our church — and in our liturgy — we often polish off the rough edges, the places that might push us. For example, instead of declaring things, clergy like to offer limp wishes. "May the peace of the Lord…" or "May God bless you…" Or rather than declare absolution, we express hope and refuse to use the priestly imperative. The prayer book gives us strong language in these places, and priests are meant to make strong declarations, not express weak hopes.
During Lent, it makes some folks uncomfortable to say, as the Book of Occasional Services requires, "Bow down before the Lord" before the Prayer Over the People (if you use that instead of a blessing). All this has gotten me thinking: maybe we need to remember, both in our lives and in our liturgy, that it's hard, and often harsh, to be a Christian.
Personally, I like to leave the rough edges on, because they are reminders of what it means to follow Jesus. With that in mind, here's the alternative: the anti-Gospel.
So here's a list of things Jesus never said.