I am blessed to work with some of the very best people serving in the church today. Jay Sidebotham, the director of RenewalWorks, writes a column every week called Monday Matters. You can follow it on the RenewalWorks blog or subscribe to the column as an email newsletter. Jay writes thought-provoking and inspiring reflections each week, many arising out of his work with congregations and their spiritual growth. This is perhaps the single most exciting thing that Forward Movement is doing now, and I am grateful that Jay is leading it.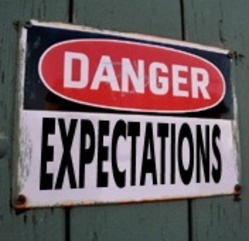 In this week's reflection, Jay raises excellent questions about our expectations in this expectant season of Advent. What do we expect in our spiritual lives? What do we expect in our churches? What do we expect when Jesus returns in glory?
The work with which I'm involved these days focuses on expectation, the expectation of spiritual growth in each of our lives, which leads to spiritual growth in our faith communities. It has brought a number of provocative exchanges. In one church, the conversation centered on how we move from here to there in the spiritual journey, how the church helps us do that, in fact, how that is part of what it means to be church, to grow and change and be transformed. One Episcopalian, in the spirit of full disclosure in the course of this work, said to her rector: "I don't really expect anything to happen to me when I come to church." I was grateful for the candor. She gave voice to what I often feel. I'm not always interested in change or growth or transformation. I'm not always prepared for it. I'm not always expecting it.

Advent tells us to live expectantly, to navigate the present moment guided by a sense of promise and hope in what God will do in days ahead. One of my favorite Advent hymns (and that's a tough call because Advent hymns are simply the best) is printed below. It calls us to be on the lookout for the long-expected Jesus. Here's what we might expect from that arrival. We can expect to be set free. To be released from fear and sins. To be consoled. To know hope. To experience deliverance. Ultimately, to be raised. Not a bad set of expectations.