A sermon preached on Good Friday 2014 at Church of the Ascension, Chicago.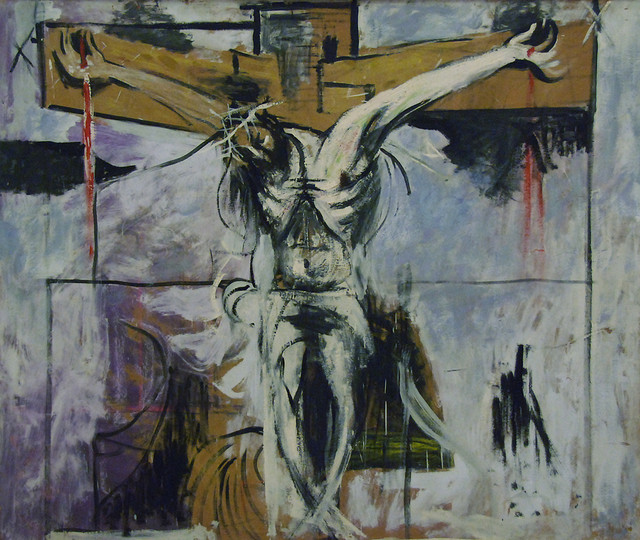 From the Passion according to St. John, "And again another scripture says, 'They shall look on him whom they have pierced.'"
In the name of God: Father, Son, and Holy Spirit. Amen.
This day provokes in us a wide range of deeply felt responses. I once knew a woman who had nightmares for several weeks before Holy Week, as she dreaded hearing and recalling the Passion. Some of us may have experienced violence in our own lives, violence that is echoed in what we have just heard. Or perhaps we are moved to tears by the depths of God's love for us, that God would suffer agony and death.
It shouldn't surprise us that Christians have, for centuries, looked for ways to comprehend what is incomprehensible. As we gaze on the Cross, if we are not overcome by horror and sorrow and gratitude, we simply aren't paying attention. It's difficult — impossible even — to fit this day into our human experience.
Many Christians have looked for someone else to blame for what happened on Golgotha. We have desired a way to shift responsibility away from ourselves and onto others. Too often, we have put all the guilt on our Jewish brothers and sisters, deliberately forgetting that Jesus himself and all his disciples were, of course, Jews. And I don't need to remind you, just a few days after violence perpetrated against Jewish organizations in Kansas City, that this is not an ancient problem, something that we have solved.
We are desperate to put distance between ourselves and the Cross. In American public Christianity, it is common to rattle off the bumper-sticker saying, "Jesus died for my sins." Of course, that's true, but this short sentence is also a caricature of our salvation history. The Cross is not something that is done, merely a past event that we can look back on with the easy distance of twenty centuries.
The fact is, as uncomfortable as foot-washing might have been last night, Good Friday eludes our embrace precisely because the intimacy that the Cross demands is greater than our ability to comprehend.