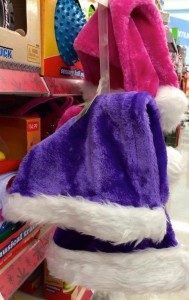 A few days ago, I posted a ridiculous photo on Facebook (on your right), making a joke about how Advent was finally getting some retail love — including Gaudete Sunday. See there? Purple hats for Advent I, II, and IV. And a pink, or rose, hat for Advent III. Just like the Advent wreath!
Someone pointed out in the comments that I was wrong, since the proper color of Advent is blue, not purple. Perhaps this person was joking, perhaps not. But this time of year, it's a conversation I'll have several times, as people debate the proper color for the season. For the sake of convenience, I have decided to put some thoughts into a blog post, so I can link here. You, dear 7WD reader, are the beneficiary of my commenting laziness. Because. I will definitively answer the question: What is the correct liturgical color for Advent?
Or not. Because, you see, there isn't one.