Thursday in the second week of Advent
Isaiah 41:13-20; Psalm 145:1-4,8-13; Matthew 11:7-15
Psalm 145:3
Great is the LORD and greatly to be praised; *
there is no end to his greatness.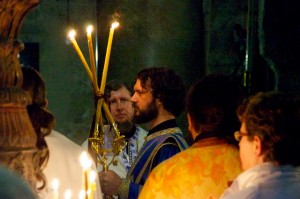 From St. Augustine's Exposition on the Book of Psalms (Psalm CXLV)
"Great is the Lord, and very much to be praised" (verse 3). How much was he about to say? What terms was he about to seek? How vast a conception hath he included in the one word, "very much"? Imagine what thou wilt, for how can that be imagined, which cannot be contained? "He is very much to be praised. And of his greatness there is no end;" therefore said he "very much:" lest perchance thou begin to wish to praise, and think that thou canst reach the end of his praises, whose greatness can have no end. Think not then that he, whose greatness has no end, can ever be enough praised by thee. Is it not then better that as he has no end, so neither should thy praise have end? His greatness is without end; let thy praise also be without end.
Reflection
This will be a short one. My sense is that in our church today, we too often focus on what's in it for us. Why is church good for us? What will it make us do for the world? What are the effects of liturgy on us and on our world? But St. Augustine helpfully spins it all around. It's not about us at all. It's all about God.