Tuesday in the third week of Advent
Zephaniah 3:1-2,9-13; Psalm 34:1-8; Matthew 21:28-32
Psalm 34:3 (RSV)
O magnify the Lord with me,
and let us exalt his name together!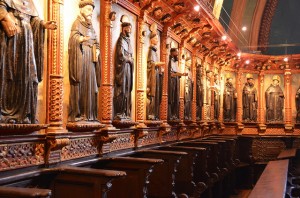 From St. Augustine's Exposition on the Book of Psalms (Psalm XXXIV)
Stir up then love in yourselves, brethren; and call to every one of yours, and say, "O magnify the Lord with me." Let there be in you that fervour. Wherefore are these things recited and explained? If ye love God, bring quickly to the love of God all who are joined unto you, and all who are in your house; if the Body of Christ is loved by you, that is, if the unity of the Church, bring them quickly to enjoy, and say, "O magnify the Lord with me."
Reflection
These are timely words for Episcopalians, we we draw near to our triennial General Convention this summer. Just now, the first of many legislative reports has been released. Already, people are hurling attacks and choosing sides. It would be well for us to treat one another within the church with love. Surely those with whom we disagree also love Jesus Christ and desire the health of the church?
To be sure, I might feel that others are wrong — on these issues or on any number of other issues. But I try (not always with success) to keep two things in mind. First, it is possible that I am the one in error. Second, even as a critique the positions of others, I need not attack other people, nor need I ascribe malice to their motives.