The second of my meditations on collects for an Advent quiet day offered at St. Stephen's, Providence. The first meditation is here and the third one here.
Collect for the Third Sunday of Advent
Stir up thy power, O Lord, and with great might come among us; and, because we are sorely hindered by our sins, let thy bountiful grace and mercy speedily help and deliver us; through Jesus Christ our Lord, to whom, with thee and the Holy Ghost, be honor and glory, world without end. Amen.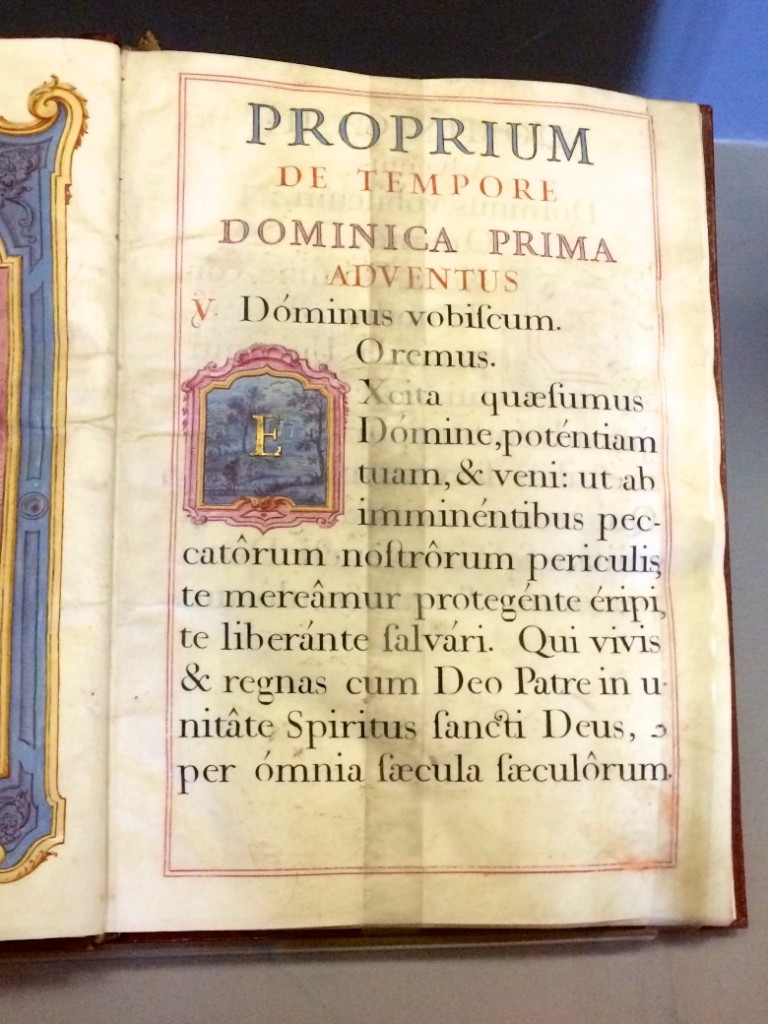 A couple of weeks ago, I was on vacation in Lisbon. Wherever I go in the world, I always enjoy visiting churches, and so I made it a point to visit the grand cathedral in Lisbon. You can pay a few Euros and visit the Treasury, and so I did that. There were lovely late medieval vestments and all manner of shiny liturgical items. It was glorious.
As I was staring into one of the display cases, I noticed an ancient illuminated missal. My Latin isn't particularly good, but I can usually recognize and sometimes even read ecclesiastical texts. I noticed one of the books was open to the collect for the First Sunday of Advent. With large illumination, the collect began EXCITA. Even with my inadequate Latin, I could gather that was "Stir up"! Excita! I was a bit captivated by that Latin word. I kept thinking about it. Excite! Stir Up!
When I got back to the hotel, I did some Googling, because I was curious about a collect for the first Sunday of Advent that began "Stir up!" It turns out, as some of you may know, that four of the five collects at the end of the liturgical year once began Excita! in much of the Western church. Apparently, the framers of medieval liturgical books thought the people needed some end-of-year, end-of-time stirring up. Our collect for the third Sunday of Advent finds its origin among the earliest medieval liturgical sources, one of those ancient end-of-the-year "stir up" collects.
I haven't really stopped thinking about "Stir up!" in the last couple of weeks. For some reason, I can't quite let it go. I am captivated by the idea of God stirring us up, of being stirred up by God's power. It really suggests we won't be left the same, that things will get mixed up in us and in the world through God's power. I think of the swirling nothingness at the beginning, out of which God brought all Creation into being, and how God's creativity continues in the world. Stir up thy power!