A couple of weeks ago, I attended a meeting of the Gathering of Leaders, as I do every year. It's a great colleague group, and I also enjoy the way each year's theme generates discussion. This year's theme is "Freedom, Creativity, and Accountability." There's a long subtitle and some blahblah, but the gist of the theme is in those three words (not counting "and," of course). At first, I thought this would be a bit of a boring theme, especially after last year's blockbuster, "Hope-filled, fear-less leadership."
Was I ever wrong! As I heard various presentations and spent time in small groups, I realized how many of the challenges we face as clergy and lay leaders are wrapped up in the intersection of freedom, creativity, and accountability. This has helped me crystalize some thoughts I'd been noodling around for a few months. It's also led me to a place of increasing exploration and uncertainty. Basically, I think we get these all wrong. Or maybe we just don't fully realize the potential of any of the three of them. Let's look at them one at a time.
Freedom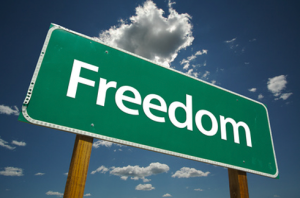 For Americans, this is the bomb. Sometimes literally. Whether it's politics or economics, we tend to practice a kind of discourse that privileges freedom above anything else. And that has infected our faith. St. Paul of course reminds us that we Christians are indeed freed from the Law, but that freedom comes at a cost. In Paul's view, we are meant to subject our freedom to any number of tests, including whether or not our own actions are edifying to others. In other words, we have freedom from some constraints, but the follower of Jesus is, in fact, merely a servant to other Christians and indeed to seekers (and perhaps to the world).