The Sharknado Church
After my recent blog post on zombie churches, the Crusty Old Dean rightly pointed out over on Twitter (where I hope you'll follow me) that zombies are so 2012. The COD challenged me, nay, triple-dog dared me to write a post about sharknado churches. As everyone knows, one cannot refuse a double-dog dare, let along a triple-dog dare. Since we're in the midst of Shark Week, it seems meet and right to say a few words about sharknado churches. I am indebted to an anonymous friend (who lives in a place where the sharknado threat is as real as it gets) for some insights here.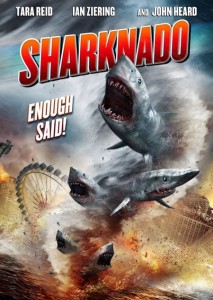 In the unlikely event you are one of six people in the universe unfamiliar with sharknadoes, the concept is simple: A tornado full of sharks. As a plot device for a campy b-movie, it's perfect. We're afraid of tornadoes! We're afraid of sharks! The sharknado twists several of our fears into one giant tower of terror, including our quite sensible fear of bad acting and terrible screenplays. On TV, sharknadoes can be delightfully entertaining. But there is another dimension here, underneath all the silliness.
Zombie movies and cultural atrocities such as Sharknado are popular now because they are Hollywood's way of answering our culture of fear. There are loads of cultural studies on how films and television reflect the hopes, fears, anxieties, and joys of society. In an era in which we are so afraid that we've surrendered any notion of privacy to secret government courts and in which we put up with humiliating searches for the sake of security theatre, it's easy to see why Hollywood would both celebrate and mock our fears. So last year it was zombies. This year it's sharknadoes. I'm going to go out on a limb and predict next year's meme will involve robots.
Anyway, as usual, I have digressed. The point of this blog post is to make an edifying connection between sharknadoes and church. It's actually not hard to do. Despite the fact that Jesus said, again and again, "Do not be afraid," the church is gripped by fear. We create one giant fearball after another. Witness the endless hand-wringing about whether or not "young people" will come to church, stay in church, or leave church. Witness the fearful fights over, say, arcane government policy issues while we refuse to engage in transformational discussions about our life together in Christ. Witness the fear of change, which gets down to the bizarre desire to avoid moving any furniture, ending any church activity, or starting any new ministries. Witness the strange ways the church grabs onto every blowing wind of cultural currency, hoping desperately to be relevant. Corporations are doing strategic plans, we should too! People are listening to a certain kind of music, we should play that! Consumerism is taking hold, let's make ourselves into a browsable commodity! People like to be amused, let's be entertaining! Everyone is busy, so let's squeeze the entirety of our Christian commitment into one hour a week!
We often try too hard. We become gripped by fear, and we sacrifice the point of church in order to make it convenient or easy. Of course, if one reads the actual Gospels, one is confronted with a faith that is not easy at all, and there is nothing "approachable" about following Jesus. Sell all that you have! Go, and sin no more! Take up your cross! Give up your life! Put that in your "The Episcopal Church welcomes you" pipe and smoke it.
So maybe while we are laughing at the ridiculousness of the sharknado, we should take a good, hard look around our church. Maybe we can see that the refusal to change, to grow, to risk, and even to die is every bit as laughable as sharks flying through the air.
Jesus kept going on about fear, and how we should't have it, for a reason. Jesus knew his followers, as human beings, would be consumed by fear left to their own devices. Jesus knows that we too will be eaten by fear, if not by flying sharks, without him. Do not be afaid! Words, literally, to live by. Or to die by.
Here's some reality:
The Episcopal Church and other denominations will get much smaller.
Committees will end.
Clergy will lose their jobs.
Beloved ministries will go away.
Diocesan and churchwide staffs are about to shrink, if not by design, then by constrained resources.
General Convention is about to get a radical overhaul, like it or not.
Loads of church buildings are about to be closed and sold.
Congregations whose identity is rooted in "we are a family" are doomed.
But here is some more reality:
If we can let go of our brittle institutional insecurity, the church (as an actual church) is poised to thrive.
Committees are so 1950. We can get stuff done these days on Facebook.
We don't need to have full-time paid clergy to have thriving congregations.
There is a whole world of new ministries waiting to be undertaken.
The early church did not have any program staff, and they did fine.
A church does not need a building.
In dying to our old selves, we find eternal life.
Jesus Christ is ready to transform our hearts, our lives, and the world itself, if we are open.
So laugh at Hollywood gimmicks. Then look around the fear-filled church. If the sharknado was defeated by bombs thrown by helicopters, how we do conquer fear in our congregations? Fortunately, I do not think we'll need either helicopters or bombs. (If you want a more thoughtul approach to all this, the kind of blog post that wasn't based on a dare to write about the "sharknado church," go read Ed Watson's excellent piece on numbers and decline.)
Meanwhile, I end with two lines. One is from the canon of sharknado, and the other is from Jesus. We need to hear both of them.
We can't just wait here for sharks to rain down on us.
Do not be afraid.