Singing the Sarum blues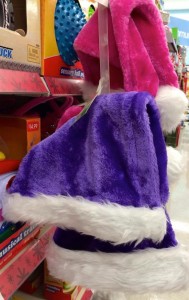 A few days ago, I posted a ridiculous photo on Facebook (on your right), making a joke about how Advent was finally getting some retail love — including Gaudete Sunday. See there? Purple hats for Advent I, II, and IV. And a pink, or rose, hat for Advent III. Just like the Advent wreath!
Someone pointed out in the comments that I was wrong, since the proper color of Advent is blue, not purple. Perhaps this person was joking, perhaps not. But this time of year, it's a conversation I'll have several times, as people debate the proper color for the season. For the sake of convenience, I have decided to put some thoughts into a blog post, so I can link here. You, dear 7WD reader, are the beneficiary of my commenting laziness. Because. I will definitively answer the question: What is the correct liturgical color for Advent?
Or not. Because, you see, there isn't one.
The Book of Common Prayer says not a word about liturgical color. While I believe some authorized liturgical materials from other Anglican Communion provinces specify color, there simply are no official colors in the Episcopal Church. You can use construction orange for the season after Pentecost and DayGlo green for Lent. And you'd be in conformity with the rubrics (though there are plenty of people who don't care about this).
So with that said, how do we know what colors to use? Generally, Anglicans follow Western Christian (read: Roman) custom with liturgical colors. So this means:
White for happy feasts and festal seasons
Red for blood and fire — martyrs, the Holy Spirit, Passiontide, and sundries
Purple for penitential occasions
Green for the leftovers — the seasons after Pentecost and Epiphany; there is no such thing as "Ordinary Time" in the Episcopal Church
A couple of decades ago, or maybe longer, a bunch of vestment companies realized that blue had been a liturgical color back in the day, and they decided to declare the Advent would use blue, not purple. This would differentiate Advent from Lent whilst selling a bunch of vestments at the same time. As an aside, about this same time, some people decided Advent isn't a penitential season, so this made good sense, to save purple for Lent. Never mind that Advent is, in fact, a penitential season, as demonstrated in the appointed collects. But I digress.
Anyway, I didn't bother to look any of this up, because I'm trusting that actual liturgical scholars will correct my grotesque caricature of a history. I'm confident my main point will stand, even as I look like a rube for simplifying too much. The point is that blue for Advent is largely a modern invention and — at the risk of sounding like a conspiracy theorist — I think ecclesiastical haberdashers are glad to have us thinking along the lines of Advent blue.
So every now and then, I'll get into a conversation with someone who advocates using blue for Advent. I'll ask them why they prefer this. When folks say that they like blue for purely aesthetic reasons, I have nothing further to add. If they say they like blue because they want to differentiate the season from Lent, I might disagree with their non-pentiential premise for the Advent season, but I can respect the reasoning of making Advent look different from Lent. Lord knows, Lent comes with some serious baggage.
But when people say that, as proper Anglicans, they favor Sarum usage, so they must use blue, I object. Strongly. You see, if they are going to use Sarum colors, the scheme would need to go like this, according to blessed Percy Dearmer, as reported by Taylor Marshall:

Red:
Every Sunday of the Year except in Lent
Passion & Palm Sundays
Good Friday
Martyrs

White:
Only the Blessed Virgin (and NOT for saints who weren't martyrs)
Lent

Blue:
St Michael

Yellow & Green:
Confessors

Black:
Requiems
Advent and Lent (at a later date)

So. Since no one that I know is doing that, it's more honest to just say you like blue for Advent and leave it at that. Unless you are trotting out a yellow set for the confessors.
While I'm on the subject of Advent colors, let's talk about the colors of Advent wreaths. (These wreaths, by the way, might best be used as home devotions rather than add-ons to corporate worship.) For whatever reason, people love to use candles to match the colors of the vestments, more or less. This makes great sense in a home wreath, because there's no vestment color in your kitchen. At church, it seems odd to me that we like a rose candle when it's next to lovely rose silk vestments. Since we don't use red candles on Pentecost or purple ones for Lent, why use colored candles in the wreath? I dunno. For me, I like white candles in an Advent wreath, but I've been accused of "ruining Advent" for holding this opinion.
Anyway, in the Roman rite, it was long been customary to use rose vestments on Advent III and Lent IV. So we have a rose candle along with purple ones for the other three weeks of Advent. But in the Sarum rite, this rose Sunday was unknown. So if you use blue candles mixed with a single rose candle, you are crossing the liturgical Ghostbuster streams. I don't care; you can do what floats you boat. Let's just acknowledge that we're making stuff up (creating new traditions!) based on our personal preference.
So, in summary: You can use whatever colors you want for your vestments and your candles. Neither Jesus nor I will judge you, though I'm pretty sure the ghost of Percy Dearmer is going to haunt many of you. If you choose to follow in the streams of Roman or Sarum or Eborian usage, awesome. If you decide to make up a new scheme, fantastic. Just know that there's not as much moral high ground on liturgical colors as it might seem to some folks.
As for me, I've used both blue and purple for Advent. They were both lovely, for different reasons. Whichever color we wear and use, we can do what's important in this season: prepare our hearts and our lives to celebrate the Incarnation of Jesus Christ.