Justice and mercy and faith
This is the third post in a series on my current pilgrimage to learn more about refugee resettlement in East Africa. You can read the previous posts here and here, or follow along on social media with #ShareTheJourney. In the next day or two, I'll back up and write about Saturday's visit to the Kigali Genocide Memorial.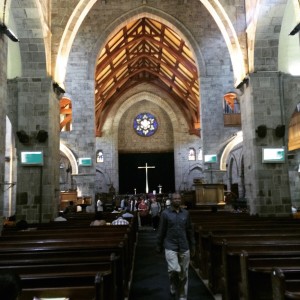 Today is Sunday, and so we naturally went to church. We decided to attend All Saints Cathedral in Nairobi. Though we arrived a bit late, we were warmly greeted. I'm told around 1,200 people were at the service we attended, with a Sunday average attendance of around 6,000 across all the services. Worship is offered in a variety of styles and languages. Our service was English-language morning prayer, with a mix of energetic contemporary music and a rousing dose of Victorian hymns fervently sung with accompaniment by a grand pipe organ.
The sermon was preached by a lay reader, a woman who preached with passion and clarity on Matthew 23:13-28. This passage never shows up in the Episcopal Church's Sunday lectionary, because we tend to shy away from difficult or especially challenging passages. Go have a look at the passage, and you'll see why we don't read it. This is our loss, because the difficult passages of scripture are often the most fruitful ones for exploration and growth. But I have, as usual, digressed.
The theme of the day and of the sermon was spiritual warfare, especially focused on syncretism. This abstract theological term was made real for the congregation in a simple story.
A man was offered a job interview. As he left his house, a black cat crossed his path. The man went back home, and he missed his interview. His superstition about a black cat caused him to miss an opportunity. Do you understand? This man gave the power over his life to a cat, and not to God!
It's a pretty good example of how we choose to put our faith in other things besides God. In Kenya the examples concerned fortune tellers, tarot cards, and folk religion. Perhaps in the US, we'd need to think of examples including horoscopes, other religions, or–more commonly–fatalism. "If it is meant to be, it will happen." This is not a scriptural belief; we don't get to take a pass this easily!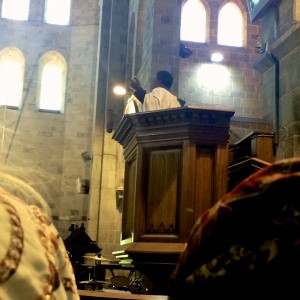 Our preacher also challenged us by asking a series of questions. "Is it good to be a positive thinker? Is it OK to want to be a good person? Is it good to try to be better today than I was yesterday?" Most of us answered "yes" to the questions. And then she zinged us. "And what do all these things have in common?" Sudden realization. "It's all about us." The preacher said that we need to turn our focus away from ourselves toward the Most High, Sovereign God. We should be working to glorify God, and not ourselves, in all we do. When we focus on ourselves alone, we cannot be focused on God.
Through practical examples and careful teaching, the preacher taught us all that we must focus on God alone in order for God to work through our lives. I didn't notice the time, but I suspect the sermon was 30 minutes long. No one was bored, because we were hearing the Good News. I should be so blessed every Sunday.
I was also grateful for the confident theological proclamation used throughout the service. So often in the United States, we use the most bland speech possible for fear of offending anyone. This is, of course, ridiculous, because the Gospel itself is bracing for anyone who pays attention to it. In the service today, God was not the "Soothing spirit of warm huggy-ness" but rather "the Most High, Sovereign God." The hymns were bold, using language that rightly suggests the struggle for God's Kingdom is a real one, in which we must engage the struggle mightily. Life is not so comfortable for Kenyans, and their praise and prayers reflects a vigor that the complacency of America does not encourage. We Americans are poorer for our comforts.
During the notices, they reported the income from the previous week. It was a staggering sum. Clearly many Kenyans tithe. We Episcopalians have a good deal to learn about generosity. In fact, there is plenty we could learn from All Saints Cathedral. While we say "The Episcopal Church welcomes you," I have rarely felt more welcome than I was this morning.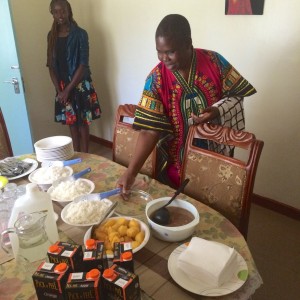 After the service, the Assistant Provist, the Rev'd Paul Korir, having realized ten visitors from the Episcopal Church were in his congregation, immediately invited us into his home, where his wife Selline prepared a delicious and gracious lunch. Before and after lunch, we were served tea — some of the best tea I've ever had. Perhaps it was the flavor, or perhaps it was the abundance of love with which it was served.
Pastor Korir spent most of the afternoon with us, listening to what our group has been learning about refugees and telling us something of his life as a priest in the Anglican Church of Kenya. Selline talked about her work promoting peace and reconciliation, for which she was won awards. The entire experience made me, once again, profoundly grateful for the bonds of affection we share in the Anglican Communion. Strangers are welcomed, and we can share our common ground as we learn about one another's differences. The Anglican Communion is beautiful, indeed.
My hope is that the conversation today will lead to a new and sustained friendship across continents. Pastor Korir and I surely have sharp differences, but we have much more in common. One day, I hope I can return the gracious hospitality he offered our group.
The Gospel reading this morning included this challenge:
Woe to you, scribes and Pharisees, hypocrites! For you tithe mint, dill, and cummin, and have neglected the weightier matters of the law: justice and mercy and faith. It is these you ought to have practiced without neglecting the others.
So often we go through the motions of our faith, but we neglect the weightier matters. In the USA, most of us don't even bother to tithe. Our faith is reduced to a habitual, feel-good Christianity. We neglect the weightier matters. We do not work for justice or mercy in a way that costs us much, most of the time. We do not share the Good News, and we do not proclaim the Kingdom. Today in Nairobi, I was given a bold reminder about how to welcome strangers, about how to share the Good News, and about how to seek transformation in all we do.
As our pilgrimage group continues to learn about refugee resettlement, surely justice, mercy, and faith will come front and center. There will be no solution without all three. As I write these words very late on a Sunday night, I am still processing how today's experience of worship and hospitality — and the content of the sermon and our afternoon conversation — will shape my time here in Kenya and after. But I am confident I will remember this day for a long time.
The service we attended this morning was not a celebration of Holy Eucharist, but I am confident I can say for all of our group, we were filled with Holy Thanksgiving. I am also quite sure that the hospitality we received from Paul and Selline Korir was sacred. Thanks be to God for the Korir family, for All Saints Cathedral, for the Anglican Communion, for friendships, and, of course, for tea.