Make great websites for cheap! (church websites, part 2)
This is the second post in the three-part series on church websites. The first post was Thirteen Commandments for your website, and the third post will be How to kill your church by misusing the internet.
If you read the first post in this little series on church websites, you'll recall that I recently had a lousy experience on a church website and decided to rant blog about it. Over on Facebook, I posed a question seeking examples of great websites that didn't cost much money. It's not that I'm encouraging you not to spend money on your church's website, but rather to head off the usual excuse I hear for having a lousy website, "We couldn't afford anything better." This is a rubbish excuse.
I encourage you to check out the whole thread on Facebook, including the 70+ comments for loads of examples, strategies, and conversation. Based on some of that discussion, I already shared some ideas about what every church websites needs to do. Now it's time to talk about how one might get such a website for cheap.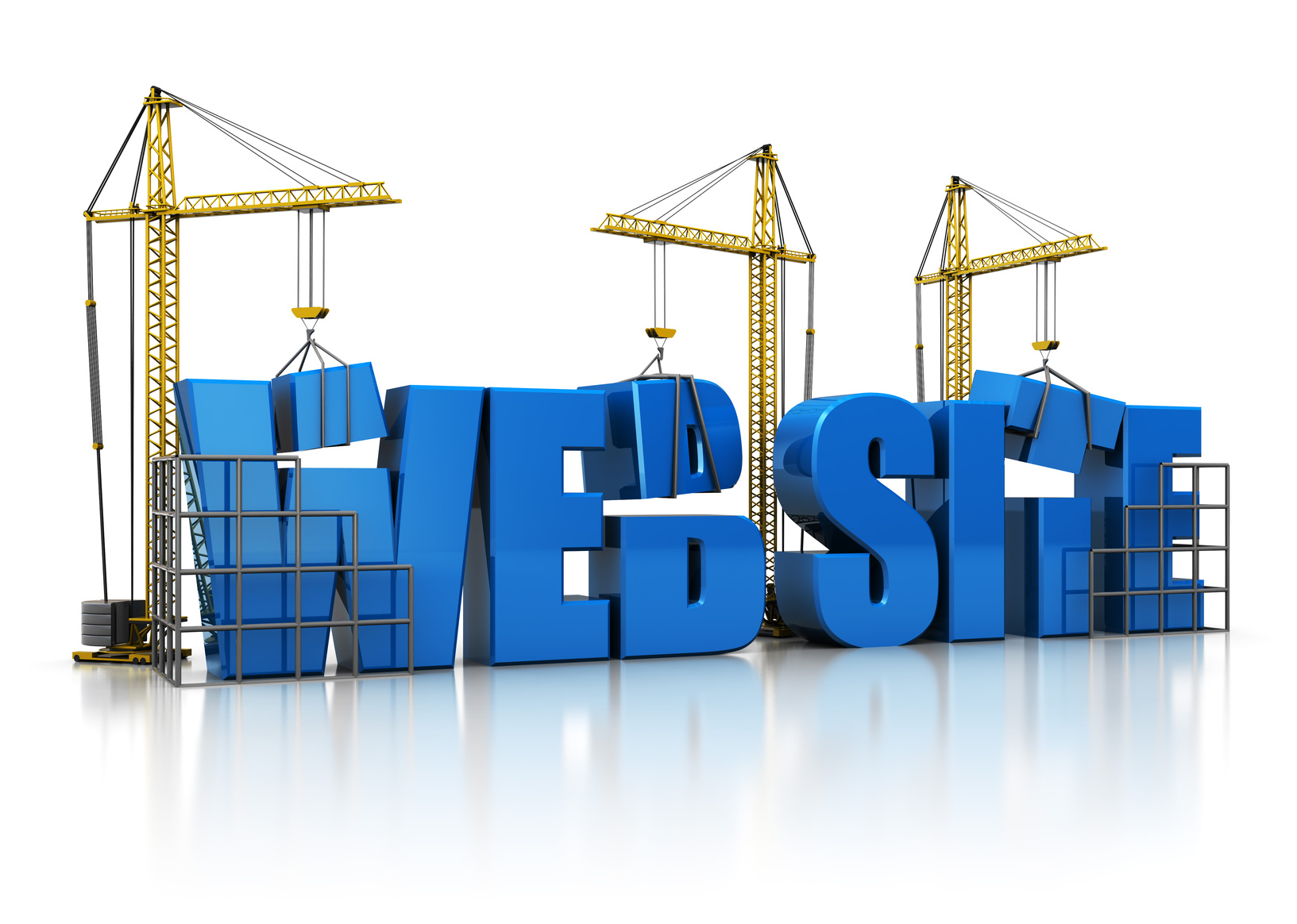 Everything here is ridiculously brief. Find someone you trust and listen to them for details. If you can find the money (and I hope you can!) pay a pro. There are some businesses focused on church websites and church communications, and you might want to work with real experts. Despite my emphasis here on doing things cheaply, this is an area that could be worth spending real money. Let's say your average first-year financial pledge is $1,500, and three families join in a year because you presented your church in a way that was compelling. Your $4,000 investment in a website is more than paid for in just one year.
This post isn't exhaustive, and the right strategy for your church will naturally be particular to your needs, context, and available resources. So here are some (mostly) random thoughts on how to get a great website for cheap. Your mileage will vary.
Stay tuned to the end, because I'm also giving just a few examples.
The technology doesn't matter so much. The content is what counts. In the first post in the series, I wrote about content (and make sure you read the comments for helpful additions). Pay attention to what you want to say, and the part about how to say it will come into focus.
Find someone who has the gift of website creation, and follow her or his lead. In your congregation, there's probably someone who knows how to make beautiful and functional websites. If there really isn't anyone like that in your congregation, someone in your church probably knows someone. Or someone knows someone who knows someone. If you have a motivated expert, they might build your site for free or for a very low price. I'm not suggesting you should take advantage of anyone, but for various reasons (someone wants to build up a portfolio, or someone is grateful for what your church does for them) people might do great work for free or for a low price.
Once you find a website builder, get them the content and don't micromanage. Share your expectations (we want you to use red, since it is our church's branding color) and hopes. Make sure you're both clear about what they're doing and what you're doing. It's a good idea — even if no money is changing hands — to write out a bullet-point list of mutual expectations. No one wants to be taken advantage of. And if you're paying by the hour, that time spent early on syncing your expectations will save you big bucks.
Make sure, whatever you do, that you can maintain the site. If you use one of the popular website services, someone who's got enough computer skill to run Microsoft Word can probably be taught how to keep the site updated. The plan for updating the site is actually more important than getting it built. Ensure you have a good plan and some way for people to be trained.
Use one of the free or low-cost services to build and host a site. There are lots of services out there for building and hosting websites. The days when you had to find a geek who could hand code HTML are over. Sure, a professionally designed and tweaked website is awesome, but you can get something decent with drag & drop services.
In the massive comment stream on my Facebook post (see above), various people suggested three of the most popular ones. Check out WordPress, Weebly, and Squarespace. While FREE is an option, you'll probably want to pick one of the options that's a few bucks a month. There are lots of others.
Blogs might be a good platform. Blogs are nice because, by definition, they're meant to be updated easily. No special skills are needed, and it makes a handy way to post newsletter articles, important announcements, weekly sermons, or whatever. Only choose this if someone is going to keep it up to date.
Facebook is not a bad option. If building a full-on website seems impossible, or if you're worried about support costs, your church can get a Facebook page instead of a standard website. (Don't make a group; make a page!) Make sure you get a friendly URL like facebook.com/thenameofyourchurchgoeshere. Facebook pages are public, so that means they can be found with Google. You can list service times, post some basic info, and share updates. It's almost guaranteed several people in your church are veritable Facebook experts, so you already have the skills in house.
Now, of course, you should ideally have a Facebook page and a website. The website is more information about your church, and the Facebook page is a way of sharing updates and building community. If you can't do both, Facebook alone can do the job. At a minimum, you want your church to show up when someone Googles it, and you want that result to have the basics (contact info; address; service times).
Don't do it alone! Find out if your diocese (or other judicatory, if you're not an Episcopalian) has a program to provide basic websites to congregations. Quite a few dioceses make sure every congregation is online, and if they're already doing that, you can ensure the basic info is up to date, and you're all set. It's not as good as a freestanding, carefully designed website, but it's better than nothing!
If your diocese doesn't do this, maybe you can band together with a few other churches in your region or town (same denomination or ecumenical, either way) and find the resources to create a decent website for your area. That way, several churches solve a problem they all face. Again, this isn't as good for your congregation as your own website, but it's better than not having any presence online.
If a pro photographer is visiting your church for some reason, make a deal. When I was a parish priest, I spoke with a couple of wedding photographers who were on site. In exchange for a link to their business, they let us use their photos for no charge. We got great photos, and they got a bit of exposure. And of course, you might have a church member who is handy with their iPhone, and those photos might be perfectly fine. However you get them, you want great photos to have a great website.
+
Here are some examples from the Facebook thread. I'm not saying these are the best sites around, but something or other caught my eye on each of them. I was looking for balance and variety. Do check out all the examples in the thread (lots more good ones) and please share others in the comments here, on this post.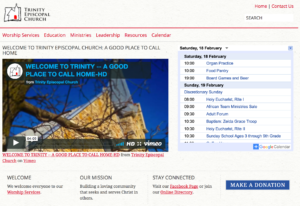 Trinity Church, Lawrence, Kansas. The website is built using WordPress by a member of the church. Good pictures, video even. Everything I need to get a flavor for the church is readily available. The look is clean and simply. I love the video right on the home age, and the integration with Google calendar.
St. Stephen's, West Valley City, UT. Another WordPress site. This one look more bloggish, so there's always fresh content right on the home page. Everything I need is accessible, and they've got lots of helpful links right there. They built it themselves and pay less than $100 per year.
St. Thomas' Church, Whitemarsh, PA. Built by the kid of a parishioner, they report. Lots to like here, a very busy website for a very busy church. One thing to appreciate here is the clergy video page — a nice way to introduce people to guests.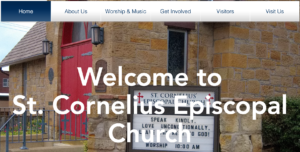 St. Thomas' Episcopal Church, Hamilton, New York. Built by volunteers on the Wix platform. Clean, simple, all the basics.
St. Cornelius Episcopal Church, Dodge City, KS. Another Wix site built by the parish priest, who is self taught. This shows you can use existing templates and plug in your content and come up with a solid, workable website. They didn't have to spend a fortune or get a degree in HTML.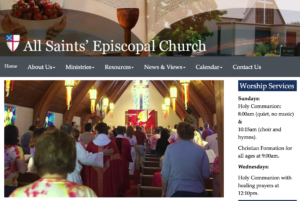 All Saints', Richland, WA. Built using a diocesan Digital Faith service. As I mentioned above, some dioceses offer this to congregations, and if your diocese has signed up for this, it might make a good platform. Lots of bells and whistles at little or no cost to the congregation. By the way, Forward Movement provides content for one of the plugins which allows your church to offer the daily office right in your site.
+
There are books and online tutorials and all sorts of resources on how to built a cheap and effective website. My point here isn't so much to offer the answers, but to encourage every congregation to take the plunge. All it takes to have a great website for your church is the will to do it. If you have that, you can find a way. It might involve a little money, or a few contacts with experts, or the willingness to learn how to do it, or reaching out to find someone, or maybe picking up the phone and calling the diocesan office. Most dioceses have someone on staff who would love to point you in the right direction.
As I've begged several times, please leave comments with suggestions and examples. I'm no expert, but I'd love to spur a helpful conversation.
No, get busy with those websites!
Image from Axiom Education and Training Center. Which is a good reminder that local training is something to explore.