Thirteen Commandments for your website (church websites, part 1)
I spend a lot of time looking at congregation websites, between my work and my travel. It is not uncommon for me to be in a new city and to wonder about a Sunday or midweek service at a nearby church. And too often, I find that the websites are terrible. I mean really, really awful. This is not new, and I am not the first person to say this.
Until about two days ago, I've always figured there were others who are better equipped to speak on this topic (and that's still true). But recently I was looking at a church website, for a church that shall remain nameless. Let's call it St. Luke's (but it wasn't that). I saw some inbound traffic over on Lent Madness, and I was curious what they were saying about it. That part was fine. "St. Luke's" also has lots of interesting info about current programs, staff, and worship opportunities. Then I got curious what diocese the church was in. After several minutes, I could not figure out in which city or even state the church is located. Seriously, I could find the physical location of this church nowhere on its website.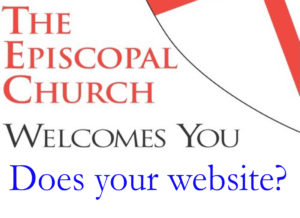 So that pushed me a bit over the edge, and I ranted to myself for a good long while, and then to a few people who had the misfortune to be near me at the time. Then I decided I should mention a few things — that is, rant — about church websites here on my blog. It's not that lots of other people haven't mentioned this or that I have particularly insightful things to say. Still, maybe a few churches will see something here and decide to make their site better. And that's a win, a win for the internet and for Jesus.
My first thought was to write a single post. Then I realized it would make even Crusty Old Dean look terse, so I'm breaking this into three posts. This one is Thirteen Commandments for Church Websites. Next up is Make Great Websites for Cheap! This will include some examples! And, finally, I'll close with How to Kill Your Church By Misusing the Internet.
Here is a baker's dozen of commandments in no particular order. So without further blahblah…
Thirteen Commandments for Church Websites
I. Remember that the website is first and foremost for guests and seekers. Every single thing about the website should be geared toward people who are looking for a church or who are new to your church. Current members are not well equipped to figure out the success here, so ask people who are legit newbies to look at your website and tell you how you're doing. (Yes, you should put insider stuff on your website too, but tuck it away somewhere off to the side.)
II. Make sure your site looks great on a desktop, a tablet, and a phone. It's quite likely that people are looking at your church website on a phone, and if it only works on a desktop, you're doomed. There are lots of ways to fix this; the problem has gotten easier to solve in the last 2-3 years.
III. The full physical address and phone number of your church should be in the footer of every page on the site. If you can't do that for some reason, these things belong on the home page. The address needs to include the ZIP code, and a link to Google Maps or Bing or something is a bonus. Twice in the last year I've looked at church websites that did not seem to say where they're actually located.
IV. Use photos to show who you are. Be honest. It's great to have Easter photos, but if your church looks a lot different on an average Sunday, show that, too. If you're a very diverse congregation (which is sadly unlikely in the Episcopal Church or most mainline churches), show that. If you're not diverse, ask hard questions about why. For your website, be careful in walking a line between showing who you hope to be and who you are now.
Your photos should be high quality, but you don't need a pro for that. Nearly every congregation has someone with photo talent, so ask that person who take some snaps. Get photos of people — people worshiping, doing outreach work, enjoying fellowship, praying, whatever. It's also a great idea to have a photo of the outside of your church on the front page of the website, because a first-time visitor will want reassurance they're at the right place.
Do not use stock photos. Just don't do it.
V. Make worship seem important! Worship is the thing, right? Service times should be on the home page, and a more complete description of the services (using language that an average non-Episcopalian will understand) can be tucked inside. "Rite II uses modern language" may not mean much to a seeker. In fact, only an Episcopalian who is searching for a church in a new town is likely to care. My experience — and I don't think I'm alone here — is that seekers usually aren't particularly interested in the language of the Eucharistic prayer (Rite I, Rite II, or EOW), but have different priorities. I'm not saying you shouldn't provide that info, but I'm not sure it's the most important thing. Maybe more useful is a sense of what kind of music to expect or how long the service lasts. Photos of worship are really helpful.
VI. Say something about your beliefs. If you're an Episcopal Church, this should include mention of Jesus. I cannot believe how many churches have stuff like, "Bring your questions here, and we will accompany you on your spiritual journey." Here's a pro-tip. If your copy could be used for a yoga studio, a synagogue, or a coffee shop, there's a serious problem. Yoga studios, synagogues, and coffee shops are totally awesome, and I hope they all thrive, but their purpose is different from a church, and your belief text should indicate why church matters.
If you're talking about the Jesus Movement, say what that means or what it looks like in your congregation. Don't assume that your average church-shopper has the faintest idea what the baptismal covenant is. But, also, don't talk down to people. The person who has Googled your website probably already knows stuff and wants to learn more. Their presence on your website means they know how to use Google.
That said, it's helpful to have some text about the Episcopal Church. Say something about what makes our flavor of Christianity (and your congregation, for that matter!) unique. Why would someone go to your church or to an Episcopal church instead of another? In doing this, there is no need to insult others or use platitudes about how friendly you are. Seriously, I am almost certain the nearest Chipotle is friendlier than a typical Episcopal church. So let's not put our eggs in that basket…erm…taco.
VII. Show current events, but only if you can keep up your site. You don't want to be like this church with outdated events info. If you aren't going to keep up your site, just make it a static site. That's not ideal, but it's better than stale info. When I look at your website on December 15 and you're telling me about Easter, I know that you just don't care about guests. And you might not care that much about Jesus. Conversely, a "What's on this Sunday?" note on your home page is awesome…if it's for real.
There are some tricks to get a dynamic feel without much work. You can embed Episcopal News Service headlines or social media info or lectionary readings using widgets, so that they're always fresh.
VIII. Show your social media connections. If you have a Facebook page (which you should), link to that. Since Facebook is easy to keep current, sending people there is a good way for them to find out what's new.
IX. Worship times should be visible and current. This is redundant, but it's incredibly important. So I'm mentioning again how it's essential to list accurate service times on your website. If you change your service times on annual meeting Sunday (which is a terrible idea, but I digress), for the love of God, make sure that's on the website well in advance of the Sunday. I cannot tell you how annoying it is to show up for a 10:30 a.m. service only to discover that the church had one service at 9:30 and I missed it. Did I mention that mucking around with service times is a lousy idea?
X. Introduce guests to your staff, and make them accessible for questions. Seekers are likely to be curious about clergy and program staff. What's the priest like? How great is the music director? Pictures are important; videos are awesome if you can do it. This is not to say that clergy and program staff are more important than others, but the reality is that seekers want to see who leads the church. This should, of course, also include vestry and lay ministry leaders.
Listing actual email addresses for clergy is important. In my parish priest days, I would regularly get emails like "I am divorced, can I receive communion?" or "My three-year old is loud, will we be welcome?" or whatever. Ditch 1990s-era contact forms and show real email address. Whatever burden of spam that results is worth it. No one said it was easy to be a priest, so clergy need to do their jobs even if that means deleting spam.
XI. Say and show how children will be welcomed. A fair number of seekers will be parents of children. If children are really welcomed in worship services, say that (and photos are a plus). If your church is one of the many at which parents will be the recipient of withering glares, you probably don't want to say that, but you should repent ASAP. Do children leave the liturgy for their own formation? Describe how that works. Show classrooms. Give some sense of what the programming or classes are like. Be honest, of course. It does no one any good to set false expectations. Oh, and assuming you're doing background checks on volunteers & staff and that you are careful about Safe Church practices, say that too.
XII. Make it easy for people to give you money. You should have online donations, and perhaps it will make sense for people to be able to fill out a pledge card as well. If you're thinking that everyone can write you a check, you are 20 years out of date. For lots of people, it's online giving or nothing.
Don't assume that guests won't want to give. Seekers usually understand that churches rely on contributions, and most of them are ready to support you. On this topic, it's a good idea to have current financial reports and annual reports available for folks to see, but they should be tucked off to the side somewhere.
XIII. Describe how to join the church. One of the silly reasons churches don't grow is that they never ask people to become members of the church, nor do they make it easy to figure out the process. Tell people what to do to become members (including baptism or transfer) and what that means. If you don't have online forms, it's totally OK to give an email address, phone number, and staff or volunteer contact.
+
I'm sure you'll think of other things that are essential for church websites. Please add your essentials in the comments. There are also about a billion of these lists floating around. My friend Malcolm French reminded me of Thom Ranier's list of things to have and his list of mistakes. I liked Thom's lists, but his context is not ours.
This is also a good place for me to confess what you already know, which is that some websites that I run do not pass all of these tests. For instance, Lent Madness is lousy on mobile, and our plans to fix that have been delayed again. Mea culpa.
Having an attractive, useful, and effective church website does not need to cost a fortune. In fact, for most congregations, it's probably a mistake to spend a fortune. In the next blog post, we'll look at some examples of good, inexpensive websites and how to get that done.
Please do leave comments. As I said at the top, I don't want to pass myself off as an expert here. I'm just a passionate viewer of church websites, and I want us to put our best face forward, literally for the sake of the Gospel. My hope is to kindle a conversation and spur action that might help even a few congregations have better websites.