Of ordinations and consecrations
We Episcopalians have elected a boatload of new bishops lately. That, of course, means that we're also celebrating a number of ordinations of new bishops. These are glorious occasions for both the new bishop's diocese but also for the wider church. (As an aside, we're also starting a get a bit more much-needed diversity in the House of Bishops, thanks be to God.)
Old habits die hard, and I want to write about an old habit that I wish would die. People keep referring to these ordinations of bishops as "consecrations." Give me a moment, and I'll say why I think that's a problem. But before that, let's talk about why we have this habit.
In prayer books prior to our 1979 Book of Common Prayer, we did indeed consecrate bishops. And we ordered priests and made deacons. There was a clear hierarchy here, and there was a progression of orders. My understanding is that it was common for those to be ordered as priests to enter the service vested as deacons. The word "consecration" was reserved solely for bishops. The implication is that the ministry of priesthood is built upon the diaconate, and the ministry of the episcopate is built upon the priesthood.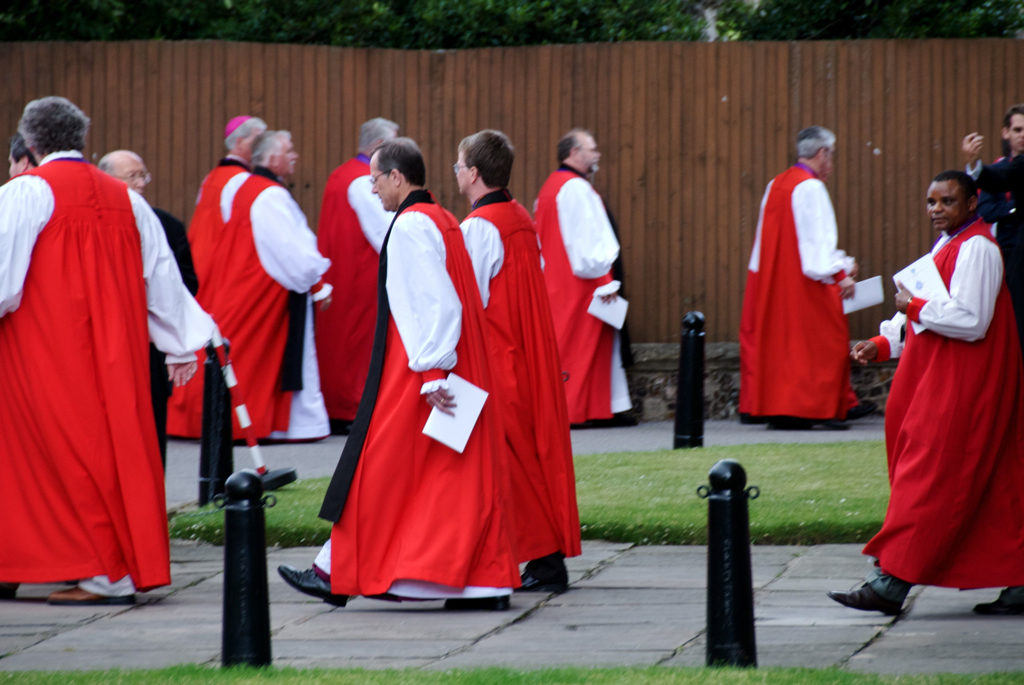 But all that changed with the 1979 prayer book. As many have noted, the book attempts to share a baptismal ecclesiology. That is, the church itself and all ministry springs from the waters of the font. This theological view is found all over the book, but here we are looking at ordinations.
Instead of having three different titles, the services of ordination are called, "Ordination of a Bishop," "Ordination of a Priest," and "Ordination of a Deacon." In each of these services, the actual prayer that sets apart the person — that effects the sacrament of ordination — has a parallel title: "The Consecration of the Bishop,", "The Consecration of the Priest," or "The Consecration of the Deacon." So the word "consecration" is used liberally for all three services, for all three orders.
But that's not the strongest place the 1979 book's baptismal ecclesiology is manifest. The notes for each service indicate that the ordinand is to enter wearing a surplice (or rochet) or alb, without any marker of rank or office. So the ordinand enters in the garb of a baptized Christian.
I could go on at some length about this, but the point is simple: our current practice is meant to suggest that ordained ministry — whether bishop, priest, or deacon — springs forth from baptism.
All three services use parallel titles. So one rightly refers to the ordination of deacons, priests, or bishops. Consecration is also used for the central act of the ordination of deacons, priests, and bishops. So if one were going to prefer the word consecration for some reason, it should be used for all three orders: deacon, priest, or bishop.
Regular readers of this blog will know that I have a low opinion of the current state of the canons of the Episcopal Church. They badly need to be rewritten from scratch. They've been amended in all sorts of ways, so that they're now a hairball of contradiction and ambiguity. (Witness the 2018 General Convention's seeming inability to correctly lift the statute of limitations on certain clergy offenses.)
It should not be surprising, given the woeful state of our canons, that they would be out of sync with the baptismal ecclesiology our church has been teaching for over 40 years. Our canons generally use the word "consecration" rather than "ordination" for bishops, and they only apply the word "consecration" to bishops. So we get the redundancy of "ordination and consecration" for bishops alone, though the actual ordination services, as set forth in our prayer book, of bishops, priests, and deacons all should benefit from these extra syllables based on the structure of the rite. Our canons simply use the term "ordination" for priests and deacons.
If we were going to ensure that our canons aligned with the baptismal ecclesiology of our liturgical life, we should ensure that "ordination" is the title used consistently for bishops, priests, and deacons. But, alas, we have had other priorities in looking at our canons, neglecting the possibility of enacting a consistent vision of baptismal ecclesiology.
There are two reasons why I think it's important for us to stop talking about the "consecration of bishops" (unless we're going suddenly to start yammering on about the "consecration of deacons" and the "consecration of priests," which will never happen). One reason is cultural and the other is theological.
First, it's important, I think, to resist episcopal exceptionalism at every turn. Bishops surely have particular charisms and authority by virtue of their order and office. But priests and deacons and lectors and acolytes and altar guild members and every other kind of church ministry also have particular charisms and authority. It is not helpful when any member of the body of Christ abrogates its authority, nor is it helpful when a member of the body of Christ claims authority to which it is not entitled. We need elbows to be elbows, noses to be noses, and eyes to be eyes. And we need bishops to be bishops, deacons to be deacons, lectors to be lectors, and so on. Baptismal ecclesiology insists this must be so.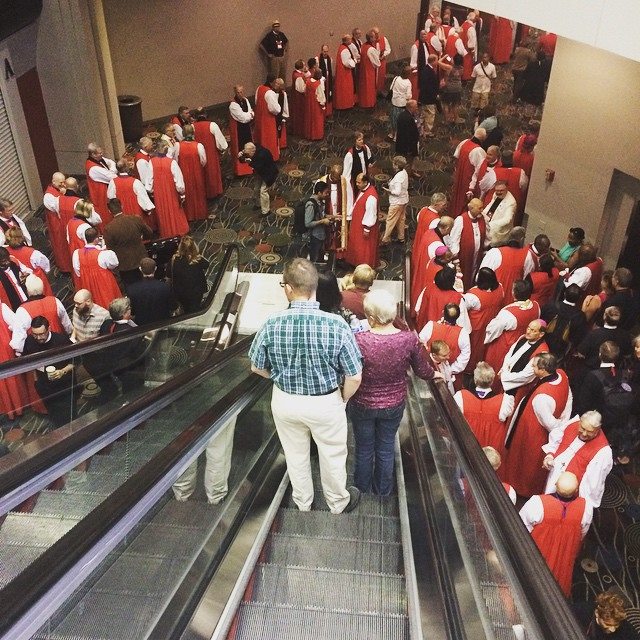 If our bishops behave as member of the nobility, then the body of Christ is distorted in its function. This is not to say that bishops are not entitled to distinctive vesture or titles. Indeed, the distinctives of each order of ministry help to reinforce its function and purpose. By insisting that bishops are ordained, just as deacons and priests are ordained, we remind ourselves that the threefold ministry is not a career ladder but rather an expression of the unique vocation of each Christian, some of whom are called to be deacons, priests, or bishops. When we talk about consecration of bishops alongside the ordination of priests and deacons, we are creating a division that runs counter to our supposed baptismal ecclesiology.
(There are ways to guard against exceptionalism for all ordained persons, and perhaps I should blog a bit about that later. Suffice it to say, I believe that bishops, priests, and deacons are in no way more worthy or possessed of holiness than any other Christians, but rather that bishops, priests, and deacons take holy orders to fulfill their vocation precisely as baptized members of the laos.)
This gets to the second reason I think we need to insist on speaking of the ordination of bishops. In the old model, the ministry of a bishop was built on the ministry of the priesthood, and the ministry of the priest was built on the diaconate. In the current model, as I've noted, the ministry of all three orders stems from the baptismal font. We should, therefore, avoid hierarchically referring to the making of deacons, the ordering of priests, and the consecrating of bishops.
Deacons are ordained (and consecrated). Priests are ordained (and consecrated). Bishops are ordained (and consecrated). So however we talk about one order, we should talk about the other two.
So if you dig extra words, and you want to say that bishops are "ordained and consecrated," then make sure you say "I'm going to attend the ordination and consecration of ___ as a deacon."
You might think I'm going on about not much, and you may be right.
I think words matter, and our language helps to shape our reality. Our church is haltingly moving into our post-christendom world. As I've often said, we need our church to start thinking more like we're in 250 than 1950 or 1050. We know that by the height of Christendom, bishops were literally lords and princes, living a noble life in palaces. Before Christendom, bishops were surely afforded special honor, as they should be today. But this must not have even the remotest trappings of empire and princely power. We can remind ourselves that bishops are set apart for a peculiar ministry, no more and no less. Bishops are not priests or deacons or lay people. But neither are they holier and loftier than priests or deacons or lay people.
Those who serve in the ordained ministry live ordered lives — subject to vows of obedience and duty. A lay person gives up freedom to take on holy orders; ordination is not really a promotion. This is all doubly true for bishops. While in the hierarchical structure of our church, it is certainly right and true that bishops hold authority over priests and deacons, they exercise this authority because of their unique role in the body of Christ, not because they are inherently better than others. To use the body analogy, the leg might point the foot in the right direction, but the leg is not superior to the foot. Both are needed for their own mutual flourishing.
I look forward to talking about this blog post the next time I attend the ordination of a bishop.
The ordination of a bishop. See how easy that was to read and to say?