Cast away the works of darkness
This is the first of three meditations on collects I offered today for an Advent quiet day at St. Stephen's, Providence, RI. The second meditation is here and the third one is here. It was a delight to share time with folks there and to enjoy their gracious hospitality.
The Collect for the First Sunday of Advent
Almighty God, give us grace that we may cast away the works of darkness, and put upon us the armor of light, now in the time of this mortal life in which thy Son Jesus Christ came to visit us in great humility; that in the last day, when he shall come again in his glorious majesty to judge both the quick and the dead, we may rise to the life immortal; through him who liveth and reigneth with thee and the Holy Ghost, one God, now and for ever. Amen.
This is sometimes known as the Advent collect, and until our current prayer book, it was to be used every day of Advent. Some of us may use it devotionally each day or even in corporate worship through the season. This is fitting. In so many ways, this collect perfectly captures Advent — both our recollection of the First Advent of Christ in humility and our hope for the Second Advent of Christ in glory.
The lovely cadences we pray in this collect are more or less Cranmer's work. Composed for the 1549 prayer book, the collect has been revised several times in subsequent centuries. But our current version is close to the original. Cranmer obviously borrowed from the Letter to the Romans. In the 13th chapter, beginning at the 11th verse, we read:
You know what hour it is, how it is full time now for you to wake from sleep. For salvation is nearer to us now than when we first believed; the night is far gone, the day is at hand. Let us then cast off the works of darkness and put on the armor of light; let us conduct ourselves becomingly as in the day, not in reveling and drunkenness, not in debauchery and licentiousness, not in quarreling and jealousy. But put on the Lord Jesus Christ, and make no provision for the flesh, to gratify its desires.
But aside from the history and the biblical sources, let us simply appreciate this prayer for its beautiful rhythms, deep resonance, and rich theology.
As we draw closer to the depths of winter, with ever-shorter days, the language of darkness and light evokes reality and hope. Who among us does not long not only for literal brightness, but for the hope of Christ's light in a world that sometimes seems hopelessly shrouded in gloom.
We begin by asking for grace, for God's gift, that we might "cast away the works of darkness and put upon us the armor of light." We are not just ignoring evil or even merely turning away from it. To cast something away means to take it, to seize it, and to hurl it away. To cast something away, we have to grab it and reject it. It requires a certain fierceness. Our only hope of accomplishing this is indeed by God's grace.
Jesus told his disciples to "be not afraid" about as much as he said anything to them. To be seduced by fear is not new to our time, though perhaps our culture is uniquely equipped to create a deafening cacophony of fear-inducing noise. Might this "armor of light" help us to reject captivity to fear, which is surely one of the great works of darkness? I think so.
Along with the arresting contrast between "works of darkness" and "armor of light," the collect brings to mind the contrasting reality of the First Advent and Second Advent. We are reminded of Christ's visit in "great humility" and we look ahead to Christ's coming in "glorious majesty." We remember God among us, Emmanuel, in this "mortal life" and we pray for hope that we will attain "life immortal." So much is packed into the 90 words of our prayer!
Fundamentally, though there are elements which call us to the end of days, I read this prayer as a plea for strength, for God's grace, in this earthly pilgrimage. Advent is a microcosm of a much larger reality, in which we must daily recall the Incarnation of God-among-us while looking ahead to the day we will all meet Jesus Christ in glory. This is not an individualistic prayer, for me. It is rather for us, for the church. It is a reminder that we are all pilgrims, that we are all walking through darkness into light.
Light is such a powerful image for us because light itself is so extraordinary. If we were to enter the nave in the thick of night, and if we could cut the power and the city lights all around the church to get real darkness, and if we then waited in darkness and in silence, we could, if we chose, experience an extraordinary thing. A single candle could illumine the vastness of this church. We might have to be near the candle to read by its light, but its light would nevertheless penetrate the darkness of this space. We would see the reflection of brass here, of glass there. We would see.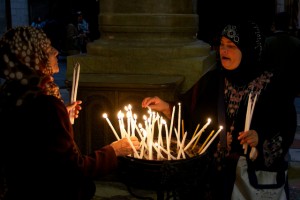 And if we used that candle to light another, the first light would not be diminished. As we lit one candle after another, we could soon fill this church with radiant brightness. And that first, original candle would not be dimmed. So it is with the light of Christ. It only spreads. Its power to penetrate great, vast darkness is unsurpassed. This is why the armor of light can enable us, by God's grace, to cast away — to seize control of and hurl far from us — the works of darkness.
Advent is not merely a quiet time of waiting. It is a time for us to remember that Christ's light once illumined the world of Bethlehem and that it burns here in the Word and Sacraments. Advent is a time to remember that we followers of Jesus are meant not only to be bearers of the light, but also to vanquish evil in this life, in our world and in our own lives.
What works of darkness do you need to cast away?
What might it be like to put on the armor of light?
Photo by yours truly, taken in the crypt at Santa Miniato al Monte in Florence and of pilgrims at the Church of the Holy Sepulchre, Jerusalem.