Blue's Clues: Standing Commission on Liturgy and Music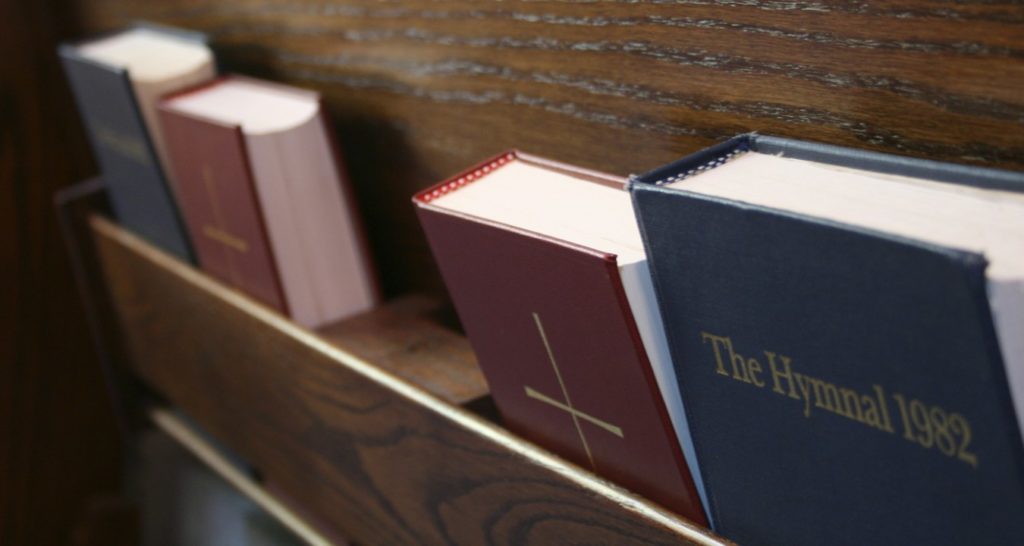 This is the twenty-sixth post in Blue's Clues, a series on the resolutions and reports of the Episcopal Church's General Convention. The index of posts is here, and my index of resolutions and likely votes is here.
And here we reach the last post in my series of posts covering the Blue Book, or the official reports to the General Convention. I'm undecided about whether I'll continue to blog additional resolutions that have been submitted — that is, resolutions from bishops, dioceses, provinces, and deputies — so if you would find that useful, do let me know. This year, I'm finding myself with less enthusiasm for the project of blogging all these resolutions. Given limited time, I might focus on one or two topics, so I'm interested to hear what might be especially helpful, if anything.
In any case, the Standing Commission on Liturgy and Music has had a busy triennium. They note in their report that at the beginning of the triennium, they thought prayer book revision planning might occupy much of their time, but they have realized that perhaps the church isn't ready for revision just yet. They've given us a couple of options to consider. Either we can launch a process of prayer book revision, or we can pursue a deeper engagement with our current book, look toward revision at some future date. (Spoiler alert: I'll take door number two.)
They've recommended better translations of our current BCP, and these are sorely needed. More on this, below.
The committee has also proposed a revised Book of Occasional Services (BOS) and a new edition of Lesser Feasts & Fasts (LFF). For those who may not know, the BOS has services that the church uses, but not with enough regularity to merit inclusion in the prayer book. This includes seasonal liturgies, blessing of various objects for worship, and liturgies for catechumens, for example. LFF contains commemorations, especially commemorations of saints' days. So the new LFF means a much-needed revision to our sanctoral calendar.
Before we dive into the resolutions, it's worth noting another concern that is explored by the committee in some detail in its report. We have underfunded their work. As a church, we say that worship is of central importance. And then we are reluctant to invest in the work to study, to translate, and to update our liturgies. I've not always loved every proposal coming from the SCLM, but I respect how much they do on a shoestring budget. We need to provide more resources for their work if we're going to ask them for things. Whatever else we do, for example, we need to invest in some decent translations for the BCP.
I do have one frustration with the report. Though the SCLM report comes in at over 200 pages, that does not include any of the proposed BOS or LFF. That's another 1,000+ pages. I'm reasonably comfortable with technology, but I find that engaging texts carefully using PDFs to be less satisfactory than printed materials. I wish the committee had not included 100+ pages of transcripts of conversations with other Anglican provinces and dozens of pages of other material of the sort that usually appears in an appendix. While I'm grateful to have the materials publicly available, perhaps a PDF online for these materials would have been ideal. And then, though the printed Blue Book cost would have climbed, the proposed BOS and LFF materials should have been included within the main body of the report within the Blue Book. I do understand the challenge of deciding what to include or not include. Your mileage may vary.
Before we get to the resolutions, some notes on subcommittee reports where no resolutions have been submitted.
Subcommittee on Congregational Song
They were asked to do some work on additional musical resources with World Music (2015-A060). We did not fund this work, so they've made little progress. This is another instance of General Convention passing resolutions because they feel good without thinking through the costs, in this case literal costs. Let's make sure that when we vote YES on something we're also willing to invest budget resources or do the work to engage in issues.
They got another unfunded mandate, this one to prepare a plan for a new hymnal (2015-D060). Now, this was a ridiculous idea in the first place. Church Pension Group had already conducted a feasibility study which showed that almost no one wanted a new hymnal. Plus, as the committee notes, it makes no sense to start a new hymnal until a new BCP is done. They took a pass on this work, thankfully.
Subcommittee on Racial Justice & Reconciliation
This committee was asked to "produce and post online a set of prayers for racial reconciliation and justice" and they've done that for the church. This is a good example of how we can provide liturgical resources without going through a whole authorization process. The committee has provided
Prayers of the People with Confession
Prayers of the People for Advent
Prayers of the People for Christmas
Prayers of the People for Epiphany
Litany of Repentance
Commissioning for the Ministry of Justice and Reconciliation
They're available in the report or on the SCLM blog. In our current climate, having liturgical resources on issues of racial reconciliation and racial justice is a welcome offering. It's worth noting that the Prayers of the People in the BCP is a place a flexibility, so if one wanted to modify what has been offered here, that's permissible and even encouraged by BCP rubrics. This is a good start, a nice template for prayer for racial justice and racial reconciliation.
Subcommittee on Same-sex Marriage Rites
The committee looked at the rites for same-sex marriage currently available, and they've also done a survey to see what the church makes of the currently available rites and how they've been used. Based on all this, their recommendation is as follows.
After reviewing the survey results and discussing possible responses, the SCLM believes that Liturgical Resources 1: I Will Bless You and You Will Be a Blessing: Revised and Expanded, 2015 will continue to serve the Church well in its current edition and does not recommend a further revision at this time. The SCLM recommends "The Celebration and Blessing of a Marriage 2" and "The Witnessing and Blessing of a Marriage" both continue in trial use status until such a time as the General Convention initiates a comprehensive revision of the Book of Common Prayer.
Note that this is at odds with what the Task Force on Marriage proposed, which is immediate prayer book revision to include the same-sex marriage rites. I covered this earlier; I agree with the SCLM. We have serviceable rites now; let's keep using them in trial use, until such time as BCP revision is undertaken. It won't be that long.
Do read the report! On to the resolutions.
A062: Amend Canon II.3 .6-9. Full text. Likely vote: YES.
Our constitution has a provision for trial-use liturgies, that is, material that is intended to make it into the BCP eventually. This makes sense; we want to test-drive liturgies before we inscribe them into our prayer book. There is, however, no explicit constitutional provision for supplementary or additional material outside the prayer book. Now, there is a provision on page 13 of the BCP for additional material, "In addition to these services and the other rites contained in this Book, other forms set forth by authority within this Church may be used." But it makes sense to provide constitutional and canonical cover for authorized material outside our prayer book. This would include BOS and LFF, as well as the Enriching Our Worship series and same-sex marriage materials.
This resolution clarifies provisions for trial use, and then adds a section to the canon that covers liturgical authorization:
Whenever the General Convention, pursuant to Article X(c) of the Constitution, shall authorize alternative liturgies to one or more liturgies in the Book of Common Prayer or additional liturgies to those in the Book of Common Prayer, the enabling Resolution shall specify the precise texts thereof, and the terms and conditions under which such liturgies may be used.
Makes good sense. We need to approve this (and the next one, A063) so that our constitution & canons cover our current practice in a way that is clear.
A063: Amend Article X of the Constitution of the Episcopal Church (First Reading). Full text. Likely vote: YES.
This adds a provision to Article X of our constitution, which is currently focused primarily on trial use material (and revising the lectionary, for you church wonks). Here's the new provision:
Authorize for use throughout this Church, as provided by Canon, alternative and additional liturgies to supplement those provided in the Book of Common Prayer.
Yes, we need this for the reasons I outlined above, concerning A062. This just adds clarity and covers our current practice with constitutional provision.
A064: Authorize The Book of Occasional Services, 2018. Full text. Likely vote: NO.
As I mentioned above, the BOS contains important material, authorized for use throughout the church, that is not used frequently or regularly enough to merit inclusion in the BCP. It's been a while (2003), since the last revision. We could use an update to this book.
The committee has done an impressive amount of work on a resource that spans almost 400 pages. They've responded to direction from General Convention for specific material. I commend the effort and admire what they've been able to do on the scant resources we provided. However, the proposed book is not, in my view, ready for authorization.
My hope is that we will receive this as an interim draft version, and that the committee can propose a more perfected BOS in 2021. Meanwhile, maybe there's a way to authorize this for use. Because of the nature of the material, I think General Convention "making available" this resource as a PDF should cover most cases. Then the feedback from the first year or two of the coming triennium could inform a more finished 2021 revision.
In no particular order, here are a few reasons why I cannot support authorization of the book as is:
The proposed book continues the lamentable practice of having only some of the material translated into Spanish or French. If we are going to be a multicultural, multilingual church, we need to provide the entire book in English, Spanish, and French — our official languages. Haitian Creole is probably a good idea, too.
In the introduction, the committee says they are choosing to use the word Presider instead of Celebrant or Officiant. Now, it seems to me that it would make the most sense to stick with the parlance of our current BCP for now, and then perhaps switch in due course. But I understand saying Presider instead of Celebrant is au courant. If we are going to switch, though, then we'd need to switch. The term Celebrant is still found in the proposed material, despite the note that a new term is used. Also, I do see some value in flattening roles, but then it's strange to leave Deacon in as a specified role. Why not use Presider there, if we're going down that road? Mostly, I think the terminology here is inconsistent and confusing; best to stick with BCP usage until we are further along toward a new BCP.
There are things left unchanged that baffle me. Why would you have a celebration for the anniversary of a marriage that explicitly talks about husband and wife? Wouldn't it have made sense to make the tiny edits necessary to make this service inclusive of same-sex marriage?
Nearly every priest I know modifies the bidding prayer in the Maundy Thursday foot-washing. Some read the current bidding as clericalist, but at a minimum it draws attention to the Celebrant/Presider in what seems like an unhelpful way. Also, the bidding assumes that foot washing takes place with the priest washing the feet of appointed representatives. Again, most places I know of do it differently, most often with congregants washing one another's feet. So why not take the time to update this bidding to reflect our baptismal ecclesiology and current practice?
The book is full of formatting errors and there are typos. Presumably these will get sorted out in the publication process, but it indicates to me an unfinished state.
The book makes what seems like an arbitrary statement that Oil of Catechumens is not a thing. I beg to differ. I'm not sure why there's a lack of love for the third of three kinds of oil commonly blessed in the Western church (Oil of Chrism, Oil of Unction, and Oil of Catechumens). The proposed BOS dispenses with Oil of Catechumens and proceeds to suggest that the other two oils should not be blessed together, as is usually the practice at an annual "Chrism Mass" in my experience. It's fair game for the SCLM to try to shape or to correct a wayward liturgical practice, but I fail to see the harm with what they're eliminating, nor the problem with the common practice of blessing oils together. This is an example of what sometimes seems to me to be a heavy-handed agenda in the material.
There are instances of flagrant modalism, e.g. "Creator, Word, and Spirit." Now I'm not averse to some expansive language in various places as an alternative to traditional trinitarian language, but outright heresy seems like a bad way to go. As a positive example, a couple of the blessings in Enriching Our Worship 1 are lovely. So if there's a desire for new language, we have some already.
There is an alternative Lord's Prayer that I'm not sure I can get behind. In some cases, I think experimentation, even with the Lord's Prayer, is welcome. But I don't think I want to vote to authorize as an official alternative to the Lord's Prayer which pads some of the edgy scriptural imagery. (I just can't support getting rid of "daily bread" or kingdom/reign language, both of which challenge our consumer culture norms.)
Several places, there are headings without any liturgical material, just basic directions. I know some of this comes from our current BOS book, but I think it would be better to omit the material or, better yet, provide some material if a heading is listed.
There's a service for renaming, I believe intended primarily for transgender people claiming a new name. I for one am very glad that our church is seeking to provide a resource for this important time of transition. The liturgy itself (see next bullet) isn't my cup of tea, but that's OK. My concern here is that I wish the service were just a bit broader in its scope, so that adoptees and people in other life circumstances could claim a new name also.
Overly didactic liturgy is in the eye of the beholder. This seems like it's a bit too much to my eye. "Presider Blessed be the God of Sarai revealed as Sarah, Jacob who became Israel, and Simon called Peter. / People Blessed be the God who comes among us, reconciles us, and sets us free." If it's just me and a few other cranky folks who find that to be a bit too much, then I'll get on board. But I wonder.
Theological strangeness. There are phrases scattered about that give one pause. For example, in a prayer to kinda-sorta the first person of the Trinity, there's a thanksgiving for "…the gift of Jesus Christ, who emptied himself to serve your world." That's not why Jesus emptied himself.
This is a sample. You get the idea. Now, I've called out quite a few negatives here. There is also plenty of good, useful material. This is why I hope the proposed 2018 version can be made available for use right away, and then we can authorize a more perfected version in 2021, perhaps with full translations into Spanish and French at that time.
I have only gratitude for the committee. They had a large mandate and inadequate resources. What they've accomplished is extraordinary. Let's give them the time and the money to finish up.
A065: Authorize Lesser Feasts and Fasts 2018. Full text. Likely vote: YES, but only if amended.
Our calendar of saints is a mess. The last revision to our official book of commemorations was 2006. Since then, the SCLM proposed Holy Women, Holy Men (HWHM) in 2009 and 2012 for trial use, though the provision mechanism was confusing to folks. Many clergy seem to believe that HWHM supplanted LFF 2006, which is, in fact, still our official calendar. In 2015, the SCLM came to convention with A Great Cloud of Witnesses (GCW), which was intended as a replacement for HWHM, not LFF, and which was also a hot mess. Both HWHM and GCW included people for commemoration that do not fit our criteria for commemoration, including people who were not Christians. Talk about a confused baptismal ecclesiology!
In their retelling of this saga in the report, even the SCLM is confused. Writing about how convention declined to authorize GCW, instead directing that it be published without authorization, they say, "Whether intended or not, this action also meant that the calendar of the church reverted back to Lesser Feasts and Fasts 2006." But LFF 2006 has been the official calendar all along. We simply had a succession of trials and experiments, all of which were seriously flawed either for theological or practical reasons.
In 2015, General Convention asked the SCLM to fix the mess, and they've done a solid job. They are proposing LFF 2018, a straight-up replacement for LFF 2006 and thus becoming the official calendar of the church.
If you're going to read just one part of the SCLM report, read the report from the Subcommittee on the Church Calendar. This is critical, because there is a LOT of confusion out there about what a saint is, how we've gotten our commemorations, what is our current calendar, and how did we decide on particular people. Most of these questions, and others, are addressed in the report. We still have a confused baptismal ecclesiology, but the SCLM can't fix that in an instant. Their report does offer important history and insights into their thinking — as well as the many contradictory mandates they've received from General Convention over the years.
In any case, they were told, fundamentally, to do two things.
Make the church calendar of saints more diverse.
Reduce the number of commemorations.
Does that seem contradictory? Well, it is. With those conflicting mandates, they've done a brilliant job. Read the report for details, but for the first time, they've proposed a calendar that
is balanced male/female
is balanced lay/clergy
is more balanced racially
is more balanced biblical/ancient/medieval/reform/modern
is filled entirely with Christian disciples
meets our official eligibility criteria
In order to do that without filling every day with multiple commemorations, they've had to eliminate many commemorations, especially among European male bishops. They've added lots of women from the Bible and ancient world. When the report came out, there was predictable shrieking from those who want "their" people commemorated, whoever their people are.
Here's the thing. We need to get out of the business of thinking of the calendar as the place to look for our personal favorites. Every church organization does not need its founder in the calendar. Every beloved Christian writer cannot be included. And so on.
There's nothing to stop a person from keeping a cult of devotion to saints not included in the official calendar. Our BCP provides for this. So if I want to keep Charles, King and Martyr, I can do that. The fact that he is not on the calendar need not rain on my devotional parade. If your church is named after one of the omitted saints, you can ask your bishop for permission to keep that feast (with propers, even) on your patronal festival. What the SCLM has done is not foreclose possibility or oppress anyone; instead they've offered an expansive calendar of commemoration of real Christians, exemplars from all ages for all people.
Here's first my hope for this General Convention. I'd like to see LFF 2018 approved pretty much as is. The whole thing needs a good copy edit and proofread, but that can be done in the publication process. Rather than have various lobby groups go after particular saints for inclusion or exclusion, let's accept this as a solid effort. If folks don't like someone who is included, good news: no one is required to keep any of these optional feasts. If folks are missing out on someone who has been excluded, good news: the BCP provides for local commemorations of saints based on your local needs. The committee has also helpfully listed folks for whom resources are available in GCW. So, everyone can keep the saints they wish to keep.
My second hope is this: rather than tinker with our sanctoral calendar for the next six or nine years, I'd like to see us go deep into an exploration of our sanctoral theology. As a church, we clearly have no shared understanding of what makes a saint and who is worthy of commemoration. Before we continue to surgically alter a thing we don't comprehend, let's do some learning and some talking. Scholars and liturgists can write books and host conferences. Churches can offer Christian formation on the topic. The SCLM can guide the work, creating resources and inviting conversation. But let's stop fighting over saints until we have a basic understand of what a saint is.
Yes, that means I don't get all "my" saints in the calendar right now, and neither do you. But getting my saints in is not the point. Let's get to the point. And then let's look at the calendar.
This means that the second resolve of A065 must be amended. Instead of asking the SCLM to bring revisions in 2021, let's ask them to help us learn about saints. Let's get the sanctoral horse back in front of the sanctoral cart, possibly for the first time in decades.
A066: Add Thurgood Marshall, Pauli Murray, and Florence Li Tim-Oi to Lesser Feasts And Fasts, 2018. Full text. Likely vote: NO.
I think Thurgood Marshall, Pauli Murray, and Florence Li Tim-Oi are awesome witnesses. In due course, I hope the church adds them to our calendar. But it's too soon, for two reasons. First, they just died in 1993, 1985, and 1992. That's much more recent than our guidelines allow, which is 50 years after death. Secondly, until we're clear on our sanctoral theology, I'd like to see us hold off on adding (or removing) more folks, especially when proposed people do not square with our guidelines. Meanwhile, those who wish to commemorate Thurgood, Pauli, and Florence, can do so.
A067: Propose Additional Optional Fast Days for Lesser Feasts and Fasts. Full text. Likely vote: NO.
Fasting is an underutilized spiritual discipline, I suspect. So part of me would like to see more provision for and encouragement of fasting. However, I'm not sure we need this. The committee's report bears this out. Their desire to work on this is based on this thinking:
Finally, we had significant discussion about the fact that "Lesser Feasts and Fasts" has in practice been nearly all feasts. We thought seriously about whether it would be helpful or desirable to add more fast days to the calendar as well as feasts, including both the traditional practices of abstinence and self-denial but also works of justice and mercy, and to call the church more deeply into serious discipleship. Because we did not have a mandate for that work, however, we are proposing a resolution that would call for such additions to the calendar in the coming triennium if the church wills it.
OK, but that doesn't seem adequate as a justification for new work. If congregations and individuals are asking for a resource, that's worth attending to. If congregations and individuals are creating and using resources that should be shared more widely, that's worth doing. But this seems like the SCLM looking for work to do, and I'd like to see them focused on existing work that needs to be done well, such as BCP revision, perfecting BOS, and leading us in an exploration of sanctoral theology. Churchwide, official fasting practices and observances can wait for now.
A068: Plan for the Revision of the Book of Common Prayer. Full text. Likely vote: NO.
The SCLM has essentially given us two options for BCP revision. I suppose there's a third option, which would be to reject the two they've given us. This resolution represents Option One, and the next resolution represents Option Two. I lean toward Option Two.
Rather than try to summarize, I'll let the committee speak:
Essentially, Option One…envisions a decision by the upcoming General Convention to move into the revision process immediately, the first stage being to gather data, resources, and ideas, and then set up the structure to begin drafting immediately after 2021 General Convention. Option Two…envisions a slower pace, while remaining open to Prayer Book revision in the future. Option Two invites the whole church to broaden its familiarity with the 1979 Prayer Book and the history that underlies it, and provides for time to reflect as a body on the significance of common prayer in our tradition. These are the two options the SCLM is presenting to the 79th General Convention, culminating in two resolutions. The SCLM asks General Convention to choose an option and appropriate full funding for that option. The extensive background materials section is intended to support and equip General Convention to discern our collective path forward, to consider every possible angle in order to discern what is best for our church and to what God is calling us in this moment. Our report is intended to move our church toward unity through a process of collective discernment rather than to cause divisiveness by attempting to assert personal piety and individual liturgical preferences over that of others.
I cannot say how grateful I am for this approach. This is an approach rooted in discernment and humility. This is an approach which asks General Convention to be accountable for a decision, and to invest in whatever it decides with time and money. I sincerely hope we do not vote for one of these without allocating the funds needed to get it done.
It does not seem to me that we are ready for prayer book revision quite yet. We haven't used the BCP we have. We have a catechetical crisis in our church, with our laity and clergy often unable to articulate the meaning, function, and theology of baptism or eucharist. It makes no sense to displace the baptismal ecclesiology of the 1979 prayer book if we're not sure what's working or not working about it.
So let's hold off on full-on revision for a bit. Meanwhile, let's really dig in and talk about what's working and not working about our current prayer book. For those craving newer liturgical materials, there are plenty of ways to do that. No one is limited to only Prayer I, Prayer II, Prayer A, Prayer B, Prayer C, and Prayer D.
We also need to figure out if we're going to try to be a real multinational, multicultural church. Because if we are, that will inform our next BCP in fairly radical ways.
I am 100% in favor of prayer book revision. Really, every Anglican should be. The only question is when it's time to revise. In my view, it's just not time yet.
Happy to say more if folks are interested, but the subject has been well-trodden on the church blogs.
A069: Engagement with the Book of Common Prayer. Full text. Likely vote: YES.
This resolution "calls the Episcopal Church to devote the next triennium to deep engagement with the structure, content, language and theological thrust of The Book of Common Prayer (1979), with a view to increasing the Church's familiarity with the book in its entirety; and directs the SCLM to develop materials to aid local dioceses, congregations, seminaries, and schools in the process of this deep engagement, focusing particularly on the use of the Prayer Book as an instrument for the catechesis and spiritual formation of the whole people of God…"
In the report, there are extensive plans for how this engagement would take place, including surveys, collection of service leaflets to see what's actually happening in congregations, hosted conversations, and more. I do hope the SCLM  finds ways to involve ordinary pew-sitters and even seekers who are not (yet) members of our church. The danger of the feedback collection is selection bias when insiders are the ones we talk to and hear from. But the next BCP will be for the whole church (and for seekers), not just for church meeting junkies. I also hope the feedback is analyzed along generational lines. The next BCP will be in place for 30-50 years perhaps, so let's make sure the people who will use it for decades get at least as much influence as those who will retire from leadership positions before long. My sense is the SCLM is ahead of me on all counts, and if we pass this, they'll do a good job of engaging the whole church.
To do this work well will cost a pretty penny. Let's not cheap out. We need to find the money.
A070: Translation of the Book of Common Prayer. Full text. Likely vote: YES.
This resolution asks the SCLM "to create new translations of the Book of Common Prayer 1979 into Spanish, French, and Haitian Creole, following the Guidelines for the Translation of Liturgical Materials adopted by the Standing Commission on Liturgy and Music…"
Let's enable and fund this very important and long overdue translation work to make quality versions of the BCP available in languages other than English. They're asking for $201,000, which does not seem like enough to me. So let's give them that much now, and tell them they can come back to Executive Council if needed to do the work well.
UPDATE: Over on Facebook, Canadian friend Malcolm French, who works in New Zealand, reminds me of an important international perspective that I had intended to include in the original post. But here it is. It would be good if, rather than translating sui generis, the team consulted with other Anglicans (for example, Francophone Africans or Spanish-speakers in Central America outside the Episcopal Church) on the liturgies. Equally important, I would think it would make sense to examine currently used Roman Catholic liturgical material, since they may have already done some good work that we could leverage — and also make it easier to offer hospitality when Roman Catholics visit or join our churches.
OK, friends. Blue made it through the whole Blue Book. Lots of clues to sniff! Do let me know if it's helpful to read about other resolutions and, if so, if there are particular topics that are important to you. I'm not sure I'm going to make it through all 222+ resolutions this time around.
Image via The Living Church.