Blue's Clues: Deputies' Committee on the State of the Church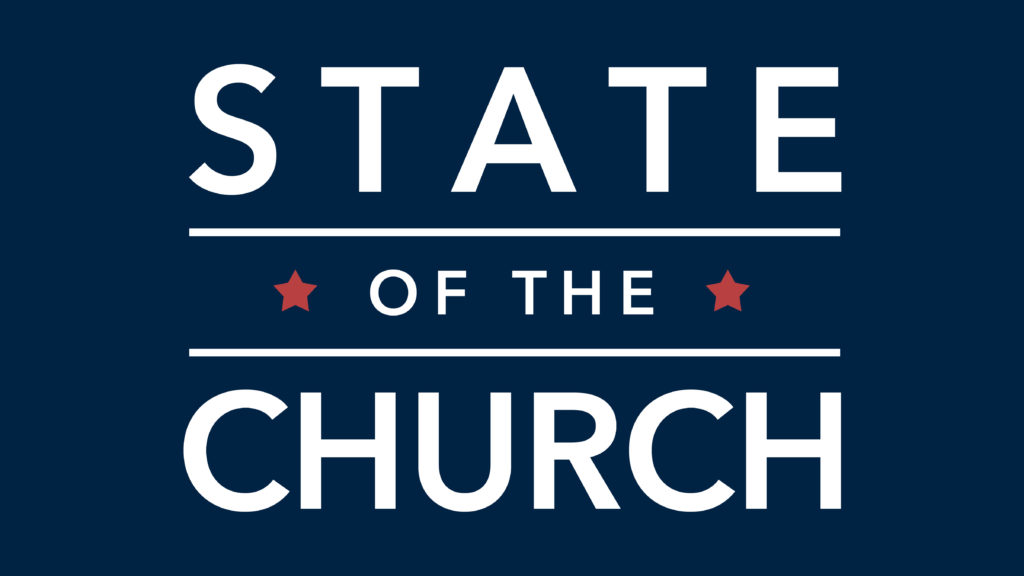 This is the twenty-second post in Blue's Clues, a series on the resolutions and reports of the Episcopal Church's General Convention. The index of posts is here, and my index of resolutions and likely votes is here.
Today we look at the one committee from the House of Deputies which submits a report to the Blue Book, the Committee on the State of the Church. Among other things, according to their canonical mandate, they are to "prepare and present to the next meeting of the House of Deputies a report on the State of the Church; which report, when agreed to by the said House, shall be sent to the House of Bishops" (Canon I.6.5(b)).
This committee also decides what the official parochial report form should look like, and they recommend that form to the Executive Council for final approval. For those who may not know, the parochial report is the form which all congregations complete, and the data are collected to create a statistical picture of life in the Episcopal Church.
At least the last few conventions, the State of the Church reports have been a picture of the overall health of the church and so forth. This time, after a brief introduction, the report mostly deals with three topics the President of the House of Deputies asked them to focus on: "Social Justice and Advocacy Ministries in the Episcopal Church, Multicultural and Ethnic Ministries, and the needs and work of the Church Pension Group and its services as they relate to the changing church."
The introduction of the report does make some overall observations about the church, but they refer folks over to the Office of Research at 815 for more data on the health and vitality of the church. A quick digression: in 2016, Kirk Hadaway, the Episcopal Church's chief researcher, retired. This position has not been filled, as far as I know, and that's a shame. During this time of many shifts in our church, it would make sense to double down on research and data collection. What's working? What's not working? Where are we growing? Where are we withering? But we do not seem to be investing in that capacity. I hope this is remedied. We do appear to have a "data and research specialist" at the General Convention Office, but I don't think that office is producing the same kind of reports Kirk used to create. If I'm wrong — and I'd love to be wrong — please let me know in the comments.
Back to the data, the State of the Church report does have this summary, which I hope every deputy and bishop will read slowly and carefully: "The report on overall membership, stewardship, and average Sunday attendance…tells a story of modest decline in relation to the recent past, a story of radical decline when compared to the post- World-War-II heyday of the 1950s and early 1960s, and a profound and shocking decline when compared to the growth in population of the United States."
We really ought to be spending more time at General Convention talking about "radical decline" and, where it is found, radical growth. Because whatever else we do won't matter if we decline below the point of institutional viability. I would hope we would be focused on right-sizing our structures and systems for our now-smaller size, even while we invest in growth where it is happening and where it is possible. To be fair, the three topics on which the committee focused are all areas that we need to contemplate as we manage decline and aim for growth.
I don't want to try to summarize the work of the committee on the important areas they studied. This is a report that, really, every deputy, bishop, and church leader should read carefully. Without attempting to summarize that they've said, here are just a few points from the report. Again, do not rely on Blue's Clues for this. You really want to digest carefully this report, and it will take some time.
The committee rightly points that that racism is deeply entrenched in our church and its structures. They do note some signs of hope with "Beloved Community" work.
Our church has a problem differentiating between charity and social just work, the committee found. They also name the fact that people were uncomfortable at this topic, some people claiming the church should not be political. (Of course, this is ridiculous. The Gospel is political, and so too should the church be political. We just don't want to be partisan.) There are a lot of good points raised in this discussion. Here's just one sample quote: "In preaching, teaching and praying, we use prophetic language about doing God's work of justice; yet responses to our social justice survey suggest that our actions across the Church tend to fall more often into the realm of alleviation of suffering and the work of charity than the work of justice." I could not agree more.
Various data are presented about knowledge of General Convention resolutions. I'd love to see the original survey questions and the full dataset. The committee presents a picture that there is some grassroots demand for more "social justice resolutions" but that has not been clear to me in my travels across the church. It's possible my perception is skewed, and it also seems possible to me that there's selection bias in the survey. The report talks about needing more awareness of General Convention resolutions, but all resolutions are easily accessible with a quick Google search. That said, when I was a parish priest, I used a little flyer produced by the Office of Government Relations to show parishioners that the Episcopal Church had taken positions on various policy issues; maybe we need more well-packaged resources like that in the form of websites, PDFs, or small publications.
In the section on the Church Pension Group (CPG), the committee gets right to it: "There appears to be a considerable gap between the General Convention's expressed values and some of the specific investments held by the Church Pension Fund (CPF). While CPF is to be commended for making a major commitment to investments with a positive social impact, CPF has declined to consider requests for divestment from companies or industries whose activities may be contrary to the teachings of our faith, reflecting a gap in both communication and questions of how the values of the Church are expressed in the use of its funds." Yes, and we'll see a resolution to dive into this; I wholeheartedly support that exploration. I'll say it again: you really need to read the nuanced presentation of this issue in the report.
As for pension parity, here's a sample snippet. "…the lack of parity between the pension and related benefits of lay and ordained church workers persists. In addition to this disparity, our committee also notes the lack of parity between the pensions of domestic and non-domestic Church workers and the fact that the current pension structure, which is based on a purely income-replacement model, perpetuates and reinforces in retirement the disparities of income incurred during active ministry, which are often manifest across gender and racial or ethnic lines. With an income-replacement model, these disparities in compensation produce proportionally disparate pensions." I'm not particularly pleased with the current system, even though it works well for me as a well-compensated cleric. I'd like to see parity between lay people and clergy who serve the church, and we also need to look at income disparity along several lines, including gender and race. If pension reform meant that my benefits would be cut to provide more generously for those who have served their entire careers in low-compensated positions, I would hope to vote in the affirmative. There is a resolution to get us to look at all this, and I hope it passes.
The committee looked at the Denominational Health Plan and recommends no changes now. From reading their report and my previous knowledge, I agree with this.
If this wasn't the 22nd post in a series with more to go, I'd have more to say about the contents of the HOD State of the Church report. Before we head on to their resolutions, I want to urge you one more time to read it. The CPF issues around investing are going to be a big topic of conversation at this summer's General Convention.
A053: Design a New Parochial Report. Full text. Likely vote: YES.
It's been a while since I saw the parochial report form, not being in parish ministry at the moment. But I do know that I hear about it from friends every year when it's time to fill out the report. We need to update both the methods used to collect data and the data we collect.
I do hope we'll continue to measure some of the things we're measuring now. Whatever else a church does, if worship attendance is declining, it's not thriving as a church. We probably need to measure Average Weekly Attendance in addition to Average Sunday Attendance, but we do need to measure attendance. It's not the only metric that matters, but I can't think of one that matters more. We should also measure financial giving, endowment size/spending, formation participation for children and adults, and more. And of course, baptisms, funerals, and so on. I've heard people say we shouldn't measure those things, but that's often because they don't like the direction of the trends.
It would also be good to measure things like online audience reach, number of people participating in mission/outreach work (perhaps taking care to differentiate between charity work and social justice work), and more.
We do need to be thoughtful about what we measure. Measure too much, and the reporting is onerous and we'll lose accuracy. Measure too little, and we won't be able to see what's working and what's not. If we measure only the things that look good to us, we miss out on the clarion call to be better. Can you imagine getting a physical and saying, "Don't take my blood pressure into account, since I don't like the number?" Of course not. We need to know how we're doing so we can be healthy. And that means that we need to get a comprehensive measure, not relying on just one or on just a few measures.
For more thoughts on metrics, I refer you back to previous posts here on 7WD, including "Do numbers matter?" and "Zombie church".
Anyway, I will vote for this one. We need to get better at measuring how we're doing.
A054: An Offering of Prayer for the Whole Church. Full text. Likely vote: YES, but only if amended.
This resolution asks General Convention to "invite the multicultural ministers of the Church who are tasked with supporting the work of the Church's Black, Latino/Hispanic, Asian American and Native communities to work with liturgists and ministers in their communities to create a small book of prayer, liturgy and music as a gift for the Church." This is to be done in three years at a cost of $15,000.
There's no explanation for this resolution, and there's nothing about it in the report that I could see. So we're left to speculate about intent and vision here. Is this to get Episcopalians to think about multicultural liturgy, worship, and prayer? Is this part of a (much needed) effort to dismantle racism? Is this envisioned as a book for corporate worship or is it for private use? Is there a reason for not including or referring this to the Standing Commission on Liturgy and Music? What is a "small book" in this context? How much music should there be? Will the book be free, or should it cost money? Why not ask Church Publishing to consider taking on this work?
I have a feeling the committee can picture what they want and why they want it. I want to be supportive of this, because, as I say regularly, we are an international, multicultural church. So we do need resources to remind us of this and to showcase the richness of our variety. We also need practice in working and thinking multiculturally. My sense is that the ethic missioners are quite good at this already, but maybe it makes sense to draw others in to get practice in this work?
For me to vote yes on this, I'd want clarity on what is being asked for here — what it is, and why are we doing it. Why are we making an Episcopal thing, when multicultural worship resources exist already? If this is a very small booklet, then the budget might be adequate. But if this is a more substantial resource, the budget will need to be as much as ten times what is asked here.
This resolution, as written, is too vague and, I think, poorly funded, to work. With a bit of clarity and possibly a bigger funding request, I'd love to vote yes. I also note that this is a perfect project for a Constable Fund grant proposal, so it might not need to be funded out of the General Convention budget.
A055: Develop Multicultural Ministry Pathways. Full text. Likely vote: NO, but I'd like to understand it better.
This resolution asks General Convention to "invite the multicultural ministers of the Church center to further develop channels and pathways for sharing the gifts of ministry that exist in abundance in our Black, Latino/Hispanic, Asian American and Native communities with the wider Church, such as: an expanded New Communities gathering; regional or provincial trainings for ministry development officers, to share best practices for multicultural leadership development; and new channels for sharing the gifts of lay-led multicultural ministry that are already well-developed in the dioceses of Province IX and in outlying communities throughout the Church." There's a funding request of $100,000 to go with this.
Maybe the point of this resolution is to fund our multicultural (currently called ethnic) ministries more lavishly, and if that's the point, I'm all in. But beyond that, this falls into what I generally don't like to see, having 1,000 deputies and bishops tell 815 staff exactly what to do. Moreover, I think the staff at 815 are already working on what is described here.
The resolution refers to the "New Communities" gathering, but it's called the "New Community" gathering. Seems like a small thing, but I learned when I attended the conference a few years ago, at the invitation of staff, that it's an important distinction. The thinking as I understood it is that, in Christ, we're all made one community, even in our differences. Maybe this is a typo, or maybe the State of the Church committee is trying to get us to use new terms and new thinking about this work, as with their hoped-for change from ethnic to multicultural ministries.
I hope the State of the Church committee will be clear about their thinking with the legislative committee. Or perhaps it's already perfectly clear, and I don't quite get it yet. Comments are most welcome.
A056: Create Task Force on Theology of Social Justice Advocacy as Christian Ministry. Full text. Likely vote: YES.
This creates a task force to "consider scripture, approved liturgical resources, other theological texts and previous actions of General Convention to summarize the ways in which The Episcopal Church understands the work for social justice as essential mission and ministry of the Christian Church." So long as they start with scripture and take it seriously, I think this is a grand idea.
We Episcopalians love cheap grace and cheap activism. So if we can talk about what real social justice work looks like and how to do it, I'm all in favor.
I also hope they include in their understanding of "work" for social justice, the preaching and teaching ministry of the church. Straight-up political activism has its place, even in the church, but that's not primarily how I understand the church should be engaging. Ours is a ministry of gospel proclamation, moral leadership, and roll-up-our-sleeves kind of work. Maybe we roll up our sleeves to send an email to a politician, but maybe we also open our churches as places of refuge. Maybe we need to contemplate costly actions rooted in the scriptures and tradition of the church. That kind of sounds like what they're talking about in the resolution, and I'm all in.
A057: Strengthen Staff Resources for Networking. Full text. Likely vote: NO.
This asks General Convention to "support the continued and additional strengthening of Church wide staff resources and collaboration to support the grassroots work of The Episcopal Church in the areas of social justice advocacy and ethnic and multicultural ministry across The Episcopal Church." That's it.
This expresses a feeling, without doing more. It's the legislative equivalent of "thoughts and prayers" and we need more.
A058: Encourage Use of Asset Map. Full text. Likely vote: NO.
Here we are to "challenge all congregations to fully complete their profile on the Episcopal Asset Map, a joint project of The Episcopal Church and Episcopal Relief & Development." Congregations largely have little idea what General Convention says, so I'm not sure what good this does. If we really want congregations to complete their asset map, make it part of the new parochial report, which is canonically required. Without teeth, this is ineffectual.
I do like the asset map very much, and if you haven't checked it out you should. I'm just not convinced this resolution is going to do any good, unless it has teeth.
A059: Amend HOD Rules Of Order III – Additional Duties Of Deputies. Full text. Likely vote: NO.
This resolution adds four new duties to the work of deputies to General Convention. To quote the resolution:
Deputies shall be required to report to their Diocese within sixty (60) days after General Convention the legislation passed which is of interest to congregations in their Diocese. Deputies shall prepare a report, in an understandable format, outlining passed legislation and other topics of importance to the Diocese and shall disseminate this report to all congregations within the Diocese.
Deputies shall put forth at their Diocesan Convention all General Convention legislation that should be adopted at the Diocesan level, and report to the Office of General Convention on the status of such legislation.
Deputies shall continue to be a resource to their Diocese for information on legislation passed at General Convention until such time as a new deputation is elected.
Deputies shall serve as a conduit to their Dioceses of any items of importance disseminated by the President of the House of Deputies until such time as their successors are elected.
I'm sympathetic to the aim here, which is clearly to encourage deputies to get the folks "back home" involved in what has happened at General Convention. We as a church need to do a better job of that, I agree. However, I think these particular recommendations are flawed. Perhaps they can be improved. If so, I'd gladly vote for this. Here are some concerns.
This asks deputies to report to their diocese within 60 days of the end of General Convention. There are at least two problems with this. The first is that the official summary of actions (which is what deputies would need in order to do this work) does not come out in a suitable timeframe. In 2015, General Convention ended July 3, but the official summary was not published until August 12. That doesn't leave much more time in the ticking 60 day clock. But there's a bigger problem. This assigns accountability to deputies, but it does not give them authority. I as a deputy might be accountable to communicate with my diocese, but what if my diocesan staff is not cooperative or competent? If this provision is to stick, the timeline needs to work, and there needs to be a requirement on bishops to make their staffs available for this work. (This wouldn't be an issue in my own diocese, but I'm pretty sure it would be in others.)
One of the hallmarks of the work of a deputy is that we are not to be instructed how to vote at General Convention, thus leaving room for the Holy Spirit's work and our own consciences. But this resolution instructs me to introduce legislation at diocesan convention. What if my conscience prevents it? How can we maintain freedom of conscience at General Convention but then prevent freedom of conscience after General Convention? And again, where's the authority? If the goal is to ensure that appropriate legislation is presented, perhaps it is more appropriately added to the canonical duties of the secretaries of diocesan conventions, with appropriate requirements (that would be binding on bishops too, since they would have to allow the secretary to introduce legislation as required).
This seems fine, and it makes good sense. I always enjoy the chance to connect with local congregations and talk about General Convention's work. (In fact, I'm going to St. Anne's, West Chester, this very Sunday. Come visit me there!)
Again, if deputies are expected to pass along information to their dioceses, there needs to be canonical or other support to authorize the work. I do think it's fair, and a very good idea, to require us deputies to be aware of and responsive to communication from the president of our house.
So if this is fixed, I'd be fine with it. The idea of us doing a better job of getting General Convention actions to dioceses is appealing. As I wrote earlier, most of our dioceses don't seem to pay much heed to the actions of General Convention, at least based on their reporting (which is theoretically required).
A060: Create a Task Force to Study Church's Pension System. Full text. Likely vote: YES.
This resolution creates a task force to do much-needed work studying the Church Pension Fund and its relationship to the Episcopal Church. There's a big list, but it's important, so I'll quote it all. The task force would study:
the history of the creation of The Church Pension Fund with an emphasis on its historical relationship to The Episcopal Church and the Church's involvement in its creation;
its current structure, governance, and relationship to The Episcopal Church including but not limited to the right of the General Convention to direct The Church Pension Fund;
the obligations and responsibilities of The Church Pension Fund owes The Episcopal Church;
the ownership of the data provided by various persons and organizations of the Church to The Church Pension Fund in its capacity as the Recorder of Ordinations;
the extent of the Church's right to set the terms and provisions of the pension plans and other benefit programs provided by or administered by The Church Pension Fund or any of its affiliates;
the authority of the General Convention to limit or expand the businesses engaged in by The Church Pension Fund or any of its affiliates including providing products or services to groups or individuals not associated with The Episcopal Church;
and such other issues as the Task Force identifies during its work.
There's plenty more, but you get the idea. We keep talking about issues of parity between lay and clergy pensions, as well as disparities caused by incomes differences that are based on gender, race, and more. Should I get a bigger pension because I'm a white male? Of course not, but that's how our current system works. So we need to take a wholistic look at the big picture, including incomes, by the way. Are there ways the pension benefits system can be adjusted for equity? Are we as a church willing to cut benefits or pay more for benefits?
There are also questions about the ability of the General Convention to instruct CPF in various matters. CPF essentially claims that it functions independently, since its primary function is fiduciary. Of course, this presupposes a false dichotomy between ethical investments and high-performing investments. It also presupposes an idea that those of us who will receive benefits care more about income than morality. Just for the point of indicating that I put my money where my mouth is: my spouse and I are in the process of converting 100% of our retirement and investment portfolio into diverse, ethical/social investments. I do not believe it will have a significant material impact on our retirement, but even if there was a real cost to doing this, I would rather live off a smaller check that I feel great about than a larger check of dubious moral value. I'm quite sure I'm not alone in this. I mean, read the Bible.
So the task force will look at these issues, understanding the regulatory, theological, and practical issues. I hope they'll issue regular reports and produce a resource that is highly educational. Too many people (probably including yours truly) have half-baked opinions around issues of the CPF, and we need some clear thinking with a wide perspective. I look forward to reading this report in three years.
A061: Create a Task Force on Theology of Money. Full text. Likely vote: YES.
I don't much like the title of this one, but I very much appreciate what it seeks to do. This resolution creates a task force that is to "use scripture, approved liturgical resources, other theological texts, and previous actions of General Convention to summarize the ways in which The Episcopal Church values money and other resources of financial value" and "to study the investments and other assets of the Episcopal Church, including but not limited to the holdings of the Church Pension Fund, to discern ways in which those investments and assets reflect the Church's theology of money."
There's more, but you get the idea. This task force would, presumably, interact with the CPF task force from the previous resolution. It would be good for us to articulate some investment policies that are rooted in a theological, moral, and scriptural framework, taking into account fiduciary responsibility. This will serve us as a whole church, not just CPF, but also the churchwide investments, dioceses, and congregations.
This makes good sense, and I look forward to reading their report.
We sent Blue looking for clues in the report, and I do believe he finds a church where plenty is going well, but where we have lots of serious work to do if we are to be about the mission Jesus Christ has given us.