Blue's Clues: Bishops' Committees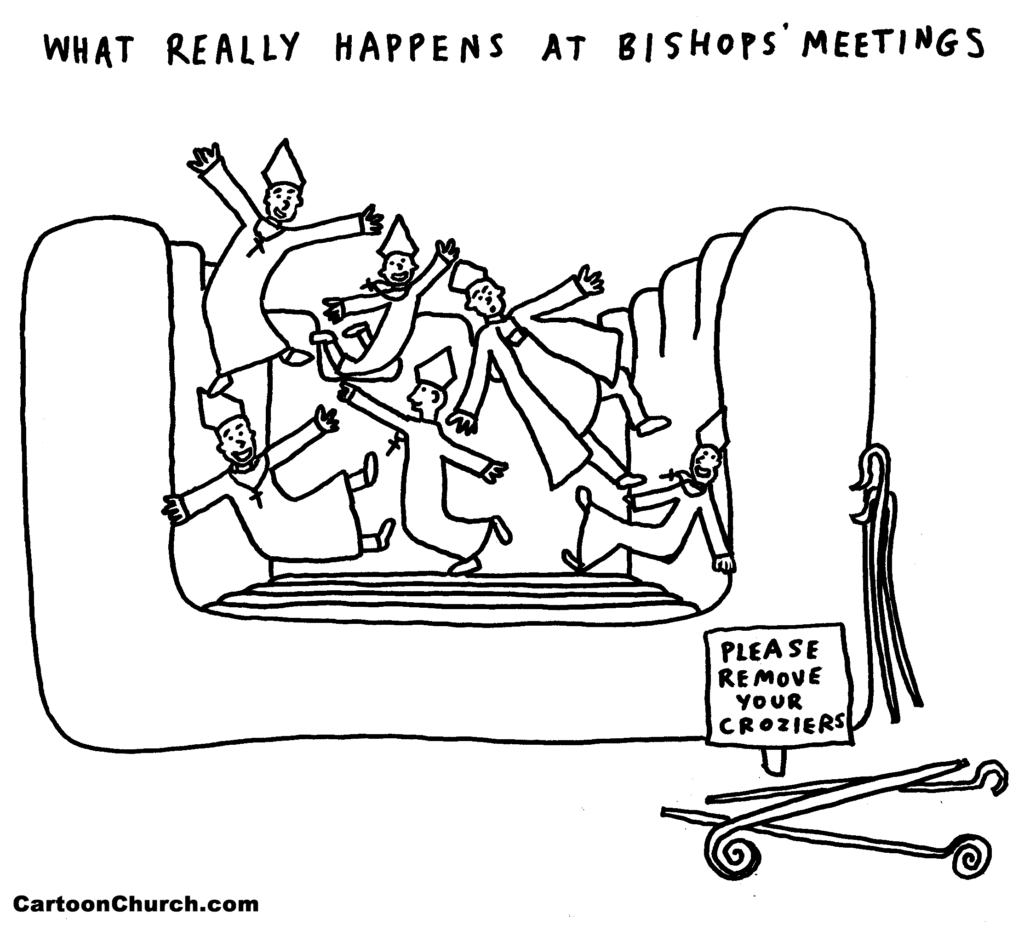 This is the twenty-first post in Blue's Clues, a series on the resolutions and reports of the Episcopal Church's General Convention. The index of posts is here, and my index of resolutions and likely votes is here.
The House of Bishops has two committees which submit reports to the Blue Book, the theology committee and the pastoral development committee. There's just one resolution to examine.
Committee on Theology
The bishops theology committee "serves as a resource to the bishops as they pursue their teaching ministry in the church." I am very glad to say that the bishops occupy eight slots, while they keep seven slots for academic theologians, both priests and lay people.
The report is slim, and they mostly report that they've been working on racial reconciliation. There are plans to provide resources to the House of Bishops and the wider church.
Disclosure: Forward Movement has worked with this committee in the past, partnering to offer Repairing the Breach: Discipleship and Mission in a Global Economy in 2016, based on work from the previous triennium.
Committee on Pastoral Development
This committee consists entirely of bishops, except for one "SPG representative." I might give a prize to whoever guesses the most interesting meaning of SPG, since it's not spelled out in the report. Anyway, their mandate says the committee:
Attends to the corporate wellness of the House of Bishops, assessing needs and providing for programmatic responses where appropriate and needed;
Assists with the wellness of individual bishops by building systems that provide pastoral care and foster healthy relationships; by providing opportunities for education and training that form gracious leadership practices focused on serving and empowering the community of the baptized in their mission; and
Serves as a primary source of advice and support to the Office of Pastoral Development.
One wonders if these topics merit a committee of more than bishops, since the wellness of the House of Bishops is of interest to the whole church. But here we are.
The report makes interesting reading, as they mostly seem to have focused on issues related to impairment this triennium. Her name isn't mentioned, but this is all in response to the Heather Cook incident, which I've already mentioned. This committee addresses several recommendations made by the Commission on Impairment and Leadership, which filed a report in March 2017 that was made public in March 2018. I do not know why the report was held for a year, but this committee apparently had access to it during that time, as several recommendations here respond to that report.
I'll say again, in our analysis of the Cook disaster, we have tended to focus on background checks and knowledge of impairment. Both of these are important, but neither was the primary issue with Cook. Her impairment was widely known, including to the search committee and, according to reports, at least two bishops just prior to her ordination as bishop. We still have not reckoned with the systemic failure that this represents. Until we acknowledge this failure and develop accountability for those in power, we won't fix our impairment issues with better background checks or training programs. But this is a digression from the report at hand.
In this report, they list specific actions taken in reports to the impairment commission's report. It does seem that there is a desire to address the issues, for which our church should be grateful. This is something we should not take our eye off of, however, because the system is still not healthy.
This committee requests $70,000 for two projects to be undertaken in the coming triennium. One is "to assist the Office of Pastoral Development in identifying additional best practices for enhancing the diversity of the House of Bishops with particular reference to the election of women, persons of color, and LGBTQ persons" and the other is to develop "discernment materials/processes for those considering the episcopate" and related materials.
I do believe these topics are taken up by the task force on the episcopacy, which I've already covered. We do need to address these issues, but I believe the best venue for this is a task force of General Convention, not a House of Bishops committee. It just makes sense if you're working on diversity issue to have a wider pool of candidates for a committee doing the work. So let's get lay people, bishops, presbyters, deacons working on diversity issues. Similarly, I'd like to see a task force address discernment materials, or just leave it to 815 staff, trusting that they'll involve people as needed.
This committee has proposed one resolution.
A084: Replacement of Title IIII.12.9 (p) & (q) Incapacity of the Diocesan & Incapacity of the Bishop Coadjutor. Full text. Likely vote: YES, but only if amended.
In short, this resolution simplifies the process to certify that a bishop is no longer capable of serving and should thus be removed from office or receive assistance. Frustratingly, the committee did not write an explanation for their resolution, so we're left to guess a bit about their thinking. (Pro tip: When you write General Convention resolutions, if you want deputies and bishops to vote for them, provide an explanation with context!)
Currently, there's a process that allows "two licensed medical doctors, psychologists or psychiatrists" to certify that a bishop is temporarily or permanently unable to perform the duties of bishop; the Presiding Bishop removes the bishop from ministry. I'm simplifying, but you get the idea. This provision is replaced by a broader impairment provision.
It's fairly brief, so I will quote it all:
When any of (i) a Bishop of a Diocese, including a Bishop Diocesan, a Bishop Coadjutor or a Bishop Suffragan of that Diocese, (ii) a two-thirds majority of all of the members of the Standing Committee of a Diocese, (iii) a two-thirds majority of a Diocese's Convention, or (iv) at least five Bishops conclude that a Bishop of the aforementioned Diocese is seriously impaired, either physically, psychologically, or emotionally, and that the impairment is causing substantial harm, or presents a significant risk of causing substantial harm, to the Bishop in question, his or her family, the Diocese, the Church, or any other person or community, the person or body reaching that conclusion may petition the Presiding Bishop, in writing, to intervene and assist in the matter. The written petition shall include sufficient information to inform the Presiding Bishop and the parties involved of the specifics of the purported impairment. The Presiding Bishop shall initiate such efforts as are appropriate under the circumstances to attempt to ascertain the nature and severity of any impairment and to address any such impairment, which efforts may include, but are not limited to, the appointment of medical and other professionals, consultants or mediators, as well as the issuance of Pastoral Directions.
As you can see, any of several entities can petition the Presiding Bishop to intervene. The impaired bishop need not be medically or mentally incompetent to fall under this canon, but rather be suffering from impairment "causing substantial harm, or presents a significant risk of causing substantial harm, to the Bishop in question, his or her family, the Diocese, the Church, or any other person or community."
I agree with this broader definition. A bishop might suffer from emotional issues or substance abuse or something else not contemplated in the canon, so a broad definition is warranted. I'm also fine with the idea that there are several paths for the impairment report to be made to the Presiding Bishop.
My concern, and for me it is a deal breaker, is that there's no due process here. I'll give a worst-case example. Suppose a diocesan bishop is a fierce leader, maybe even a jerk sometimes. Another bishop in the diocese doesn't like the diocesan bishop, so a report is filed with the Presiding Bishop. Now, imagine we've elected a Presiding Bishop who doesn't like the diocesan bishop much, perhaps due to past conflicts. At that point, according to the resolution, no investigation by the PB is required. The PB can issue a Pastoral Direction. There is no appeal process and no required due process. Just two people could derail a bishop's ministry, if this canon were implemented.
So what to do? We do need a process to certify and declare impairment and to deal with bishops who are impaired. Seems to me there are two good options. One is to beef up this proposed provision with a bit of due process. The other is to add "impairment" as an offense under the existing clergy discipline canons, which provides due process. The issue there is that Title IV proceedings can drag on a bit. But presumably, if impairment is added as an offense, a Presiding Bishop can issue a Pastoral Direction to a bishop anyway, under current canons.
Either way, this needs to get tightened up. Especially with disciplinary proceedings, you don't want ambiguity or unintended shortcuts. So I hope the legislative committee will sort this out and present us all with an effective solution.
Cartoon by Dave Walker. Copyright 2007 Dave Walker, used by permission, with license.