Blue's Clues: Study of Marriage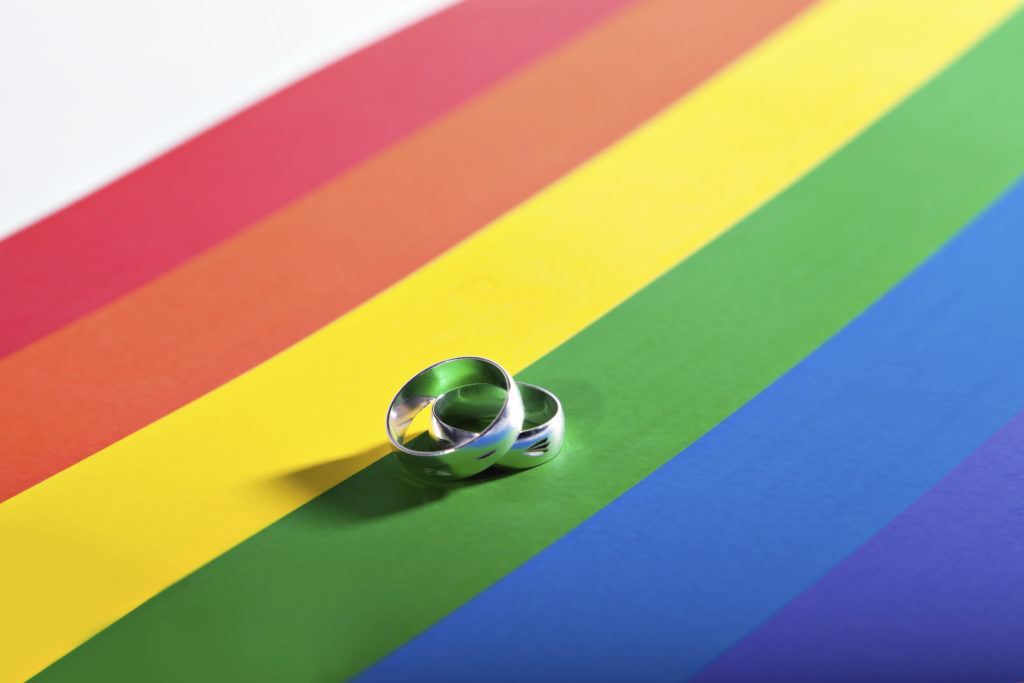 This is the eighteenth post in Blue's Clues, a series on the resolutions and reports of the Episcopal Church's General Convention. The index of posts is here, and my index of resolutions and likely votes is here.
In 1976, General Convention passed a resolution (1976-A069) saying that "homosexual persons are children of God who have a full and equal claim with all other persons upon the love, acceptance, and pastoral concern and care of the Church." Since then, we as a church have been working to make real that vision. In the report from this task force, there is a chronicle of all the various General Convention resolutions over the years, and the journey is remarkable. Fortunately, we are very close to realizing the full embrace of LGBTQ people in our church, at last.
In 2015, our church approved same-sex marriage liturgies, having approved same-sex blessing services in 2012. In the USA, same-sex marriage became the law of the land during the 2015 General Convention, so it was certainly a good time for us to take this step. It is worth remembering that our beloved church is present in around 16 nations, some of whom do not yet permit same-sex marriage. So whatever we do has to take into account the varied legal situation and cultural diversity of our church.
This triennium, the marriage task force continued to study the issue of same-sex marriage and more. Their mandate was quite broad, and I don't see how any committee could have been 100% thorough in addressing…
those who choose to remain single; unmarried persons in intimate relationships; couples who cohabitate either in preparation for, or as an alternative to, marriage; couples who desire a blessing from the Church but not marriage; parenting by single or and/or unmarried persons; differing forms of family and household such as those including same-sex parenting, adoption, and racial diversity; and differences in marriage patterns between ethnic and racial groups…
That's a LOT to study. And I'm not even listing half of what they were supposed to do. Still, our intrepid task force did good work, collecting data and even offering brief papers on these topics.
The debate over issues raised in this task force's resolutions will be some of the more visible debates at convention. If you are a deputy or a bishop, it is essential that you make the time to digest thoroughly what the task force has offered. It's an important issue, and we as a church need to respond bravely, pastorally, and carefully.
I won't try to enumerate all of the (considerable) work done by the task force. They collected lots of data and stories, and the report gives a good sense of that. I commend them for doing a better job than we've sometimes done at collecting feedback from outside the USA and outside the Episcopal Church.
It is important to highlight an aspect of their research. The 2015 resolution (2015-A054) that enabled same-sex marriage directed that, "Bishops exercising ecclesiastical authority or, where appropriate, ecclesiastical supervision will make provision for all couples asking to be married in this Church to have access to these liturgies." In most cases, this request has been met. However, in eight dioceses of the Episcopal Church here in the USA (where same-sex marriage is legal), no convenient provision has been made. Same-sex couples must leave their dioceses and, in most cases in those eight dioceses, find a priest they may not know to conduct their wedding. I do not call this "provision for all couples," and I'm not alone in that assessment.
So this time around, we need to ensure that all means all, and provision means provision. I'll say more below, but I think we need to specify that same-sex couples may be married in their own churches, by their own clergy, when the clergy and the congregation are willing. If that means the parish finds alternate episcopal oversight, then that is what must happen.
Our conversation about same-sex marriage in the Episcopal Church too often leaves out our siblings in Province IX, where attitudes and cultural norms may differ from the USA. It is a kind of neo-colonialism to either force others to our view or ignore their concerns when raised. You can read the distress of many Province IX bishops in their letter to the task force, helpfully linked from the report. Also, I think attitudes and practices toward same-sex marriage may be more varied in our church, even in the USA, then we who gather at General Convention sometimes imagine. I'm not suggesting that we stop or delay the realization of the "full and equal claim" vision, but rather that this vision be realized in a way that is gracious.
I do hope, wherever you are in your desire to see same-sex marriage, that you'll read the whole task force report carefully. If you are "progressive" on the issue, ponder carefully the responses from our siblings outside the US and the data from inside the US. If you are "traditionalist" on the issue, hear the yearning for the church's blessing among those who seek it. Note carefully how the task force has listened attentively. Make sure you read the "minority report" from the one "traditionalist" on the task force (so much for theological diversity, as requested in the mandate resolution).
The task force drafted several essays on various aspects of relationships and marriage. Early drafts were circulated to a number of people, including your blogger. Based on responses, the essays were revised and they are included in the reports. I did see that many of my concerns were addressed. The essays are, of necessity, quite brief. But they do show where many leaders of our church are in their thinking.
If I were going to be critical of the essays and the approach of the whole report, I'd express three key ideas. First, I do not think we've adequately stated that goods of marriage. Why get married? Recognizing that not everyone is called to marriage, why might we urge people in relationship to consider marriage as a good thing? In our desire not to condemn those who are not called to marriage, we seem unwilling to lay claim to the benefits and desirability of marriage. Here we have an opportunity to teach people about the grace offered in the sacrament of marriage. And surely that grace is worthy of commending to those who might be called to marriage?
Second, I think our approach continues to manifest a predominantly US-centric, Anglo ethos. You can see Pew Forum data (2017) about US attitudes about same-sex marriage by race and other demographics, and it's clear that all demographic groups are not of one mind on the issue. Looking globally, the Pew Forum (2013) also shows that attitudes vary greatly by country, including many of the nations of the Episcopal Church. Now, I'm not suggesting that our moral positions should be governed by polls. But too often I hear church folks talking as if every sensible person is on board. Perhaps we can continue to find ways to approach the issue carefully and graciously. At our best, we have done this well.
Third, we seem very eager to explore options for sexual intimacy outside marriage, but the real pastoral need of our church, at least in my experience, is to make room for single people. I don't know that most folks in sexually intimate non-marriage relationships are waiting to be told they're OK, but I do think our congregations continue, in many cases, to fail to welcome those who come alone (either by choice or by circumstance). If we are going to study anything beyond marriage (same-sex or opposite-sex), I hope our next frontier is how to welcome single people, whether or not they are eventually called toward marriage.
Make sure you set aside time to read their thoughtful and full report. There are liturgies to ponder, lots of data points, and a minority report. It will take time, but it's worth every minute.
A085: Trial Use of Marriage Liturgies. Full text. Likely vote: YES, but only if amended.
This resolution does a couple of things. First, it continues authorization for trial use of the same-sex marriage materials previously authorized in 2015. Second, it proposes a first reading of revision of the Book of Common Prayer (BCP) to include the same-sex marriage liturgies. Most readers probably know this, but it takes two successive General Conventions to approve changes to the BCP. In detail the resolution would add, following page 438, the following materials to the BCP:
"The Witnessing and Blessing of a Marriage," "The Celebration and Blessing of a Marriage 2," "The Blessing of a Civil Marriage 2," and "An Order for Marriage 2" (as revised and appended to the report of the Task Force on the Study of Marriage to the 79th General Convention)
The resolution also amends spots in the prayer book where marriage is now defined as between a man and a woman (i.e., "Concerning the Service" and the catechism). There are also a new pair of prefaces for Eucharist at marriage liturgies. This adds to the prayer book, so the current marriage liturgies would remain in place.
The resolution directs, during the trial use period, that "bishops exercising ecclesiastical authority or, where appropriate, ecclesiastical supervision, will make provision for all couples asking to be married in this Church to have reasonable and convenient access to these trial liturgies." I do not believe this is adequate, and I hope the committee will craft more precise language that ensures people do not have to leave their churches (when the clergy and congregation are willing to host same-sex marriages) to be married.
For example, take the example of St. Swithun's in the Diocese of East Somewhere. The bishop is a Communion Partner bishop and cannot in good conscience endorse same-sex marriage. The people of St. Swithun's and their priest want to conduct same-sex marriages in their church. Under the current status quo, there is no provision for St. Swithun's and its people. I believe the resolution needs to provide for delegated episcopal pastoral oversight for St. Swithun's, which frees the Bishop of East Somewhere to maintain a position of conscience and frees the people of St. Swithun's to offer same-sex marriage. The resolution needs to be detailed about how this will work. Offering this will benefit both Communion Partner bishops (and others of similar mind) and the congregations that wish to offer same-sex marriage.
Finally, the resolution requires that the same rules about marriage after divorce that apply for opposite-sex couples apply to same-sex couples. And of course, the "conscience clause" is reiterated, which allows any cleric to decline to solemnize any marriage. In other words, no clerics will be forced to marry same-sex couples (or any couples) if it is not their wish.
I am generally positive toward this resolution. Personally, I very much like most of the updated version of the marriage liturgy that's based closely on the current BCP liturgy. It preserves the beauty and cadences many of us love. Most of the updates are simply to remove pronouns. There are, however, a couple of other updates that I find more problematic.
The current BCP marriage liturgy says, in the bidding, "The bond and covenant of marriage was established by God in creation…" The new bidding omits that, and the reference to the wedding in Cana. I can live without the Cana reference (though I'd miss it), but omitting the creation reference is hugely problematic. To want to omit it seems to acknowledge the "Adam and Steve" argument, which is silly. On the other hand, if one sees that, in creation, God ordained companionship and selfless relationship between two people, as I see it, to not include that reference reduces the depth of our teaching and understanding of marriage.
Similarly, the permitted readings list omits several current choices, all of which seem to be removed in response to what I take as narrow, non-contextual readings of scripture. I'd prefer to see the same set of readings for all marriage liturgies, knowing that some of them might not be chosen very often. We might consider some kind of permissive rubric that could allow other readings, not contemplated here, under permission of the priest or bishop.
I won't say much about the all-new marriage liturgy, which I do not enjoy. Many people love it, I know. Many of my friends are not impressed by it. It seems to break down along generational lines. Certainly, I have no desire to withhold a liturgy that many people adore, so I'll gladly vote to authorize it. There's room for a variety of liturgical preference in our church!
I want to see same-sex marriage available to all who seek it, in every place where it is the law of the land. At present, I believe the right way to do this is to authorize same-sex marriage liturgies for continued use, but not to amend the prayer book. As long as the authorization provision is adequate, everyone who desires same-sex marriage will be able to enjoy it. And that is something to celebrate.
There are five reasons why I do not favor immediate prayer book revision. First, I do not believe the liturgies are mature enough yet for inclusion in the prayer book. Remember, it took a good 20 years of trial to get our Eucharistic liturgies right. I'd like to see continued trial and experimentation, as we work toward developing excellent liturgies. At present, these liturgies have only three years under their belts, so some more time is warranted before we include them in our prayer book.
Second, I'd rather not see piecemeal prayer book revision. We've not been particularly successful at recent amendments to our prayer book, and I don't think it makes sense to go at it one bit at a time. We're likely to end up with confusing and contradictory material. For example, in the proposed "Witnessing and Blessing of a Marriage," the term "Presider" is used, and that is found nowhere in the 1979 prayer book. There are other examples. If we can accomplish what we want to accomplish (which we can, by broad authorization of supplemental liturgical material for same-sex marriage) without BCP revision, I'd prefer to see us wait until we are ready for full-scale revision. It won't be too long.
Third, it will be expensive and impractical if we amend the prayer book as proposed. For one thing, congregations may not want to pay to replace their books, which we would most certainly want to encourage if these liturgies are added. And in places where we begin to see mixed books (1979 prayer book or 2021 prayer book), it will add confusion. "We will now read together Psalm 100, found on either page 729 or page 797, depending on which prayer book happens to be in front of you."
Fourth, this prayer book amendment would likely make the Episcopal Church untenable for many of our Province IX siblings and others. Now, when I was in parish ministry, I refused to be held hostage to those who made threats. "If you do ____, I'm going to leave the church" was not going to work on me, and it sometimes firmed up my resolve to make the change. But in my more pastoral moments, I realize that sometimes it's worth listening to those who have grave reservations. If there is a way to accommodate their concerns AND to move forward, I'm so inclined. In this case, I believe that by authorizing same-sex marriage outside the prayer book (for now), we can keep our church in unity. We don't need more schism.
Fifth, my hope is that, one day, there will be a single set of liturgies for all couples, whether same-sex or opposite sex. Adding these liturgies to the prayer book, while also keeping the current ones, enshrines a separated liturgical life into our prayer book. If we're going for prayer book revision, then let's wait until we have beautiful, perfected marriage liturgies that work for all people. That's going to take a while, but meanwhile, we can continue to offer same-sex marriage to all. Then when we approve the 2033 prayer book (or whatever), we can have new, lovely liturgies for all.
As an aside, to make the authorizations really "stick", we'll want to pass resolution A063, which amends the Constitution of the Episcopal Church to permit supplemental liturgies to be fully authorized. I'll cover it more when I write about the Standing Commission on Liturgy and Music report, but the current provisions of our Constitution only cover the prayer book and trial use liturgies intended to be added to the prayer book. So this Constitutional amendment opens things up a bit. (This is good, because technically, Lesser Feasts & Fasts, The Book of Occasional Services, and Enriching Our Worship may not be licit. So let's fix this!)
So, to summarize, I hope we pass the parts of this resolution that authorize the same-sex marriage liturgies for supplemental use, ensuring they're available to all who seek them. I hope we do all that we do in a way that honors the cultural diversity of our church and the varied legal situation of marriage. I hope we continue to develop a marriage liturgy (or set of liturgies) that works for all people, since our current "trial use" liturgies are not, in my view, quite there yet.
A086: Authorize Rites to Bless Relationships. Full text. Likely vote: YES, but only if amended.
This resolution does several things. It authorizes a service, "The Witnessing and Blessing of a Lifelong Covenant" as part of Enriching Our Worship, intended for use by same-sex couples where same-sex marriage is not legal. This is much needed. The liturgical material is not exactly my cup of tea, but I think we should authorize the material now, and the liturgies can be refined over time.
The resolution also adds to Enriching Our Worship a liturgy called "The Blessing of a Lifelong Relationship." This is for "couples who desire to form and to formalize a relationship with one another that is monogamous, unconditional and lifelong, but is nevertheless something different than a marriage in that it does not include the merging of property, finances or other legal encumbrances" and for "couples for whom the requirement to furnish identification to obtain a marriage license could result in legal penalties including deportation, because of their immigration status."
It's non-marriage kinda-looks-like-a-wedding for people who cannot or who choose not to be married. I'd like to hear more about the demand for this before I vote in favor of it. The immigration status case is compelling, and maybe that's sufficient. But I'm concerned that it will be used by other couples who simply don't want the obligations (or the work) of marriage, but who want something that looks like a wedding. While the resolutions specifies that this "shall not be used for mere convenience," I'm not sure how one draws the line. Will a priest be willing or able to say, "No, you must get married?" Why don't we hold up marriage for all, unless there is a legal impediment, such as immigration status? Why can't we teach that, yes, marriage is sometimes costly. That is, in fact, the very point of it. I'm likely to vote no if the authorization for this service is retained, but I very much want to learn and to hear more.
A087: Develop Relationship Pastoral Resources. Full text. Likely vote: NO.
This resolution seeks to "acknowledge and minister to the growing number of persons entering into sexually intimate relationships other than marriage by calling for the development of resources that provide pastoral guidance and teaching on relationships that involve sexual expression." The resolution also calls for the "development of resources, including but not limited to spiritual practices, to aid individuals and couples in discerning their vocation to relationship, be it to singleness, celibacy, marriage and/or parenting."
Now, I'm guessing there are shelves full of books and loads of websites on these topics. I'm not sure why the Episcopal Church needs to add to the pile. But, more to the point, I'm not convinced that people are yearning to receive something we are going to develop. I know loads of people who happily live together, and the conversation has never turned to "I sure hope General Convention provides us with some materials so we can continue our relationship."
We love to pass resolution asking for studies (because then we don't have to make firm decisions), so I'm sure this will pass. But I wish we'd think about this. As I wrote above, if we are going to study anything, let's look at the church's often-awful attitude toward single people. Or let's create evangelism resources for weddings (of all kinds). Or let us find ways to encourage people to discern whether or not marriage is right for them. Or let us look at rampant divorce rates and see what the church might do to help. I just don't think we need to create a committee that will write a report about the fact that people are having intimate relationships outside marriage. It's happening. I don't think it warrants a task force.
To conclude, I am delighted that our church offers same-sex marriage now, and I hope we'll ensure that same-sex marriage is available in all congregations who wish to offer it. I also hope we'll continue to look at our teachings on marriage from a global perspective, fully honoring both the context of much of the USA, as well as the context of our overseas siblings.