Blue's Clues: Joint Standing Committee reports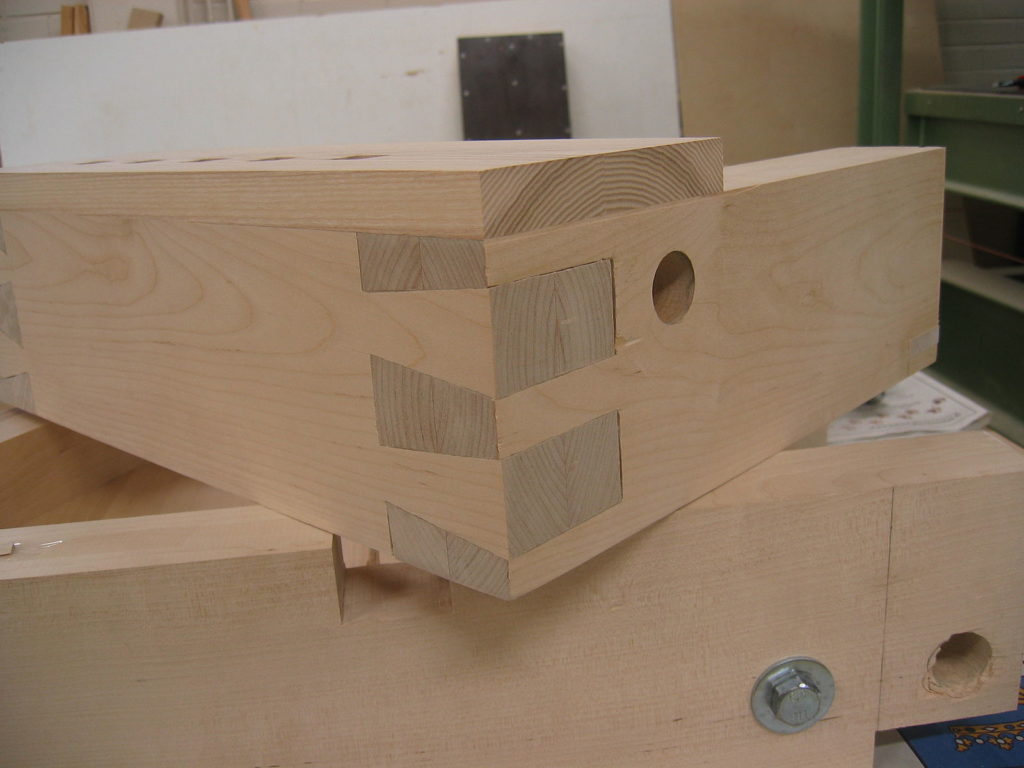 This is the second post in Blue's Clues, a series on the resolutions and reports of the Episcopal Church's General Convention. The index of posts is here, and my index of resolutions and likely votes is here.
Now that the introduction is out of the way, our tour through the wonders of General Convention reports and resolutions begins with a ternion of reports. This post looks at the reports of the three Joint Standing Committees. The "joint" here is not something that was named in an age of legal marijuana use. No, it merely means they are jointly appointed by and serve for the House of Deputies and House of Bishops. It would be cool though, if they had to make dovetail joints like the ones in the photo here. Also, if you ever want to win at an Episcopal Church polity trivia contest, you'll want to learn the difference between Joint Standing Committees and Standing Commissions. You'll also want to ask why these "standing" groups ever sit in chairs at their meetings, the hypocrites. But my attempts at #churchgeek humor aside, let's get right to it.
Joint Standing Committee on Planning and Arrangements (full report)
These folks (with the catchy acronym JSCOPAA) are responsible for the big-picture planning of General Convention. Staff and various committees do a lot of the fine-grain stuff, but the overall shape of convention is set by these folks.
This report contains the schedule of General Convention, and I encourage you to have a look. You can see the current draft in graphic form on the General Convention website schedule page, if you don't like reading it this way. I won't rehash my thoughts on the schedule in this post. You're welcome. But please do head over to another post ("Looking toward General Convention 2018") that I wrote when the draft schedule first came out. You'll know more than you wanted to about the schedule if you take the time to look there. Suffice it to say, I have some real concerns about several aspects of the schedule. That said, you can't please everyone. So I'll deal.
I am in awe of the work these folks have done. Event planning is an art, and a complex machine like General Convention could go wrong in about a thousand ways. And yet, every time, it mostly runs like clockwork. That doesn't just happen. It's the result of hard work, careful thinking, and rigorous attention to detail. If you see the people on this committee, thank them. If you see the staff of the General Convention Office or various people at 815 from the Presiding Bishop's staff who work on this, thank them.
And if there are things you don't like about the schedule, we need to pass legislation to change it. As the committee makes clear, they've done what we asked them to do. So when we want to change General Convention, we'll need to use the machine to fix the machine.
They have proposed three resolutions.
A001 Site Of 81St General Convention (2024). Full text. Likely vote: YES.
We have to approve the short list of sites for General Convention 2024. They suggest Anaheim, Detroit, Louisville, and St. Louis. Seems fine by me. I'd be glad for us to be in any of these places. By the way, in 2021, we'll be in Baltimore.
Sometimes people ask about whether host sites have paid their full asking into the churchwide budget. According to the most recent public reports, all four dioceses here are paying the full amount.
A002 General Convention Daily Agenda. Full text. Likely vote: YES, but with a reservation.
This lays out the full schedule for the convention. Nothing new here to observe, other than what I said in my earlier post.
However, it is worth pointing out that this schedule, as proposed, violates the Constitution of the Episcopal Church. According to a strict (or even non-strict) reading of our Constitution, the House of Bishops and House of Deputies are NOT permitted to meet jointly. Right there are the start of the Constitution (Article I, Section 1), it says, "There shall be a General Convention of this Church, consisting of the House of Bishops and the House of Deputies, which Houses shall sit and deliberate separately…" And, yet, we regularly have joint sessions, in direct violation of our own rules. The good news is that we will be considering the second reading of a Constitutional change which would fix that. In 2015, the General Convention passed a resolution (2015-D008) (sponsored, incidentally, by yours truly) that would change the language to say,
There shall be a General Convention of this Church, consisting of the House of Bishops and the House of Deputies, which Houses will sit, debate, and vote separately; unless otherwise provided for by this Constitution or the Canons. The Houses by majority vote of each House may call for the Houses to sit, debate, and vote, or any combination thereof, together…
So I will vote for this schedule, since it will be one of the first items of business, on the assumption that the Constitution change will pass on its second reading. (It takes two successive General Conventions to amend our Constitution.) If the amendment fails, I hope someone will rise to a point of order protesting our joint sessions. We really should not be running our highest deliberative body in ways that fly in the face of our own rules. My assumption is that this will be fixed within a couple of days of the start of General Convention.
Speaking of days of General Convention, it's also worth noting that on the official schedule, the "Opening Eucharist" is on the fourth day of activity. If you are an exhibitor, it's the fifth day of activity. Let's stop maintaining the fiction that General Convention is nine days long. It's two weeks long.
A003 Amend Canon I.1.14(A) On General Convention Approval Of Sites For General Convention. Full text. Likely vote: YES.
The JSCOPAA do their work about six years in advance. The canons currently say they should be nine years ahead. This resolution simply fixes the language to bring it into alignment with current practice. Makes perfect sense to me.
Joint Standing Committee on Nominations (full report)
This is our nominating committee. Your congregation and your diocese have one, and so does the Episcopal Church. These folks are charged with finding people willing to place their names into (almost all competitive) elections for slots on
Trustees of The Church Pension Fund, serving as the Joint
Committee referred to in Canon I.8.2.
Members of the Executive Council under Canon I.4.1(d).
The Secretary of the House of Deputies and the Treasurer of the General Convention under Canons I.1.1(j) and I.1.7(a). These two positions are not competitive, though others may be nominated from the floor, I believe.
Trustees of the General Theological Seminary.
General Board of Examining Chaplains.
Disciplinary Board for Bishops.
It's important work, and they have identified a number of qualified candidates. If you are a bishop or deputy, make sure you take the time to read up on these nominees. The elections seem to pop up suddenly, so there just isn't time at the convention to make informed decisions, if you haven't done your work ahead of time.
As an aside, you may (or may not) wish to follow the rule first suggested by the Rev'd Tim Schenck (my archnemesis, who has a good idea now and then). The so-called Schenck Rule says you only vote for people in church elections if they mention Jesus in their bio. I've made allowances if someone talks about the Spirit or even "God". But I will not vote for anyone who hits me with their impressive resume and doesn't convince me they are seeking this office as an expression of their vocation. Your mileage my vary.
It's worth reading the whole report. The JSCON gives the demographic statistics of their nominees. You can look at the whole report, but basically, the nominees are more diverse than the Episcopal Church as a whole, but less diverse than our population. Progress, I suppose? They don't give stats for the actual nominees, but I do believe the JSCON has made every effort to offer the most diverse, most qualified slate they can. Kudos to them.
Their report has just one resolution.
A004 Amend Join Rules of Order VII.18. Full text. Likely vote: YES.
They propose a change in the rules around the nominating committee. Under the current rules, the lay people, priests, and  deacons must be deputies at the time they are appointed, but have to resign if they aren't re-elected as deputies. The change would allow folks to serve, once appointed, for a full triennium regardless of whether they are re-elected as deputies. This makes good sense to me, and I can't really see a good reason to oppose this change.
Joint Standing Committee on Program, Budget and Finance (full report)
This is an example of a report with no resolutions, but which is nevertheless important to read. These folks are charged with developing a budget for the Episcopal Church and presenting it to the General Convention for passage. They are the rare committee that meets between conventions and then during the convention as well. I'll comment separately on the proposed draft budget as General Convention gets closer. Here I just want to note a couple of things in the report.
Our budgeting process makes little sense to me. Many people agree with this. And yet, everyone who has served on this committee (known to insiders as PB&F) seems to think our process as about as good as it gets. It reminds me of a Saturday Night Live bit from the 1980s, in which people giving testimonials about a Broadway show all say, "I loved it. It was better than Cats. I'm going to see it again and again." It turns out, the joke reveals, that the show in question was a hypnotist. So maybe there's a PB&F hypnotist who gets people to say, "This is the best way to get a budget for the Episcopal Church. I'm going to serve on the committee again and again."
To repeat what I've blogged earlier, a more rational process would have General Convention (or Executive Council) set priorities for the Episcopal Church. Let the staff develop a budget based on the priorities. Then have our board of directors (that's Executive Council) approve the budget. Nearly every sizable non-profit does it this way. It keeps the volunteer board out of the weeds, and it puts the staff in the driver's seat on implementation. But this is a pipe dream, since our current process seems fixed in place. Maybe when Jesus comes in glory, he can fix this while he's judging the quick and the dead. (I'm assuming the Savior of the World can multitask.)
Also, I must note a bit of fake news that continues to circulate. The report mentions how they prioritized things, and it talks about "three areas of focus that were adopted by the General Convention of 2015: Evangelism, Racial Reconciliation and Justice, and Environmental Stewardship." In fact, General Convention 2015 focused on the two areas of evangelism and racial reconciliation. In case you don't believe me, here's an article from July 2015. The third mission priority of the Episcopal Church was added soon after General Convention 2015 by the Presiding Bishop and his staff. I am 100% grateful that creation care (or whatever we call it) is one of our top priorities, and I am 100% OK with our Presiding Bishop setting out new priorities. What I am not OK with is retroactively rewriting history.
The budget committee has an impossible job. Everyone has big ideas of what they want to do. Implementing big ideas costs big money. And everyone wants to pay as little as possible into the coffers of the church. So there's always an unfunded gap between our vision and our available resources. Someone has to make hard choices, and these hard choices are left, in our current system, to the hard-working volunteers of PB&F. They serve faithfully, they listen to the church, they hear the staff, and then they offer the best budget they can devise based on what they've heard. No one is ever going to think the budget is perfect, but I do think PB&F always does the best they can with the resources we give them.
And they do listen. So when you see a draft budget, if there's something you want to see changed, make your voice heard. It's no good to complain about how we spend our money if you don't take part in the process to shape our budget. That applies to bishops, deputies, and every member of the church. The budget is where the rubber hits the road: our beliefs and values are put into action. Or, as a bumper sticker might say, "Where your treasure is, there your heart will be also."
PB&F is responsible, in some sense, for leading the heart of the Episcopal Church. Let's all work with them and get a budget that points us toward Jesus.
Image: Finished dovetail joint from Wikimedia Commons.