Praying faithfully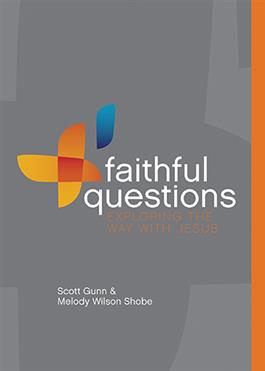 A few days ago, I posted a piece on prayer with a somewhat provocative title, "Are we praying wrong?" I was arguing that we often don't pray the way Jesus taught us, but I also said there's no "wrong" way to pray. Over these last few days, I've been working on a new book about beliefs and practice with the Rev'd Melody Shobe. It will be published by Forward Movement as part of our Living Discipleship curriculum for churches. Just today I realized I had never posted much about the last book I wrote with Melody, Faithful Questions: Exploring the Way with Jesus. So I thought I'd share a sample chapter from our first book, and because I've been thinking about prayer, I decided to post our chapter on prayer. You can learn more about the book and find links to the ebook versions on the Forward Movement website. At the moment (at least until Friday of this week), the book's on sale, so if you like what you read here, grab a copy while it's cheap!
The book is intended as an introduction to Christianity for seekers and brand new Christians. Each chapter explores one question that people might wrestle with and then ends with a different question to move forward. This is not a book about Episcopal polity or liturgy, but a book on very basic Christian concepts. Who is Jesus? What happens when we die? How do I read the Bible? The book is a companion to a free downloadable course covering the same material, Transforming Questions. It's free, so you can download the whole thing to check it out.
Anyway this sample chapter starts with the question, "Does God answer prayer?"
Note: The "I" in this chapter is sometimes Scott and sometimes Melody. Don't worry too much about who is speaking!
Chapter 6 from Faithful Questions: Exploring the Way with Jesus
Almighty God, the fountain of all wisdom, you know our necessities before we ask and our ignorance in asking: Have compassion on our weakness, and mercifully give us those things which for our unworthiness we dare not, and for our blindness we cannot ask; through the worthiness of your Son Jesus Christ our Lord, who lives and reigns with you and the Holy Spirit, one God, now and for ever. Amen. (The Book of Common Prayer, p. 231)
Not long ago, I was waiting for the elevator one morning in the building where I live. One of my neighbors, who I don't know by name, stepped out of her apartment at about the same moment. We were both, perhaps, on our way to work. Eyeing my clerical collar, she asked, "Are you a priest?" Yes, I answered. "Well," she said. "I have a quick question. Why doesn't God answer all prayers? Does prayer really work?"
Talk about an elevator speech! I had just a few seconds to answer one of the hardest questions any person of faith must reckon with. This is such a tough, tough question, because a person asking that question is often a person in pain, someone who is struggling with something difficult, someone who is suffering. And we must always, always tread carefully in tending the hearts and souls of those who are suffering and in pain. But the question is also tough because it centers on a misconception about what prayer is and what prayer is for.
Most of us, most of the time, see prayer as one of a few things:
It's something we do on Sundays—that thing we do when we go to church. Prayer is not something that's embedded in our daily lives.
It's something we do by rote, like checking something o a list. I grew up praying a series of rote prayers— "Now I lay me down to sleep" at bedtime, a family grace at mealtime, the same words every Sunday at church. Those prayers often become akin to saying the Pledge of Allegiance…it's just something you do.
There's a funny (and completely irreverent) Youtube series called Mr. Deity. In one of the episodes, God is sitting on a couch reading a book. He picks up his cell phone and calls his voicemail, which informs him he has 2,999,672,581 voicemails. He starts listening to a few of them (a table grace, someone in the hospital, someone using the Lord's name in vain) and then just deletes all the messages. It's funny, but it exposes a truth about how we view prayer. We often think of praying as leaving a voicemail—no one's listening, but maybe if we leave a message, God will get back to us.
Perhaps the biggest misconception about prayer is that we see God as a holy vending machine. We say our prayers, which is like putting our money in the machine. We press the buttons, and we want our candy bar to come out. Then we're angry and disappointed when it doesn't, or we decide that God doesn't really answer prayers.
None of these things is how the Bible — or especially how Jesus — describes and sees prayer. Throughout the Bible, prayer is central. It is foundational. Indeed, prayer is the most important activity in our lives. Wherever we look in the Bible, we read examples of people who see prayer not as an isolated action, a rote response, a voicemail, or a vending machine, but as a way of life.
Prayer is first mentioned in Genesis, as early in creation, "people began to invoke the name of the Lord" (4:26). Scripture o ers countless examples of prayer—people in various circumstances, places, and times described as praying. Sometimes we even get to read the words of their prayers. Prayers are scattered throughout the Old and New Testaments: from the song of Miriam in Exodus to the Song of Mary (the Magnificat) in Luke. Most of the psalms are sung prayers.
In the letter of James, we find powerful encouragement for believers to offer prayers, in good times and in bad. James' invitation to prayer is lovely: "Are any among you suffering? They should pray. Are any cheerful? They should sing songs of praise. Are any among you sick? They should call for the elders of the church and have them pray over them, anointing them with oil in the name of the Lord. The prayer of faith will save the sick, and the Lord will raise them up; and anyone who has committed sins will be forgiven. Therefore confess your sins to one another, and pray for one another, so that you may be healed. The prayer of the righteous is powerful and effective" (James 5:13-16).
Most importantly for Christians, Jesus prays. Prayer is so important to Jesus that he, personally, regularly took time away to do it. Let's look at just three examples:
In the morning, while it was still very dark, he got up and went out to a deserted place, and there he prayed. (Mark 1:35)
Now during those days he went out to the mountain to pray; and he spent the night in prayer to God. (Luke 6:12)
Then he withdrew from them about a stone's throw, knelt down, and prayed, "Father, if you are willing, remove this cup from me; yet, not my will but yours be done." Then an angel from heaven appeared to him and gave him strength. In his anguish he prayed more earnestly, and his sweat became like great drops of blood falling down on the ground. (Luke 22:41-44)
Prayer wasn't just something Jesus recommended for others or only for the disciples, but something he did often. Jesus was continually taking time from his busy schedule of teaching, preaching, and healing to PRAY, of all things. And Jesus assumes that we will all take prayer as seriously as he does. In Matthew 6:7-13, when Jesus teaches his disciples to pray, he says "when you pray," not "if you pray."
Jesus, by his life and teaching, tells us that prayer is not a once-a-week obligation, something we check off a list, a voicemail that we leave, or a payment in a holy vending machine, but a conversation that takes place in relationship. So what do we mean by that? Well, prayer is a conversation, and prayer is part of a relationship.
Let's say that again. Prayer is a conversation. Prayer is part of a relationship.
One of the best parts of my day is the end of it, when I can sit down with my spouse, talk to him about my day and listen to him talk about his. Maybe you do this too— talking at the end of the day or the end of the week to a spouse, sibling, parent, or beloved friend. It's a simple thing, but it's the time when we share our lives with one another—the good, the bad, and the ugly. Sometimes we ask for advice or input. Sometimes we convey information. Sometimes we share feelings and seek support. Sometimes we simply tell stories about things that happened. Our conversation is usually punctuated by times of comfortable silence, as we sit together and enjoy one another's presence.
That is what prayer is like—a conversation in relationship.
Prayer involves both talking and listening, as you share your life.
Prayer involves times of comfortable silence.
Prayer is not always about getting answers to questions or about receiving things.
In fact, it would be pretty damaging if I approached my relationship with my spouse like a vending machine. What if
Every time I talked to him, I was asking for something?
I ignored him in the time in between, when I didn't need something?
I was always upset when he didn't give me exactly what I wanted?
I'm fairly certain our relationship would be deeply damaged if either one of us approached it that way.
The same is true with God. We need to approach our prayer, our conversation with God, in the way that we approach a relationship with a loved one—not the way that we approach an obligation or a machine.
And that's why the question "Does God answer prayer?" is the wrong question—or at least not the best question. This question assumes that prayer is a one-way street. It assumes that prayer is about bringing questions to be answered. This question assumes that prayer is about bringing problems to be solved or, worse, bringing demands to be met.
Modern mystical writer Kathleen Norris says, "Prayer is not asking for what we think we want, but asking to be changed in ways we cannot imagine." Said another way, Phillip Yancey writes, "The real value of persistent prayer is not so much that we get what we want as that we become the person we should be."
When we change our perspective, we begin to ask not, "Does God answer prayer?" but "Does God meet me in prayer?" The answer to that question is a resounding "Yes!"
God promises to show up, to meet us in prayer, to be present in relationship.
Of course, no relationship can be one-sided. Imagine being in a dating relationship. But every time you schedule a date with that person, he stands you up. The person has a long list of excuses: he got caught up at work, her parent was sick, he got a at tire. Each time, you give her the benefit of the doubt, and go again to meet for the date. But each time, he doesn't show up.
That's a pretty one-sided relationship that doesn't have much of a future. And that's what it's like when we don't approach our prayer to God as a part of our relationship with God. For God to meet us in prayer, we must also meet God in prayer. We have to show up. We must make prayer a priority in our lives, even in the midst of busy schedules and competing demands. We have to make space for our relationship with God.
So how can we do that? How can we begin or enrich our life of prayer? How can we make space for God in our lives, in our homes, in our calendars, and in our hearts?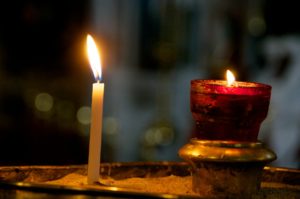 Let us share a few tips and tricks for a life of prayer. There's no right way for everyone to pray, so you might have to try for a while to nd the right ways for you to pray.
Set a time (when). Yes, just like everything else, you have to make time for prayer. It's not going to happen if you aren't intentional. Any relationship will wither and die if you don't purposefully set aside time to be together—and relationship with God is no different. Set a goal for time set aside to pray (5, 10, 15, 30 minutes). Start small. After some practice, increase your time. Pick a time of day that works for you—first thing in the morning before everyone is up, last thing at night, while you're in the car, or when you're on your lunch break. Know yourself and your schedule. Don't always give God your "leftovers" (the time when you are drained and worn out; the time left over when you've already given time to everyone and everything else).
Find a place (where). It's hard to pray if you're being constantly interrupted, or if the place you are praying isn't conducive to prayer. Having a special chair or a place set aside in your home can really help. Try setting a mood (lighting a candle) or even going outside. Whatever you do, choose a place that works for you.
Keep a list (who and what). Some prayers will come unprompted, as things you didn't even know you were thinking about rise to the surface, but you also might need your memory jogged. Keep a list of people and things you have been asked to pray for (you could even start with a church bulletin). When something arises during your day that is troublesome or delightful, jot yourself a note. It's a good reminder to share that thing with God during your prayer time. Allow time for unprompted prayer as well. Don't stop praying as soon as you've gotten through your list.
Just as important—perhaps even more important—than when, where, who, and what, you have to decide how you'll pray. There are as many forms of prayer as there are people on earth, and your prayer doesn't even have to include any words. "Prayer is responding to God, by thought and by deeds, with or without words" (The Book of Common Prayer, p. 856).
Spoken prayer can take many forms. These include adoration, praise, thanksgiving, penitence, oblation, intercession, and petition (See The Book of Common Prayer, pp. 856-857). Our prayers need not (and should not) be only a list of requests for ourselves or on behalf of others. We can spend time enjoying God's presence, praising God's being, thanking God for blessings, confessing to God our failures, offering ourselves fully to God, and bringing our needs and the needs of others into God's presence. In fact, many people find the ACTS form of prayer helpful (adoration, confession, thanksgiving, supplication), finding that going in that order helps prayer to be rightly oriented and not focused on our needs or wants alone.
Scripted and extemporaneous prayer. In The Episcopal Church, we often use formal, written prayers. The words of these prayers are beautiful and ancient and can help make space for an awareness of God's presence. But it's also okay to use extemporaneous prayers—using our own words, as though having a conversation with God. Try to integrate both into your prayer life.
Remember, you can also pray without words! There are dozens of active or creative forms of prayer—journaling, music, walking a labyrinth, art, praying "in color," and doing chores as a way of praying are some examples.
Start with your comfort zone. Are you a talker? Talk to God out loud on a walk (ignore what other people think!). Are you a writer? Try journaling. Love music? Try singing or listening to music as part of your prayer life. If you start with your own passions, you are likely to find your way into a life-giving form of prayer, as the thing that you love doing connects you to the God of Love.
Challenge yourself to pray in new ways. Although you might start in your comfort zone, don't always pray "the way you've always done it." Your prayer life will get stale, and you'll likely fall into routine at the expense of relationship. Set a goal to occasionally add a new or different practice to your prayer life so that you can meet God in new and different ways.
If you're not sure where to start a new life of constant prayer, here are some easy ways to pray.
Start with grace at meals. Commit to pray at every meal, every time (even when you are eating out!). If you're not sure what words to say, there are prayers in The Book of Common Prayer (p. 835). If you offer up prayers every time you eat, you'll already be praying at least three times a day!
Start a practice with your family. Decide together to pray at bedtime or to use meal times to talk about the day. This is actually an ancient kind of prayer called examen. Go deeper than just "What happened?" Ask things like: "Where did you meet God today?" or "Where did you fall short today?" or "When did you feel the Holy Spirit today?" If you engage in this practice as a family, you are more likely to support one another.
Try to do something that you do daily with greater intention, as a way of prayer. From the earliest centuries of Christianity, monks and nuns have said that anything can be a prayer as long as you direct your action toward God. Driving your car? Turn o the radio and pray for each person you see (especially the ones who cut you off!) as well as those on your prayer list. Doing dishes? Thank God for all the blessings that make that possible (the food you ate, the hands that grew and prepared it, the warm water). Wash the dishes as though you are washing Jesus' feet. Literally anything you do can be prayer, as long as you are doing that thing with God.
Whatever you do, be generous with yourself. Pray as you are, not as you aren't. Don't force yourself to follow someone else's example of prayer, if it isn't working for you. You are created to have a relationship with God, a unique relationship that won't follow the exact pattern of anyone else's relationship with God. Pray as you can, not as you can't. You don't have to get everything in your life right in order to start praying. Don't wait until you're sure, or you've memorized the right words, or you have your life under control. Just start, and the rest will follow. God is there, wishing and waiting for you to show up.
The important thing about prayer is to keep at it. Prayer is a practice, something you learn by doing. So right now, we invite you to give it a shot, and start, or continue, your conversation and your relationship with God.
Almighty, everlasting God, let our prayer in your sight be as incense, the lifting up of our hands as the evening sacrifice. Give us grace to behold you, present in your Word and Sacraments, and to recognize you in the lives of those around us. Stir up in us the flame of that love which burned in the heart of your Son as he bore his passion, and let it burn in us to eternal life and to the ages of ages. Amen. (The Book of Common Prayer, p. 113)
Reflection questions
What was your childhood experience of prayer? Is that the same or di erent as your experience of prayer today?
What about prayer is difficult for you?
Does thinking about prayer as a conversation in relationship, rather than questions to be answered, change your understanding of prayer? How so or why not?
Prayer happens in many di erent forms. Is there a different way of praying that you would like to try? What goals could you set to make that possible?
Note that in the printed book, there are lots of sidebars and text insets to add helpful notes or additional references. Formatting on this blog didn't allow me to include those, so have a look at the printed book if you want to get an even better experience.
Anyway, I hope you enjoyed this sample chapter from Faithful Questions: Exploring the Way with Jesus.
Sample chapter is copyright 2015 Forward Movement. All rights reserved. Used by permission.