You are my witnesses
I'm writing this from Toronto (more or less), as the General Synod of the Anglican Church of Canada has concluded. As I'm reactivating my dormant blog, I thought I'd share a few thoughts and observations as a first-time guest at General Synod.
My main purpose for being here was to staff a booth for Forward Movement among the exhibitors. We sold a few things, but mostly we accomplished what we really needed to do, which was to share what Forward Movement has been up to with our friends up here and also to learn about new ways Forward Movement can serve Anglicans in Canada. That was all wonderful, and I learned a lot.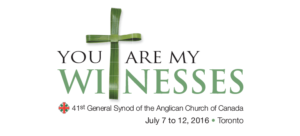 But of course, I am also a church geek of the first order, so I watched as much of the synod's deliberations as I could. Until I got kicked out of the observer's gallery (oops, I thought my badge should let me in, but nope), I spent a few hours watching things in the room where synod was meeting. After that, I mostly watched on the live stream out in the hallway with other hangers-on and staffers. Between sessions and during breaks, I was able to chat with people about Forward Movement and about the synod. From previous trips to Canada, I have a few friends here, so I got to catch up with them and to make new friendships.
The theme of this year's General Synod was "You are my witnesses" (Isaiah 43;10), and, indeed, the synod was a powerful witness in so many ways. Before I say something about that, a few things for my readers who are Episcopalians.
General Synod is like our General Convention in many ways:
It's a gathering for legislative deliberation.
They worship together regularly.
It's partly work-oriented and partly family reunion.
Lay people, bishops, and priests (and deacons, I think) share together in governance.
In other ways, it is very different:
Synod is much smaller, about the size of a large diocesan convention in the US. There are something like 250-ish voting members of Synod.
The members of synod sit in one house (unicamerally), though votes can be taken by orders with bishops, clergy, and laity counted separately.
Synod meets for six days, total. Our General Convention theoretically meets for nine days, but it's really a two-week-long meeting for anyone who is involved with stuff.
The smaller size means that the atmosphere has a bit more intimacy than General Convention, and things are generally a bit more relaxed. Procedurally, it's much more like the House of Bishops in TEC with a relaxed yet stately/organized feel than House of Deputies, which is of necessity very formal and disciplined due to its sheer size.
Folks here all eat all their meals together.
Sometimes diocesan delegations all sit together, but other times tables are mixed up to encourage broader conversation.
The percentage of time spent in legislative debate is lower than at General Convention, with much more time spent hearing reports, receiving greetings, and sharing in conversation on important topics. I do not know if the latter point is usual, or if that was just for this meeting of synod and its consideration of same-sex marriage.
I could go on, but you get some of the idea. Several things stood out to me during my time watching and listening to the General Synod.
The headline you will have read, if you paid any attention to this meeting is that, in the end, synod approved a first reading of a change to the canon on marriage which explicitly authorizes same-sex marriage. If approved at the next General Synod in 2019, the Anglican Church of Canada will offer same-sex marriage throughout the church, subject to the permission of each diocesan bishop. (This last point was the result of an amendment changing the implementation of same-sex marriage from opt-out conscience clause to an opt-in conscience clause, the decision resting with each diocese's bishop.)
If you followed things at all, you will know that last night, it appeared the resolution had been defeated. Because the canon change represented a change in doctrine, it required 2/3 majorities in the houses of bishops, clergy, and laity, and it missed the required majority by one vote in the clergy order. Today it was revealed that there had been a counting error, so the resolution was declared to have passed. It was, to say the least, a roller-coaster of emotion, one that I intend to write about separately.
What I want to note here now is that last night, LGBTQ+ folks and their allies were weeping. I've never seen such heartache in the church, perhaps made worse because the debate got mean-spirited at times. This afternoon, synod members passed a resolution requiring that the voting record (listing who cast yes/no/abstain votes) be made public immediately. On inspection, it was revealed that there had been a counting error last night. The General Secretary's vote had mistakenly been counted as a lay vote instead of a clergy vote. (And a few yes votes weren't counted at all.) Because of this change, the Primate declared that the resolution had, in fact, passed.
Now, many of those who had wept were filled with gladness, and some of those who might have been glad were weeping. Throughout all this, the Synod mostly kept its composure — though folks were shocked, I think, on both sides. The leadership team was quick to apologize not just for the counting error, but for the emotional toll they knew it had exacted. It was all extraordinary.
Through all this, I kept thinking Archbishop Fred Hiltz is amazing. He's able to lead carefully through procedural motions and such, but what becomes clear is his big heart and his love of the whole church. Especially when debate touched on difficult topics, he took care to make sure people were heard and, a few times, that people did not derail the conversation. But I was most impressed with his deep pastoral care. Last night when it looked like 70% of synod had voted to change the marriage canon but it had failed by one vote, many people were understandably upset. And at the end of a very long and draining day, Archbishop Fred offered to stay in the room with people and pray, listen, and weep with them. I have every confidence he would have made the exact same offer if different people had been grieving and hurting.
I was impressed by the amount of time spent hearing reports about vital ministries and hearing greetings from visitors. By the way, Presiding Bishop Michael Curry greeted Synod in his usual way of preaching Good News and talking about the Jesus Movement, and he was warmly received. In any case, the amount of time spent in formation and in conversation was considerable. I wonder what our General Convention would be like — and what debate on difficult topics would be like — if we tilted our percentage away from debate and toward learning and conversation.
Again and again in their floor speeches, members of Synod quoted scripture, talked about Jesus Christ, and spoke about the mission of the church. My sense was that talking points were less "secular" than what we often hear in General Convention. To be sure, scripture was also used as a blunt instrument more than once. Overall, I was grateful for what was often impassioned and theological debate.
Like our last General Convention, the synod was paperless, with an app offering all documents and resources. It was a bit easier to navigate than the various resources required for General Convention, but that's largely a function of having only a few resolutions and no legislative committees. If we Episcopalians could ever cut down from 400 to 50 resolutions, we could make our lives SO much simpler.
In conversation at the Forward Movement booth, I learned that many of the issues faced by Canadian Anglican congregations and US Episcopal congregations are similar, especially in smaller congregations. I do wonder why we don't spend more time and energy learning from one another and sharing resources together. This is something I intend to work on in my role at Forward Movement!
My only two complaints about Synod are the chairs that we all had to endure, described by one member of synod as "penitential." I've been to a lot of church meetings, and these were the most uncomfortable chairs ever. My second, somewhat related, beef has to do with the observers' gallery. The first couple of days, I spent quite a few hours there watching debate. Then on Monday, I was told by a door-keeper that my badge didn't allow me to enter, and I should never have been inside (never mind the earlier door-keepers). Perhaps "extra" people such as me are the reason why the gallery was packed the first few days, standing room only. So, OK, I get it. They didn't want exhibitors inside, which is a perfectly understandable rule. I also understand that maybe someone was too lax at the start, and they finally started enforcing a rule. All that is fine, though I was of course disappointed not to be able to go inside and watch. No huge worry though, as there was a monitor with sound right nearby, so I could watch and listen from the hallway.
However, there was no provision for worship if you weren't in possession of the right badge. While it's certainly possible to watch on a monitor and sing along, it is not of course possible to receive Holy Communion through a wall. I do hope planners will make provision for public worship at the next Synod. Our General Convention does this nicely, though I'm sure it's expensive to have dedicated worship space. Maybe a bigger observers' gallery that is open to all registered persons (as at General Convention) would permit folks to join in worship together. Just a thought.
Mostly, as I reflect on the last few days, I am profoundly grateful. I am blessed to have met new friends and to have heard so many stories of vital ministry and transformed lives. It was a privilege to be on the fringe at such an important moment in the life of the Anglican Church of Canada. It was humbling and touching to be so warmly welcomed by synod members and others. Every single person I met, without exception, lit up with joy when they learned I was visiting from the Episcopal Church. (This was often followed by shared laughs and/or groans at some mention of Donald Trump and American politics.)
Our communion is a precious gift. I hope more Episcopalians will find their way into Canadian churches or even to synod, to be blessed by the unique charisms of Anglicans here. I hope more Canadians will find their way to Episcopal congregations and to our General Convention (where they will no doubt be gobsmacked by the idea of Deputy Bingo, available in the Forward Movement booth).
If you have thoughts or questions about Canada's General Synod, leave them in the comments. It's likely I won't know the answer to questions, but I know people who will. In the next couple of days, I'm hoping to write a bit more about fresh thoughts I've had about voting on difficult topics. But I'll save that for then.
Sorry for the long post. You've been Crusty-ed, I'm afraid.