Evangelism and race in the Episcopal Church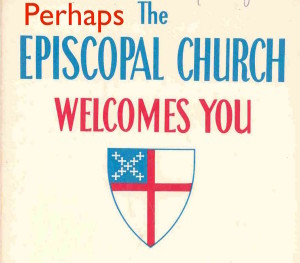 Now that I'm back from my hiatus, I've got a backlog of posts to write. This is one I had been meaning to write since July, when an article on evangelism and race was the cover story in Christianity Today ("Dear Pastor, Can I Come to Your Church?"). The author set out to answer a vital question, "Do Christian churches in the United States actually welcome people from different racial and ethnic groups?"
We in the Episcopal Church love to tout our welcome (never mind the fact that we're often not so good at it). We also like to imagine that we are inclusive in all sorts of ways, including race. And while nearly every congregation I visit insists that they are welcoming to everyone, the available data calls into question our anecdotal notions, our hopes. In the US, our population is just under 64% white (Wikipedia), but the Episcopal Church is 89% white (Pew Research Center). Look at those two pages, and you'll see that TEC in the US is a good deal less racially diverse than the population in which we minister. This is, I think, a serious problem.
It might be tempting to dismiss this racial disparity for historical reasons (Our heritage is Anglo, which might not connect with ____…) or to find other excuses (There are "ethnic" churches for ____…). Some people might say that our newly installed African-American Presiding Bishop is a sign that we don't have a race problem. But just as Bishop Katharine Jefferts Schori's election did not signal an end to sexism in the church, Bishop Michael Curry cannot be seen as a signal that our racism problems are behind us.
If we are not a bit uncomfortable considering the homogeneity of our church compared with our population, we are not taking seriously either our God-given work of reconciliation or our systemic racism or our mandate to go and make disciples of all nations. But there is more to note here on the topic of evangelism and race, and it's not great news. Back to the Christianity Today article I cited at the beginning.
The author and a sociologist conducted an experiment.
More than 3,000 congregations received an email ostensibly from someone moving to their community and looking for a new church. We measured whether the churches replied to this email and, if so, what they said. But there was a catch: We varied the names attached to the emails so that they conveyed different racial and ethnic identities. Would the names alone change how churches replied?
You should go read the article (which might require a subscription to Christianity Today, which is totally worth it). The article talks about the broader context of culture, race, and racism, before getting to the findings of the experiment.
It turns out that mainline protestant churches responded to 67% of emails which looked like they came from white people, whereas only 60%, 58%, and 49% percent of emails which looked to be from black, hispanic, or asian people were answered. Got that? Mainline protestants were very welcoming to prospective white members, but significantly less welcoming to prospective members of color. For evangelical churches, the response rate varied from 59% to 56%, which indicates a much lower race bias.
Here's how the numbers looked for protestant and catholic churches: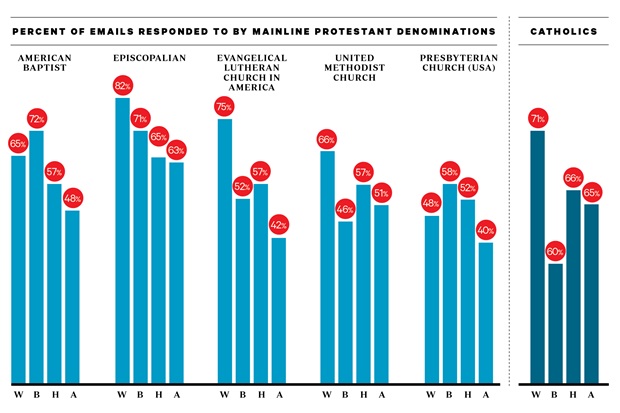 And this is the result for evangelical churches: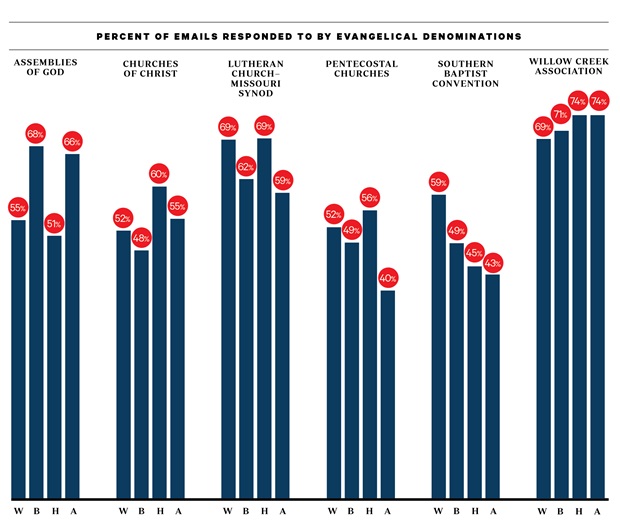 Have a careful look at the numbers. There are broadly disturbing racial disparities to be found all over. The notable exception is seen among Willow Creek Association churches, which had both a high response rate and a fairly even racial balance. Perhaps this is because they value the Gospel enough to want all to share a transformed life? The overall low rates (without considering racial disparity) among mainline churches should be worrying in itself. Can we not be bothered to respond to those who are looking for a church? Why do we not take every possible step to welcome people into our churches?
For Episcopalians, we had a relatively impressive 82% response rate to emails which appeared to come from white people. That's higher than any other segment in the report. We should celebrate that relatively response high rate, even as we lament the rates to which we responded to emails which appeared to come from black, hispanic, or asian writers (71%, 65%, and 63%). What does it say about our churches that 4 out of 5 times we wrote back to people we thought were white, but only 3 out of 5 times to people we thought we asian?
I'm hardly an expert on race issues, though I know enough to know that we have a problem. (Lord knows, I have my own racism with which to contend, as much as I would like to pretend I don't.) For those who might like to see hard data on the issue of race, this report and the reports on our demographics demonstrate our race problem as a church. Simply put, we Episcopalians were more eager to add people who we believed to be white than other races. That is an abject failure and grave sin of which we must repent. We should bend over backwards to welcome all those who are seeking a church, who are seeking Jesus.
What are we to do? First, we should pay attention to truths which make us uncomfortable without making excuses. Racism, of course, has no excuse. How can we repent of the evil of racism? Second, we must address race issues head on. How are the demographics of your congregation compared with your neighborhood? What is the racial diversity of your leadership? Third, we must get back to basics when it comes to discipleship and evangelism. If we knew our lives to be transformed by Jesus, we would be compelled to invite others into relationship with the true and living God. If evangelism really mattered, our response rate across the board (of any segment) would be well above 82%.
I'll have more to say about evangelism in the Episcopal Church in the next few weeks as I get back in the blogging groove. Thanks be to God, we have a Presiding Bishop who wants to be known as a Chief Evangelism Officer who, I hope, will fire us up for the Jesus Movement inside and outside our churches. I hope he is also able to build on the momentum of anti-racism legislation passed by General Convention to convene important conversations on rave. I hope we are able to repent and return to the Lord, who surely loves all people beyond our understanding.
Images here are taken from the article in Christianity Today.
NOTE: I have left racial descriptors all lower-case deliberately. There are various schools of thought on which ones should or should not be upper-case, and I didn't want to favor one over others.
UPDATE: As I was writing this post, I see that the Episcopal Cafe has posted an article on the same study which also appeared in the Journal for the Scientific Study of Religion.