Tangled Up in Blue: Miscellany
This is the thirty-fourth post in a series on resolutions for General Convention 2015. See also the index of resolutions and the list of resources related to #GC78. For this post, see also some thoughts on resolutions dealing with matters political.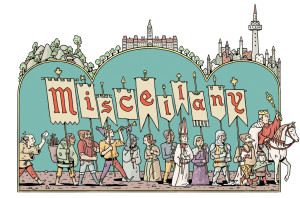 Your correspondent is well ensconced in General Convention, having arrived Sunday morning in time to set up the Forward Movement booth in the exhibit hall (please do come by if you're in town). Tuesday was the day to get credentialed as a deputy and to attend the first of several legislative committee meetings. I'm on evangelism & communication. While it's a bit disheartening that we only have five resolutions to look at, the up side is that we should be able to conclude our business quickly enough for me to attend other committee hearings to speak.
In any case, after dinner and dessert, I arrived back in my hotel room only to notice sixteen more resolutions now posted online. Zoinks! I'm sure there will still be even a few more coming.
Today as I was walking around, several people told me how much they appreciate Tangled Up in Blue. Mostly I've enjoyed writing these, and the conversations have been terrific. I do hope you'll leave comments here when you think I've gone off the rails. You won't hurt my feelings, and I'm always glad to hear new perspective and to learn new things.
Well, without further delay, here are the latest resolutions.
B010 Amend Constitution of the General Convention (2012) Canon III.9.3(d). Full text. Likely vote: YES.
This resolution mostly cleans up language related to accountability for clergy serving in ministries connected to the armed forces and federal ministries, and for the bishop suffragan of those ministries. I don't see any major changes here other than language cleanup.
B011: Amend Constitution of the General Convention (2012) Article II.7. Full text. Likely vote: YES.
This seems like more language cleanup related to ministries of  the armed forces and federal ministries. For example, "Veterans' Administration Medical Centers, and Federal Correctional Institutions" is replaced with the more generic "Federal Ministries." A line is stricken, "The Suffragan Bishop shall be eligible for election as Bishop or Bishop Coadjutor or Suffragan Bishop of a Diocese," but there's no particular need for that line, since a bishop suffragan would by default be eligible for election.
B012: Peacemaking Through Restorative Justice. Full text. Likely vote: YES.
This resolution attempts to reframe our involvement in the Israel/Palestine conflict. Rather than take a distancing approach such as boycotts, this resolution encourages engagement, both between Episcopalians and people in the Holy Land and among those involved in the conflict. In particular, this resolution calls for the Presiding Bishop or the churchwide staff to encourage conversation within the Episcopal Church on this issue. I'd like this resolution even more if it called us to pray for the peace of Jerusalem. You might also want to read my earlier post on Peace in the Holy Land.
B013: Peacemaking Through Political Action. Full text. Likely vote: YES, if amended.
As written, this resolution does a lot of commending and urging of various governments to do various things to work for peace. To its credit, the resolution specifically calls on both the United States government and the governments of other nations in which our church is present. (Yay, global church! See how easy it was to write a resolution that looks beyond US borders?)
The resolution focuses on one area on particular, urging "the Presiding Bishop and the Domestic and Foreign Missionary Society to work to build political consensus within the The Episcopal Church for ..new and muscular government action and to organize grassroots support…". I appreciate that. I'd like to see even more here, perhaps encouraging the continuation of our positive investment in the infrastructure of the Palestinian economy. Or we might fund (or partially fund) one or more pilgrimage trips with key leaders and influencers to listen to Palestinian and Israeli leaders. I'd vote for this if it came out of committee this way, though I think there are other good resolutions. As I said above, you might also want to read my earlier post on Peace in the Holy Land.
D027: Remove Juanita Neal from OFAC Designation List. Full text. Likely vote: NO.
The situation of Juanita Neal, from the information in the explanation here, sounds grim. According to the explanation, Ms. Neal, a former government official in Liberia, was placed on a no-fly list and so has not been able to visit her family in the US. The explanation says she was cleared after an investigation and contains a link, but that that link points to a web page about sanctions against INVESTACAST PRECISION CASTINGS, LTD. from London. It's not clear what connection there might be here. A quick Google search revealed some news about Ms. Neal but nothing about her being cleared. I for one would not be competent to vote one way or the other on this matter, and I'm not sure that General Convention can do the work necessary to take a stand, despite the hard situation. Perhaps an Executive Council committee could look into this. While I am sympathetic to the cause, without a good deal of further information, I could not support this.
D028: Oppose Conversion Therapy. Full text. Likely vote: NO.
Conversion therapy, which attempts to "convert" someone from one sexual orientation to another, is now widely discredited, thanks be to God. The idea that we should "fix" a LGBT person is, to me, repugnant. This resolution has just one resolve, saying the General Convention "supports legislation banning state-licensed therapists from engaging in scientifically discredited and dangerous practices that try to change a person's sexual orientation or gender identity." I don't know what it means to "support legislation" in such a broad sense. In the US? In other countries? Federal? State? All? Beyond the feel-good sense of saying that we have this idea, what does it mean for General Convention to say this? To whom, exactly, are we saying it? Moreover, the explanation itself draws attention to resolution 2003-C004, which has already covered this very topic. Because General Convention has already spoken on this topic with the same substance, we should not consider this resolution, let alone pass it. We've made our (sensible) position known. We do not need to reiterate what we've already said.
D030: Establish Parental Leave Policy. Full text. Likely vote: YES, but only if amended.
Most of the developed world manages to provide generous time off for new parents. The United States is remarkably stingy, and the church's track record is pretty lousy here. This resolution attempts to remedy this by extending the provisions of a weak resolution from fifteen years ago (2000-C042) for 12 weeks of leave, up from eight. But there was no mandate then (or now). Our failure as a church to provide this benefit to clergy and lay employees indicates that we're only willing to affirm things until it costs us money. In my opinion, we need a mandatory parental leave provision for both lay and clergy employees.
This resolution needs serious work, though its ideas are commendable. The end game must be a canonical provision, because otherwise many dioceses and leaders will continue to offer what little they can get away with. In particular, this resolution has several shortcomings: it looks only at the United States; in one provision it looks only at birth mothers, not adoptive parents or "secondary" parents; it directs the Church Pension Group to do particular things when I believe this could be outside the scope of General Convention; and it seems to look only at clergy.
So let's pass a better version of this: form a study group or direct an appropriate committee to sort this out; look at the whole Episcopal Church; consult with CPG; provide the benefit for clergy and lay employees; write a canonical change to give this some force. For now, while the study is happening this triennium, the resolution could also state a position, such as "The General Convention urges all church organizations to offer a benefit of twelve weeks' parental leave to all (full-time?) lay and clergy employees" or some such. In other words, let's say where we want to go, and encourage that behavior even as we're writing up the formal means to make it happen. This resolution has the right idea, but the execution needs to be improved.
D031: Amend Title IV. Full text. Likely vote: No, unless amended.
The canons about clergy discipline are in Title IV, which we gutted and replaced a few General Conventions ago. I personally think the new Title IV is a disastrous fix to what was an admittedly flawed process before. The Blue Book this time has a bunch of resolutions to clean up technical problems with Title IV, which I blogged about here. As first promulgated, Title IV was titled toward clergy-are-guilty-until-proven-innocent as an overreaction to the church's previous failures to discipline its clergy for flagrant moral failures. And, yes, Episcopalians, this is a problem for us too; we have no room to scoff at Roman Catholics and imagine that we're wholly righteous on this topic.
In any case, this resolution attempts to correct the balance a bit by giving clergy some more protections and rights. For example, the current canons make "failing without good cause to cooperate with any investigation or proceeding conducted under authority of this Title" a disciplinary violation, and this resolution strikes that as an infraction. This resolution also increases the size of various committees, boards, and panels. (I'm not sure if smaller dioceses will find this to be onerous.)
This resolution would require complaints against clergy to be filed in writing (now they could be made orally) with a signed certification. A complainant would be required to attend some of the process, whereas it is currently optional. These are provisions I am concerned about. A traumatized victim should not have to attend the church's internal processes. I'm not sure that required written certification is helpful; that may be a barrier to some complaints being recorded.
For the sake of brevity — and because it's after 1 a.m. as I stare down a 7 a.m. committee hearing — I'm cutting this one short. I think Title IV swings the pendulum a bit too far against due process for clergy, but I think these changes swing back too far the other way. That said, I'd like to see some changes implemented. If the legislative committee has time to work through this, I think they could incorporate some of this language in proposed change. Otherwise, this would be excellent fodder for a task force or committee to look at this triennium. We need a process that protects both clergy and complainants. That balance is easier said than done. Let's take the time to get it right.
D032: Disability Advocacy in Criminal Justice Work of The Episcopal Church. Full text. Likely vote: NO.
The problem of people with disabilities going through the criminal justice system is severe. Everything is stacked against them, from encounters with police, through the trial and sentencing process, and right into incarceration. This resolution says all those things are bad and does a lot of urging, condemning, recognizing, and advocating. When you get past the words, the only substantive action is to appoint an "ad-hoc triennial committee." I don't claim to be an expert on General Convention arcana — I just play one in the blogosphere — but I think such a beast does not exist. I think we could ask Executive Council to create an ad hoc committee or I think we could ask General Convention to create a task force. I do not believe the General Convention can create this kind of group. If there were a specific, measurable action (beyond forming a committee), I could get behind this. I'm not sure what that would be.
D033: Supporting Refugee Rights in Central America. Full text. Likely vote: NO.
This resolution is all words about a serious problem, Central American refugees. There's plenty of affirming, advocating, acknowledging, and opposing here. While I commend the (rare) interest among political resolutions in affairs outside the United States, I cannot imagine how this will make a difference. Also, there is nothing here which would differentiate this resolution from a liberal political policy document as opposed to the action of a church body, with nary a mention of God, prayer, or anything religious. While the Episcopal Church features prominently in the text, it functions here as only an advocacy organization and you could search and replace with another secular organization without any substantive change. Other than making us feel like we've done something by voting for this, I'm not sure what will change. Let us, instead, pray and work for justice.
D034: Affirmation and Support of the American with Disabilities Act of 1990. Full text. Likely vote: NO.
This is a stellar specimen of my political principle at work. Let us tell the world what we are going to do about political problems, rather than telling the world what they should do about political problems. Let us, for a moment, set aside the fact that this resolution deals only with a piece of US government legislation while ignoring the other nations of the Episcopal Church.
Here we
reaffirm and renew the Church's longtime commitment to the principles of inclusion and the protection of the civil rights of all People with Disabilities on this, the 25th Anniversary of the passage of the Act
and we continue
unwavering support and advocate for the total compliance with the Spirit and Intent of this Act by all cities, towns and municipalities large and small within the United States of America.
And then we send a copy of our shiny new statement to the
U.S. Attorney General, the President of the United States, the Vice President of the United Striates and members of the United States Supreme Court and all current members of the United States House of Representatives, the United States Senate, the Governors of each State and all U.S. Territories and Possessions within the United States.
OK. Let's talk about this. But first a brief story.
When I was rector of a parish, I arrived to discover a ramp on the front of the church. When the first funeral came along, I noticed some strong people lifting a person in a wheelchair up our front steps. I asked, "Why aren't they using the ramp?" The answer came back, "It's too narrow for many wheelchairs and the corners are too sharp." Upon further inquiry, I learned that at least in older buildings, churches are exempt from the Americans with Disabilities Act. So there was a ramp, but it was somewhat ornamental.
So we're going to pass a resolution telling towns to get their act together. Here's another idea. Let's require churches to become ADA compliant. Let's show our own commitment. Now, before you tell me that my church was an exception, let me ask you this. Could a person in a wheelchair celebrate the Eucharist at your principal Holy Table? In my four years of extensive travel across the Episcopal Church, I could count on one hand the number of churches I've seen which are fully accessible to a person in a wheelchair. So how about we work on our own stuff before we smugly tout our "unwavering support" and "longtime commitment."
X001: Appointment of Michael Barlowe as Secretary of General Convention. Full text. Likely vote: YES.
We're about to elect Michael Barlowe as Secretary of the House of Deputies, and the canons (I.1.1(j)) say that by concurrent action of General Convention, the Secretary of the House of Deputies is also to become the Secretary of the General Convention. So this is that.
X002: Special Order Calendar for the House of Deputies. Full text. Likely vote: YES.
This is just a slightly more detailed legislative calendar with various speakers and events tossed in here and there. Passing this allows the President of the House to interrupt debate so we can have a party, so I'm obviously voting yes.
X003: Appointments on the Board of Archives. Full text. Likely vote: YES.
This is confirmation of the appointment of five people to the Episcopal Church's Board of Archives.
Image from Kelsey Heinrichs.