Tangled Up in Blue: Memorials
This is the thirty-first post in a series on resolutions for General Convention 2015. See also the index of resolutions and the list of resources related to #GC78.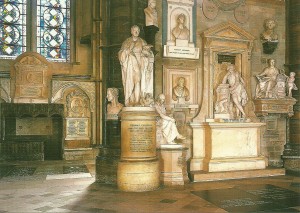 A couple of months ago, I met with colleagues in Columbus, Ohio. There we drafted A Memorial to the Church and a set of resolutions to enable its vision. Together we called this work Episcopal Resurrection, because we hope these things will help us to proclaim resurrection in the church and to the world. We got quite a bit of attention, and as of this writing some 30 bishops, dozens of deputies and alternates, and even more interested Episcopalians have added their names with ours as endorsers.
Back then, several people said, "Why did you call it a memorial?" or "Why such a depressing name?" It turns out that there are at least two kinds of matter that can gain the attention of General Convention, resolutions and memorials. So far I've blogged about 210 of the resolutions we'll look at this year. There are eight memorials, so let's look at those.
But what is a memorial, you ask? The current rules of order of the House of Deputies say,
All Memorials shall contain the substance of the phrase, "The (organization) memorializes the General Convention to . . . ," and shall be in such form as to urge action by the General Convention on a Resolution already introduced or on any other matter on which the General Convention is requested to take action. (HoD Rules of Order VI.23(a))
Interestingly, the General Convention never votes on the memorial itself. Instead,
Each Memorial shall be referred by the President to one or more appropriate Legislative Committees for information. Such Committee may consider such Memorial and submit to the floor a Resolution embodying the substance of such Memorial, but the Memorial itself shall not be the subject of a report from the Committee to which it is referred.  (HoD Rules of Order VI.23(c))
So these memorials can guide action of the Convention, but they themselves are not subject to a vote. Historically there have been some important memorials, most notably the Muhlenberg Memorial of 1853, which was a harbinger for much of the ecumenical work of the rest of the 19th century.
We haven't used this legislative mechanism in a while, which explains why plenty of bishops and deputies had forgotten that such a thing exists. Gay Jennings, President of the House of Deputies has been among those urging the revival of this venerable instrument. Memorials provide a way to shape conversation without resorting to resolutions. At their best, memorials can guide our whole church into new places. That is certainly the hope behind the memorial that I played a small part in drafting.
So let's look at the eight memorials now before us. There is no voting, so I am just offering some commentary, for what it's worth.
Memorial I. Full text.
"Multi-faith education" is the topic of this memorial, which says we can "bear false witness" against religions by teaching and preaching; this "false witness" comes through ignorance. (I'm not sure that counts as false witness, but I take their point.) The upshot of this memorial is "Therefore within the next triennium we would like to see basic educational resources creatively developed, similar to what was developed for Anti-Racism and Safe Church training, for all clergy active in ministry, and all diocesan and parochial lay leaders, with refresher education at regular intervals."
Of course, the problem is that one cannot begin to adequately study any religion in the length of time one is going to spend in such a training, laudable as the goal might be. Interfaith engagement and learning is important, I agree. Some of the most fruitful adult formation opportunities happened at the church where I was rector when we invited an imam and a Jewish religious school teacher to come speak with us and answer our questions. So the impulse here is commendable, but I'm not sure how it would work. Still, the point of a memorial isn't to come up with a plan but to inspire other thinking and work, and I think this one succeeds at reminding us of an important issue.
Memorial II. Full text.
This one urges us to "set aside a feast day" commemorating James Shannon McGowan. I'm not sure why the Diocese of El Camino Real sent this in as a memorial instead of writing a resolution, which is the standard way of getting the SCLM to consider adding a feast day. Anyway, there it is.
Memorial III. Full text.
This one, from the Diocese of New Jersey, is short. The full text is
The Diocese of New Jersey memorializes the General Convention to adopt such resolutions as may be necessary to bring the costs of the Denominational Health Plan into line with health-insurance costs otherwise available to congregations on the open market, or in the alternative provide provisions for opting out of such Plan regardless of qualification for federal premium tax credits.
I think it would be great if our health insurance plan got cheaper, and I bet the Medical Trust would like that too. So let's hope they keep working on that. As an aside, there are two easy ways we could lower insurance costs to churches. First, we could use lousy plans. That ultimately will cost more as clergy and lay employees struggle with health issues and other expenses generated from lacking good insurance. Second, we could ask employees to pay a share of the premiums. Most church organizations I know pay 100% of the cost, but that's rare outside the church. But that's a digression from this memorial.
Memorial IV. Full text.
Holy moly, Province III had a prolific synod. They generated several resolutions and a memorial! This memorial responds to the Task Force to Reimagine the Episcopal Church and its suggestion to get rid of the 48 bazillion standing commissions and keep only two, a Standing Commission on Theology, Liturgy, and Music; and a Standing Commission on Governance and Structure. This memorial proposes additional standing commissions, namely Domestic Mission; World Mission; Ecumenical Relations and Inter-religious Affairs; and Peace, Justice & Reconciliation. The memorial ends with a reminder about the story of Paul Jones, whom our church commemorates as a witness for peace, and who was Bishop of Utah. The final line in the memorial is, "Need we point out that it would be a shame if now, here is this very place, 98 years later, the Episcopal Church were to abandon its institutional commitment to the pressing issues of peace, justice and reconciliation?"
And this is the thing. Too many people in our church confuse committees with prophetic witness, words with action. Having a committee on a topic doesn't mean we're really committed to it, and axing a committee doesn't mean we don't care. It only means we don't see that committee as effective. Suggesting that getting rid of a standing commission means that we are "abandoning" our institutional commitment to peace is, well, ridiculous.
Also, they propose a "Domestic Mission" standing commission. What does Domestic mean in the Episcopal Church? Domestic to Haiti? To Venezuela? To Taiwan? I think "Domestic and Foreign Missionary Society" is a quaint reminder of our 19th century missionary revival, so I don't the word domestic or the word foreign there too much. But if pressed, even that beloved name has to go. In our global church, there is no such thing as "Domestic" and we cannot allow ourselves to be complacent with an USA-centric view, or we continue the very colonialism that we would deplore.
Memorial V. Full text.
This is the memorial from Episcopal Resurrection, a group of which I am a part. Fellow member Susan Snook and I have written about the memorial in an article for The Living Church. This memorial seeks to place our current situation in context:
Our beloved Episcopal Church is in a similar situation. We must find new ways of proclaiming the
gospel in varied and ever changing neighborhoods. Old ways of being the church no longer apply.
We can no longer settle for complacency and comfort. We can no longer claim to dominate the
political and social landscape. We can no longer wait inside our sanctuaries to welcome those who
want to become Episcopalian.

We have a choice before us. We can continue, valiantly and tragically, to try to save all the rights and
privileges we have previously enjoyed. We can continue to watch our church dwindle until it
someday becomes an endowed museum to the faith of our forebears. We can continue business as
usual until we lose our common life entirely.

Or we can lose our life for Jesus' sake so that we might save it.
Then the memorial goes on to call for things from individual Episcopalians around the world, as well as particular actions from deputies and bishops at General Convention:
Specifically, we call upon the people of the Episcopal Church to:

Recommit to reading scripture, praying daily, gathering weekly for corporate worship, and giving for the spread of the Kingdom, knowing that engaging in these practices brings personal and corporate transformation;
Share the Good News of Jesus Christ in word and deed, including learning how to tell the story of how Jesus makes a difference in our lives, even and especially to those who have not experienced true transformation;
Pray and fast for the Holy Spirit to add day by day to those who come within the reach of Christ's saving embrace;
Encounter Jesus Christ through loving service to those in need and through seeking justice and peace among all people.

And we call upon those bishops and deputies gathered for Convention to the following actions as
specific ways we may enter this time of transition in a spirit of exploration, discovering the gifts that
the Holy Spirit has for us in this moment:
Engage creatively, openly, and prayerfully in reading the signs of the times and discerning the particular ways God is speaking to the Episcopal Church now;
Pray, read the scriptures, and listen deeply for the Holy Spirit's guidance in electing a new Presiding Bishop and other leaders, in entering into creative initiatives for the spread of the kingdom, and in restructuring the church for mission;
Fund evangelism initiatives extravagantly: training laborers to go into the harvest to revitalize existing congregations and plant new ones; forming networks and educational offerings to train and deploy church planters and revitalizers who will follow Jesus into all kinds of neighborhoods; and creating training opportunities for bilingual and bi-cultural ministry;
Release our hold on buildings, structures, comfortable habits, egos, and conflicts that do not serve the church well;
Remove obstacles embedded in current structures, however formerly useful or well-meaning, that hinder new and creative mission and evangelism initiatives;
Refocus our energies from building up a large, centralized, expensive, hierarchical church-wide structure, to networking and supporting mission at the local level, where we all may learn how to follow Jesus into all of our neighborhoods.
I don't have much more to add to the Living Church article. I pray and hope the General Convention will choose to lose its life for Christ's sake and to do bold things for the Gospel.
Memorial VI. Full text.
This one is quite similar to Memorial I, except that it adds a laundry list of other religions to the list along with Judaism. We are urged to learn more in a churchwide training about other religions. I have two slightly snarky questions. First, can we also have a churchwide training about Christianity? Second, what about the world religions they left off the list, such as Mormonism? #IronyAlert
Really, I do agree that interfaith learning is essential, as demonstrated by the offensive stereotypes about the LDS Church (the Mormons!) that have been uttered by plenty of Episcopalians in this run-up to General Convention in Salt Lake City. Yes, let's learn stuff about our global neighbors. If this memorial helps us do that, I'm a big fan. And that's not snark.
Memorial VII. Full text.
Another short memorial:
Given the proven dangers to the environment and all life on earth fur to the burning of fossil fuels, and given fossil fuel companies' business plans to extract and use all fossil fuel reserves in the ground, we urge all dioceses of the Episcopal Church and the Consortium of Endowed Episcopal Parishes to engage the topic of divestment from fossil fuels and reinvestment in clean energy within the coming year.
OK, I think it's not a bad idea to talk about divestment from fossil fuels. This calls out CEEP congregations, which I guess makes sense. I do hope the sponsor of this memorial, the Diocese of Massachusetts, is doing this work with their own considerable assets. Otherwise, it's a bit of a log-in-your-own-eye kind of a deal.
Memorial VIII. Full text.
This memorial urges that the House of Deputies have proportional representation based on the size of the diocese. Coincidentally, the author is from the Diocese of Virginia (a.k.a. "The Diocese"), which is one of the largest dioceses in the Episcopal Church. Side comments aside, I actually think this idea has merit, and I said as much in 2010 (a blog post which asked for many changes to General Convention which have now come to pass, but which at the time earned me bitterly angry emails from Convention insiders).
This memorial overstates its case though. A sample paragraph:
No coherent Christian theology can justify giving one set of baptized people forty times the voting power of another set simply because of their current residence. Similarly, no valid theology of ordination supports giving a clergyman in one diocese ten times the voice of a clergywoman in a larger diocese. Neither lay people nor clergy grow wiser or more foolish, holier or more profane, simply by moving from one diocese to another. Folly, wisdom, holiness and sin resolutely ignore geographic boundaries.
But I've certainly gone overboard rhetorically on more than one occasion, so I won't be too hard on this author. He does get us thinking!
It's also worth noting that, while the House of Deputies has eight deputies for every diocese, the House of Bishops is basically proportional already. For example, there are six voting bishops from Virginia, but only two from my diocese of Southern Ohio. If we are going to change the House of Deputies to be proportional, we'd want to change the House of Bishops so that each diocese has the same voting power (probably just the current diocesan bishop).
Anyway, nothing will happen to change our representation at this General Convention, but as we're thinking about structure — and we're just getting started — it's worth continuing to ponder other ways to constitute our churchwide legislative assembly. We need not be bound by the past.