Tangled Up in Blue: Evangelism and church growth
This is the thirtieth post in a series on resolutions for General Convention 2015. See also the index of resolutions and the list of resources related to #GC78.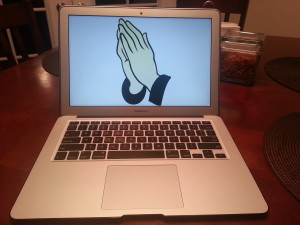 I have been known to observe that General Convention passes plenty of resolutions that will matter to almost no one outside that very same General Convention. However, we also consider resolutions which might bring about transformational change in our church, in many lives, and indeed in the whole world. When we preach the Good News and share it, when we take seriously our work as disciples of Jesus Christ, all sorts of good things happen. Yes, parliamentary procedure can lead to all this.
We'll be looking at three evangelism resolutions from deputies in this post. Here we go!
D005: Creating a Capacity to Plant Churches. Full text. Likely vote: YES.
This resolution comes from Episcopal Resurrection, and I had a small part in writing it. The vision is pretty big: plant close to 50 new churches each triennium. This would be a massive (massive!) increase over the number of church plants we currently do. Here's the substance of the first resolve:
create a church- wide network for church planting that will include: establishing seminary faculty focusing on church planting, recruitment of up to 50 potential church planters this triennium; training of potential church planters including sending some planters to training conferences and providing church planting internships for some planters; providing grants to support up to fifty new church plants this triennium; and creating the capacity to continue to recruit and train fifty new church planters each triennium while supporting up to 50 new church plants each triennium.
Basically, the idea is that if we set our mind to this task, and if we fund it, we can actually turn the ship. We can start new congregations! The funding request is pretty large, at $6,433,800. There's an additional $2 million to be raised by the development office. Actually, I think that money won't be hard to raise. Philanthropists who love the Episcopal Church (and these really do exist) will whole-heartedly respond to a funding opportunity that makes this much difference.
This bold resolution isn't very long, so you can read all the resolves and the explanation in a few minutes. Don't let its brevity make  you think it can't do much. Susan Snook offered seven reasons this resolution matters and why we should plant churches on her blog, starting with this one: "Planting new churches is one of the best ways to reach new people with the good news of the gospel, because new churches are more likely to grow."
In his blog, Adam Trambley outlines the importance of this resolution and its vision:
As an Episcopal Church, we don't really have the structures in place for church planting. Some of our Dioceses have those capacities, and a few plants have taken off in other places due to a leader's strong vision or the Holy Spirit bringing something about in spite of ourselves. We don't have a clear path for people who want to plant churches, and we are not recruiting the people we need. Church planting is not a focus (or even more than an occasional elective) at most seminaries. We aren't networking successful Episcopal church planters across dioceses and using them as coaches and mentors, and we aren't raising the money for church planting that we could be. To address these and similar issues, this resolution has a number of important interrelated components.
I can't emphasize enough how important I think it is to pass and fund this resolution. Sure, it's a lot of money. Can we afford it? I think so. But the haunting question is, can we afford not to get serious about planting church? I hope General Convention will take a big risk for the Gospel and do this bold thing. Thousands of lives will be changed, and our church will have new shoots of growth.
D009: Revitalization of Congregations. Full text. Likely vote: YES.
This resolution also comes from Episcopal Resurrection, and I had a small part in writing it. While the previous resolution aims to get us planting more churches, this resolution is focused on the 7,000 (or so) existing congregations in the Episcopal Church. While some of our existing congregations are healthy and thriving, most are not. I suspect that more congregations than we'd care to admit are teetering on the edge of financial viability. If passed, this resolution would create a network dedicated to congregational revitalization and add a staff person to oversee that work. As an aside, networking is one of the functions best done at the churchwide level, where staff have the wide view to see what's going on in our church and to connect people doing similar work or facing similar challenges.
The resolution also aims to train a number of regional consultants who can work with congregations doing this work. I can say this as a former rector who worked very hard to revitalize a congregation, there are not enough existing resources to help with this work. It's essential to bring in trusted outside voices to guide leaders and work with members of a congregation. This is a real thing, and we need it. If this resolution were only partly successful, it would be much, much better than our current situation.
At his blog, Steve Pankey writes about why this work is important and how hard it is.
The Church will not be revitalized overnight, and the harsh reality is that not every congregation can be (or even wants to be) saved, but with the right resources focused in the right places, we believe that many Episcopal Congregations can find new ways of being Church that will speak to the needs of a rapidly changing world. Resurrection is possible, but it requires 1) that we admit we're dead, 2) faith that God is still in the business of resurrection, and 3) an openness to change for the sake of the Gospel. Time will tell if The Episcopal Church can successfully navigate all three of these requirements, but it is our prayer that we can move beyond the crisis of today into a hope-filled future.
Yes, indeed. The budget request for this resolution is $700,000. That's chump change in our budget, and we'd do well to give these ideas a try. If this stuff works, we could change the direction of our church. I'm don't care a bit about statistics, but I do care that as our institution collapses, we lose the opportunity to proclaim the Gospel and change lives. That's the reason for the church, and we need to get back to it. If we can revitalize our congregations, we will be stronger and more able to do the work God has given us to do.
On an unrelated note, another reason to visit Steve's blog is Monty Python. He's posted a very theological clip there. Go watch it.
D019: Conducting an Online Digital Evangelism Test. Full text. Likely vote: YES.
This evangelism resolution is another one from Episcopal Resurrection. See a theme? I had nothing to do with writing this one, but Forward Movement did partner with Episcopal Church staff member Jake Dell in the first tiny pilot of this work. It was great fun, and a great success.
The work of this resolution is based on "inbound marketing" which flips things around. We live in a world in which people Google for answers. You provide them with some help, and invite them to make further connections. It's driven by the seeker, and the relationship can result in an invitation to a specific church, if we use this technique in the Episcopal Church.
Here's what Frank Logue said about this on his blog.
Like supplicants seeking direction from the Oracle at Delphi, we go to the internet intent on finding an answer. We pick up or tablet or phone or open up a browser on our computer and we ask a search engine to guide us as that key decision points occurs. And beyond product reviews, restaurant recommendations, and the rest of the micro-moment decisions, people around the world ask:

Does God love me?
Who is Jesus?
Will I go to heaven?

Being there in those micro-moments also flips the script on Evangelism. Instead of being a nuisance, the digital evangelist answers the actual questions a person has in the moment when she or he really wants guidance.
Quoting Frank again, here's what this resolution does. Stay with the quote until the last sentence (spoiler: no new budget money is needed!).
Develop quality editorial content to answer real life questions in the moment
Fund advertising to attract and build an online audience.
Build capacity to connect people asking questions online to local ministries.

Fortunately, for our church, the Rev. Jake Dell, Manager, Digital Marketing and Advertising Sales for the Episcopal Church is already well down the road on what we need. He has proven the concept works and has a handle on next steps. This resolution is designed to build on the previous work by taking the program to the next level. And best of all, no new budget dollars are needed.
Yes, the resolution costs $1 million per year, but this can come from existing funds redirected to this new project.  This is a time in our church to invest in growth. We can't rely on our old evangelism strategy of being the establishment church or of putting out an "Episcopal Church welcomes you" sign and calling it day. People are using the internet to find what they want, even meaning itself. We need to be there where we can connect people with local congregations and the transformational power of Jesus Christ.
NOTES: D019 will come to the evangelism & communication legislative committee on which I serve. As I mentioned, Forward Movement worked with church center staff on the pilot for the work described in the resolution. If passed, I hope we'll continue that work. Don't worry though, there's no financial conflict for me: I do not get a financial bonus for partnering with others to share the Gospel. Just the satisfaction of seeing really great things happen.
I cribbed the computer image from the blog of my archnemesis. Don't tell him.