Tangled Up in Blue: Saintly resolutions and a great cloud of further thought
This is the twenty-eighth post in a series on resolutions for General Convention 2015. See also the index of resolutions and the list of resources related to #GC78.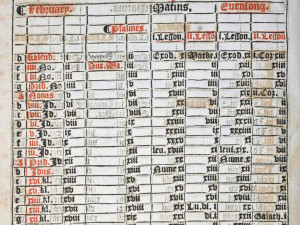 When I blogged the resolutions on our calendar of saints from the Standing Commission on Liturgy and Music, there was a fair amount of reaction. For whatever reason, the topic of Holy Women, Holy Men and its possible successor A Great Cloud of Witnesses, stirs some people. Some people love this stuff, while others (including yours truly) are not fans of our burgeoning sanctoral calendar or the disregard for our own criteria for adding saints to the calendar. There were a few comments here on the post, and plenty over on Facebook.
Derek Olsen, a member of SCLM, has now written two blog posts with responses in this conversation, "Responding on the Saints" and "The Dorchester Chaplains". I highly recommend you go read Derek's blog, and read the comments on each of his posts. He really knows his stuff, and he has been exceedingly gracious with my criticism of his work. We've traded a couple of emails on the topic. Through all this, I am pleased to say he has taught me that I was wrong (or at least inaccurately exaggerating) on at least one point in my post. I am grateful for Derek's work on this material and his willingness to engage in conversation. Derek has also gotten me thinking about where we go from here.
Before sharing some thoughts about future direction, I want to acknowledge the place Derek has rightly pointed out my error. I said this:
Actually, the scriptures and the church's tradition are quite clear on who the saints are. Anyone who is baptized is a saint. The New Testament is crystal clear on sainthood, and sainthood is the property of all Christians. Go ahead and look it up.
In some ways, for many Christians, this view is not wrong. But Derek is right to indicate that from early in its history, the church has referred to people as saints in a different sense. These particularly named saints are held up for special veneration because they were exemplars of Christian faith and witness. At different times and across various strands of the church, this second kind of sainthood has been understood differently.
Clearly, as Derek rightly says, there are varied understandings of sainthood in our own church. Some of the understandings of sainthood ("Inspiring folks, whether or not they were Christians") are perhaps mostly novel in our time. We need not, I think, take everyone's kneejerk opinion about sainthood with the same weight. Our tendency is to treat all voices equally, imagining that anything with "truthiness" has its own truth, but that may not be the case.
We might do well to listen especially to those with more knowledge and formation in history and theology, and so forth. Before you object: I am not saying that everything in our faith can be reduced to objective truth and I am not saying that clergy alone (God forbid) or people with an M.Div. should decide everything.
This is a very long-winded way of saying, perhaps our church isn't as confused as we think about saints. Perhaps the issue is that a fair number of us haven't bothered to deal with the tradition or the scriptures or even our intellect. Sometimes it takes a person like Derek to correct a person like me, and maybe we need to do that a bit more often. While there is plenty of room in the church for innovation and evolution of thought (thanks be to God), we are meant to swim in an ancient stream rather than inventing a new jacuzzi with every whim. Some of the apparent confusion on sainthood (and other matters) may be a formation issue as much as anything else.
If the SCLM resolutions pass as written, this is what will happen (greatly simplified here):
A Great Cloud of Witnesses is authorized for trial use, replacing Holy Women, Holy Men.
In this new scheme, we would eventually pare down our functional sanctoral calendar to just the principal and major feasts outlined in our Book of Common Prayer. GCW becomes a list of optional commemorations (as provided for in our prayer book) and we don't necessarily have to call the people in GCW "saints." This is a change from Lesser Feasts and Fasts, our current official sanctoral calendar, which explicitly calls the people commemorated "saints", though all of the "lesser feasts" are optional.
The criteria for inclusion in GCW are updated (in ways that I find unhelpful, as I noted before, but we'll ignore that for now).
We approve Weekday Eucharistic Propers 2015, which includes not only the seasonal daily propers for Advent, Lent, and other seasons, but new propers for commemorating saints (because in the new plan, each saint does not get her or his own propers, so we use propers for various occasions (and commons) such as "Artists, Writers, and Composers" and "Prophetic Witness in Society."
We get SCLM working on 55 (!) new women possibly to be added to GCW all at once in 2018.
I have a number of concerns with this approach, most of which I already expressed. You may or may not agree with me. To reiterate briefly, I think GCW expands our calendar beyond any traditional understanding of Christian sainthood (including the inclusion of a modern Jewish rabbi, though Derek doesn't see this as a major problem). I've yet to meet anyone who celebrates daily Eucharist in a community who finds this resource appealing for daily use. I think GCW sows confusion rather than offering helpful clarify, starting from its criteria for inclusion and continuing through the necessary choice of propers (pick one of these six to use today!) for each person. GCW doesn't even use its own criteria for inclusion. On the plus side, many of the biographical collects are improved over what was in HWHM.
So where do we go? Clearly one option is to pass all the SCLM resolutions as written. Rather than kick the dead horse, read above or my other post to see why I think that's not the best option.
It seems to me we have two other, better options for our sanctoral calendar.
Option 1. We do not approve GCW at all. We do not add further commemorations of any kind right now. Lesser Feasts & Fasts continues to be our official calendar (along with the prayer book, of course). In other words, we send the whole thing back to the drawing board. We should do this with thanks for hard work. We ask the SCLM to look at LFF, keeping in mind the excellent criteria for sanctoral commemorations there, and especially looking toward a range of inclusion. So maybe in 2018 we remove some men from LFF and add some women, etc. This gives our church some breathing room to consolidate change and reform our sanctoral calendar with due deliberation.
For those congregations who have enjoyed using HWHM and the like, we remind them that they can commemorate nearly any Christian they want using the forms provided in the Book of Common Prayer. We might even approve for trial use the additional propers developed by the SCLM. This whole option keeps our current practice of having a churchwide sanctoral calendar (in LFF) with optional commemorations as desired in local communities.
Option 2. We implement the vision of SCLM that the sanctoral calendar of our church should be understood as quite limited in scope, consisting of the principal and major feasts in our prayer book and few other days. To that end, we un-authorize LFF. We do not authorize GCW. Instead, we urge Church Publishing to provide this material for use. Because our prayer book already allows optional commemorations, a church can use GCW or LFF or any other resource for its daily commemorations. In this scenario, we might approve for trial use the new commons of saints from SCLM, to give more choices for use. We might also allow congregations to use collects from GCW or LFF or other collects. This puts us into a world more like the early medieval church, when each community kept its own calendar.
There will continue to be plenty of common celebrations beyond Sundays. We'll have major feasts, for one thing. And we'll also have common observances because anyone remembering certain saints will likely choose the dates already in use in our own tradition or in other churches. So while we won't have a uniform churchwide calendar, we'd be close. In fact, we already don't have a uniform churchwide calendar, because most congregations have one or two midweek services, if any. My sense is that the common practice is that the celebrant looks at the calendar of saints for that week and picks one off the menu. So one church might keep Saint A on Wednesday, while the next church over keeps Saints B on the same day. My point is that getting rid of LFF or GCW wouldn't markedly change order into chaos. In fact, this would offer clarity, because we'd boil down our calendar to the compulsory commemorations (principal and major feasts, etc.) and we'd all be clear what's optional.
The benefit of Option 1 is that we're already there, in a way. We'd avoid radical change while our SCLM does some more work. The benefit of Option 2 is that it acknowledges our multivalent understanding and saints and lets us celebrate some commonality (major feasts) and some diversity (varied lesser feasts).
Last, but not least, before we get to the resolutions: the collects. Many of the collects for lesser feasts have been improved by SCLM. Mini-biographies have been turned into prayers about Christian virtues. Success is in the ear of the listener, so I should note that I think a few of the collects are not better. Maybe they are. I don't pretend to be an expert, just a long-winded blogger. So my hope is that SCLM will keep working on the collects, collecting (get it?) feedback over the triennium. We can authorize (for trial use?) the new collects and keep the old ones authorized for now as well. Or maybe, under Option 2, we authorize the use of any collect for lesser feasts. Wouldn't it be nice if you decide to commemorate a local saint if you could develop and hone a collect for that saint? Maybe it's time to loosen up a bit and see what happens.
Seventeen hundred words later, and we're ready to look at the resolutions on saints from bishops and dioceses.
B001: Add Father Atilano Coco to Holy Women, Holy Men. Full text. Likely vote: YES, but only to a referral motion.
Fr. Coco's story is inspiring. However, I think we should not add anyone to the calendar of saints until we figure out how we're going to handle the whole thing. That said, it would be fine to refer this resolution to SCLM. Perhaps we should add this saint to the calendar as we're re-examining our entire current calendar and perhaps expanding it. Also, Holy Women, Holy Men won't last past this General Convention, so this resolution would require amendment anyway.
C002: Commemorate Queen Lili'uokalani. Full text. Likely vote: YES, but only to a referral motion.
A particularly inspiring story is manifest in Queen Lili'uokalani's life. However, for the reasons I stated above, I think a motion to refer is in order. I hope the SCLM will ponder this commemoration carefully and consider for a revised calendar.
C006: Add Denzil A. Carty to Holy Women, Holy Men. Full text. Likely vote: YES, but only to a referral motion.
With a 1975 death date, Fr. Carty does not meet the current criteria for inclusion in our calendar. However, perhaps it makes sense to include him. Again, I hope this resolution will be referred to the SCLM.
C008: Add Rev. Peter Williams Cassey and Ms. Annie Besset Cassey to the Church Calendar. Full text. Likely vote: YES, but only to a referral motion.
Again, there's an inspiring story here. For all the reasons I've listed above, I hope for referral to the SCLM.
C011 Add Peter Williams Cassey and Anna Besant Cassey to Holy Women, Holy Men. Full text. Likely vote: YES, but only to a referral motion.
Identical to C008. See response there.
C035 Add Deaconess Anna Ellison Butler Alexander to Church Calendar. Full text. Likely vote: YES, but only to a referral motion.
Yet another inspiring story with a local cult of devotion (in the Diocese of Georgia). She may be an excellent addition, but this needs to be referred to the SCLM.
C036: Include Thomas Atkinson in Holy Women, Holy Men. Full text. Likely vote: YES, but only to a referral motion.
Another referral for the SCLM, I hope.
C040: Add The Rev. Hiram Kano to Church Calendar. Full text. Likely vote: YES, but only to a referral motion.
Fr. Kano is proposed for addition to the trial use calendar by the SCLM at this General Convention. However, his death date is 1988, much later than the criteria for inclusion we use. I do not know whether he should be included, but I think that decision should be made in concert with a look at our whole calendar and our criteria. It's also worth noting that SCLM has included him in GCW for approval, though the General Convention has not yet taken action to add him (in fact, a resolution to add him in 2012 was referred to the SCLM). All together, adding him right now seems premature.
C044: Add the Rev. Peter Williams, Annie Besant Cassey, and Henrietta Lockwood to the Church Calendar. Full text. Likely vote: YES, but only to a referral motion.
Surely these lives are inspiring. Without looking at the whole of our calendar and application of our criteria, I cannot say whether I think these people should be added to our calendar. I hope for referral to the SCLM.
NOTE: I serve at Forward Movement, and we have produced (and will probably continue to produce) materials related to the saints of the church.