Tangled Up in Blue: Budget resolutions
This is the twenty-seventh post in a series on resolutions for General Convention 2015. See also the index of resolutions and the list of resources related to #GC78.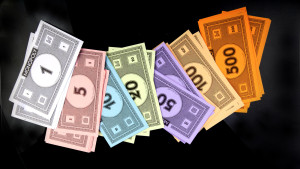 The budget is where the rubber hits the road. If you want to see the values of any organization, look at its budget. At General Convention, the budgeting process usually takes center stage (or close to it) and rightly so. If you're new to General Convention, you'll be learning a whole host of acronyms and abbreviations. Make sure you learn PB&F. No, it has nothing to do with peanut butter, although that would be more fun. Program Budget & Finance (PB&F) is the committee that presents a budget to General Convention for passage. Their work is based on listening to testimony about strategic priorities and particular hopes for spending. During Convention, the PB&F hearings will be some of the largest and most important hearings, as people share their hopes for how we will use our resources.
As an aside, our budgeting process is completely dysfunctional. The last two General Conventions, we've had terrible drama. In 2009, a large percentage of churchwide staff found out their positions had been cut during the budgeting process; there was no prior notice to them. In 2012, the budget spreadsheets at first did not add up. Literally. The budget from executive council was a complete mess, and the Presiding Bishop presented a budget at the last minute so we'd have a workable document to consider. That budget is, with some amendment, the one we approved.
This time around, things have been better. The PB&F committee and Executive Council have been much more transparent with their budgeting process so far. They have solicited input from the whole church (though it should be noted the sound of the input they received was captured on this recording on this recording. (UPDATE: I have been told there was actually a lot of feedback. The recording is only speculative, as I can only guess exactly what the crowds offering their feedback sounded like.) Now we'll see what happens at General Convention.
This is when it gets real. The normal process is that we pass a boatload of resolutions that cost zillions of dollars. We don't like to cut anything, so we create a budgetary request that far exceeds our funding ability. PB&F is left to decide which resolutions get money and which ones don't. (This is why, if you're new, that money resolutions contain a final resolve along the lines of, "Yo, PB&F, please give us $X amount of money.") But, hey, at least we feel better because we passed a resolution on something.
To improve the budgeting process, Episcopal Resurrection has presented a reform resolution that clarifies the roles of various entities and officers in the preparation of the budget. Perhaps more important, it turns the voluntary asking from dioceses into a mandatory assessment. Of course, there is a provision by which a diocese can request a waiver due to financial exigency. It does seem to me only fair that dioceses contribute in equal measure to churchwide work. That resolution is described below.
So, here are the budget resolutions from dioceses and deputies (none from provinces or deputies yet).
C001: Set Rates for Diocesan Commitments. Full text. Likely vote: NO.
This resolution is pretty similar to A088, which I already blogged. It sets the voluntary asking at 15% (down from the current 19%) and asks dioceses to pay the full amount without any consequences for failure to do so. I'll just quote part of what I wrote in response to A088.
Here's why I don't like this resolution. First of all, setting the asking and then building the budget is having the tail wag the dog. We should determine what we need our churchwide structures to do and then fund that work. How do we know 15% is the right amount? Maybe it's too low or too high. And if we are going to make dioceses pay up (which I think we should), then we need to create sanctions for failure to pay. Mostly, I don't think we need this resolution because the rate is already on the way down, and others (including a group of which I am a member) are proposing resolutions which turn the "asking" into an "assessment" and create sanctions.
So I'm hoping the budget process reform resolution is passed, because it has consequences for a diocese's failure to pay their fair share. And there's no doubt the asking or assessment is on the way down already. The proposed budget starts the triennium at 18% and has it going down to 15%. I think we can't just go from 19% to 15%, at least not without dire cuts that, frankly, no one is going to like.
C038: Change the Asking Formula. Full text. Likely vote: NO.
This one is quite brief, with just one resolve, "That the 78th General Convention of the Episcopal Churcch change the current Asking Formula from each diocese to 10-12%." This reminds me of the voter initiative that was proposed a number of years ago when I lived in Massachusetts. Voters actually got a ballot initiative listed that would immediately eliminate the state income tax. No one seemed to think about how road repairs would be funded, how teachers would be paid, or who would pay first responders. But I'd like my tax bill to go away! Fortunately, that initiative didn't pass. Sure, I can imagine dioceses would like to pay only 10% to the churchwide budget. However, I think this cuts into the bone, because I cannot see how important programs would continue with this level of funding. I'd be interested in seeing what such a budget would look like. Mostly I think that setting the asking first and then the budget is the wrong order. We should set the budget we need based on a vision for churchwide ministry, and then find ways to fund it.
D013: Budget Process for The Episcopal Church. Full text. Likely vote: YES.
As I wrote above, this resolution clarifies the roles of various entities and officers in the preparation of the budget. Perhaps more important, it turns the voluntary asking from dioceses into a mandatory assessment. Of course, there is a provision by which a diocese can request a waiver due to financial exigency. If dioceses do not pay their assessment or receive a waiver, they cannot receive loans or grants from the Episcopal Church, and persons from that diocese cannot serve in any churchwide office. In addition, as the explanation says,
When the current canons related to the budget process were last amended, a distinction still existed among budget areas for canons, corporate, and program expenses. Those distinctions are no longer relevant, as the budget process has evolved differently. These canonical changes conform the canons to current practice of considering the budget as a whole.
Finally, the President of the House of Deputies is given a stipend, whereas the current rules provide only that the President of the House of Deputies receive expense reimbursement. One can argue about the scope of the PHoD's position, but I personally think it is helpful to have someone in a top leadership position to represent the voice and interests of lay and clergy deputies, and not just when General Convention is in session. Offering a stipend would make it possible for a person to serve in this capacity who is not retired or independently wealthy. This is no requirement for the stipend to be for a full-time job, so someone could do it part-time if desired.
Do have a look at the full wording of this resolution which clarifies the budgeting process a great deal. If we can make our budgeting process better, we can have better budgets. And as I noted at the beginning of this post, the budget is where the rubber hits the road. It's time for some new tires.
NOTE: As a member of Episcopal Resurrection, I had a small part in helping to write D013.