10 things to love about General Convention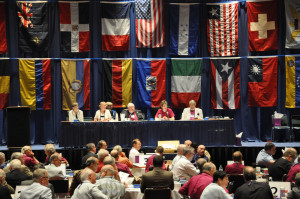 It's easy to complain about General Convention. One could complain about time spent on pointless resolutions (though one person's waste is another's dream). One could complain about the expense. One could complain about the length of time, which sometimes feels like a month-long zombiefication process.
I have been known to point out the opportunity cost of General Convention. What could we be doing with our money, our time, and our energy if we stopped doing some of the things we now do? And sometimes I have trouble connecting General Convention to the life of an ordinary Episcopalian in an ordinary Episcopal Church.
But even with all that, I'm really looking forward to General Convention. Something need not be perfect for us to love it, thanks be to God. General Convention is one of the best things about the Episcopal Church. Democracy and voting and legislation are messy, but I can't think of a better way to do things. I am proud that our church insists on the involvement of lay people, bishops, priests, and deacons at all levels of governance. The very fact that we come together and debate openly is something to celebrate, even when we are frustrated.
So I thought I'd post a list of things to love about General Convention, whether you are going to be in Salt Lake City or not. There's no particular order here.
Worship. It's a joy to pray, worship, and sing with thousands of other Episcopalians. We are a global church, and each day's worship is a tapestry of musical styles and languages celebrating our global presence.
New technology. We've come a long way in a short time. Three years ago, the whole General Convention ran on three-ring binders. Now we're getting iPads to manage all our legislative business. We won't even have paper service leaflets for worship. Everything that happens on General Convention is available in real time to anyone, anywhere in the world who wants to follow along. Want to watch a live-stream of a debate or a worship service? Check out the GC Media Hub. Want to see how a particular resolution is doing? Visit the General Convention website. (Kudos to the General Convention Office and the churchwide Communication Office for their great work on all this.) By the way, if you're coming to Salt Lake City, make sure you download the Guidebook app, which is chock full of useful info.
Seeing old friends, making new ones. General Convention is sometimes called a big family reunion, and that is not entirely wrong. Beyond the three thousand or so bishops, deputies, Episcopal Church Women, staff, exhibitors, family of the above, and others, there are lots of visitors — people who pop in for a few days. It's really wonderful to reconnect, even briefly. It's also great to meet people for the first time, especially those I'd known only on Twitter or Facebook. Sometimes it seems like nearly the entire Episcopal Church is in that one place.
Open debate. Anyone can sit in a visitor's gallery and see the General Convention at work as we debate important (and unimportant) issues before our church. When there are hearings, anyone can speak; you don't have to be a deputy or bishop. Anyone can tune in and watch a live stream of the House of Deputies or House of Bishops. It's almost all wide open. People of widely varied backgrounds and experience share their widely divergent views of matters before the Convention. This process ensures that we'll all leave disappointed with some outcomes, but even so, I'm always grateful to be part of a church that does things this way.
Social media. Building on some of the above themes, I love how hundreds or thousands of us can stay plugged in even during debate. Last General Convention, as I was standing at the microphone waiting for my turn to speak during a debate in the House of Deputies, a question popped into my head. Ten seconds later, I had the answer, thanks to Twitter. There's often a wonderful sub-conversation happening in a dancelike counterpart to the formal debate. This second online conversation is at times filled with more data, at times silly, or anything in between. (Follow hashtag #gc78 to keep up with what's happening at GC.)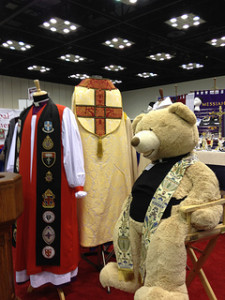 Exhibit hall. When I have a few moments of down time, it's always fun to wander around for a few minutes in the exhibit hall. Organizations of all kinds and all sizes are there to share their perspective or sell their wares. You can order a new chasuble, buy a book, learn about seminaries, or get a new perspective on peace in the Middle East. And that's only a tiny sliver of a sample. (Advertisement: Do come to the Forward Movement booth and get free stuff and bargains on things for sale!)
Prayer. I like that we pause for prayer before big votes. I like that in addition to the daily Eucharist, there are loads of places and ways to pray. I like that the Acts 8 Moment is convening a prayer gathering, with no agenda beyond encountering God's word and praying for the church.
Humor. We Episcopalians often take ourselves too seriously (which can make it hard to take Jesus seriously). I love that lots of people bring good humor with them to General Convention. Whether or not you are coming, you can install David Sibley's brilliant Chrome browser extension which turns General Convention into an Ice Cream Party on your screen. That not-always-exciting Blue Book becomes a Sparkle Pony. At General Convention, you can play House of Deputies bingo or find all manner of silliness. And still we know that the work we're doing is important.
Connection. Because of social media and technology, it's getting easier and easier to stay connected during General Convention. Folks who are interested can follow along and stay in touch with their diocese's deputies, bishops, Episcopal Church Women, and other attendees. Likewise, one is less isolated than just a few years ago, as constant feedback and questions come from those outside the proverbial beltway. I'm glad this has gotten easier for deputies, and I hope the House of Bishops will be allowed to use Twitter this time around.
Jesus. Even and especially in the middle of mind-numbing parliamentary maneuvers, Jesus is there. Even and especially when we disagree, Jesus is there. When we gather for daily Eucharist, Jesus is there. When we meet friends for a meal, Jesus is there. When we are challenged with new ideas or we challenge others with our ideas, Jesus is there.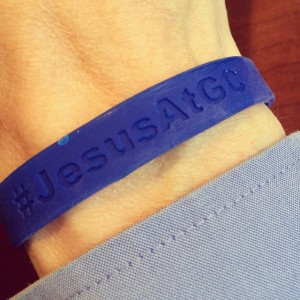 In a shameless plug, let me encourage you to use hashtag #JesusAtGC. Forward Movement will have wrist bands with that hashtag to remind us to seek Jesus and to share the good news when we see him. We're not doing this at Forward Movement to sell anything. We're doing it because our aim is to encourage people to be inspired disciples of Jesus and to share the good news. That's non-partisan, I hope.
Speaking for myself, I know that I can sometimes get wrapped up in the business or in frustration and forget why we are doing all this. I'll be wearing my blue #JesusAtGC to wristband remind myself. Perhaps you'll get one too. They're free at the Forward Movement booth, and I'll be handing as many out as I can. Tweet, Instagram, Facebook, whatever.
Look for Jesus in other people, the sacraments, in our service to the needy, in our prayer, in our study, in our friendships, and in all things. I wonder what General Convention would be like if we never took our eyes off Jesus?
Image with flags from Episcopal News Service. Other image from my iPhone.