Tangled Up in Blue: Structure of the Church
This is the sixteenth post in a series on resolutions for General Convention 2015. See also the index of resolutions and the list of resources related to #GC78.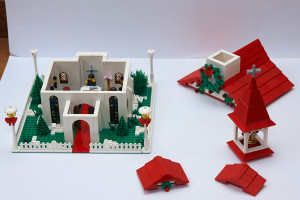 Moving right along, we find ourselves at the the report of the Standing Commission on the Structure of the Church. This group is certainly prolific. They submitted 18 resolutions in 2012, and we get 15 this time around. To be fair, a couple of the resolutions for 2015 are reruns of 2012 resolutions that were discharged or rejected.
Some people wanted to send our structural hopes to this commission instead of creating TREC in 2012. General Convention decided, and I think rightly so, to get a fresh take on things. That said, this commission has been busy doing parallel work around the TREC materials. There are plenty of church structure areas that require adjustment and tweaking, and that's what the SCSC is about. So, here we go.
A097: Amend Canon I.1.2(n)(10). Full text. Likely vote: NO, but I am open.
If passed, this would change the name and the mandate of this commission. It would become the  Standing Commission on the Structure, Governance and Polity of the Church, with the canonical mandate slightly tweaked to add governance and polity to its brief. I'm OK with adding governance, but I'm not quite sure what is meant by "polity" as distinct from structure and governance. Does this mean a commission to review whether we are organized into dioceses? Should we have threefold ministry? If there's a good reason for this, then I'll vote for it. Frankly, it's not clear that this commission will continue to exist; TREC has recommended that nearly all standing commissions go away to be replaced by purpose-convened task forces.
A098: Endorse Principle of Subsidiarity. Full text. Likely vote: NO.
We've been talking about subsidiarity for a while now. In fact, we looked at a resolution nearly identical to this one (proposed by the same commission) in 2012 and it was rejected. I'm not sure what the first two resolves of endorsing the idea of subsidiarity accomplish. There's a substantive request in the third resolve, asking that Executive Council
undertake a thorough review and evaluation of whether current or proposed programs, staffing, offices, office locations (including 815 Second Avenue in New York City), provinces, and budgets are consistent with the principle of vigorously encouraging the exercise of any given ministry by the parts of this Church most appropriately gifted to undertake it.
That's a lot. I'm not sure how this would get done, and throwing in office locations seems a bit like a red herring. I certainly have suggested we should look at the location of our churchwide staff, but this has the feel of ratifying some foregone conclusions. If this were worded differently and more narrowly focused, I could get behind it. As is, it feels like agenda-driven work that has an impossibly large scope. On this one in particular, I stand ready to be educated if I'm reading this the wrong way.
A099: Reduce Diocesan Apportionments. Full text. Likely vote: NO.
This one asks the diocesan "apportionments" to be reduced by an unspecified amount to free up money for use at the local level. OK, that sounds appealing. But here's what I wrote about A088, a similar resolution put forward by the stewardship folks:
First of all, setting the asking and then building the budget is having the tail wag the dog. We should determine what we need our churchwide structures to do and then fund that work. How do we know 15% [the amount specified in the other resolution, A088] is the right amount? Maybe it's too low or too high. And if we are going to make dioceses pay up (which I think we should), then we need to create sanctions for failure to pay. Mostly, I don't think we need this resolution because the rate is already on the way down, and others (including a group of which I am a member) are proposing resolutions which turn the "asking" into an "assessment" and create sanctions.
So, no on this one too.
A100: Assess Diocesan Viability and Vitality. Full text. Likely vote: NO, unless amended.
Here we encourage "Bishops and Dioceses to prayerfully engage in a candid assessment of the viability and vitality of their Dioceses and to seek creative possibilities for enhancing the viability and vitality of their Dioceses." I'm not entirely clear what is meant by viability and vitality in this context, and I think we'd need some more specificity to do a candid assessment. If we mean long-term financial viability, let's say that. The State of the Church folks are proposing to look at vitality at the congregational level, and perhaps there are ways to look at vitality at the diocesan level too. I think we'd have to figure out what that looks like, and this resolution doesn't help with that; it just says we should assess vitality.
So far, I could still vote for this, because maybe it would spur conversations. But the reality is that there's another thing we'd have to look at in this assessment. Leadership quality is one of the most important aspects of organizational health or lack of health. Good leaders won't necessarily create health, but bad leaders can certainly rob an organization of health. Until we are looking at our bishops — and key clergy/lay leaders — as leaders as part of the equation, it won't do much good to look at other indicators.
A101: Amend Article V.1 of the Constitution. Full text. Likely vote: YES, but I think there's a better version.
Under the current constitution of our church, a diocese without a bishop cannot merge with another diocese. Yet it is precisely at transitional moments found between bishops when this kind of organizational change might make sense. This version of a proposed amendment to the constitution would permit such a merger to take place as long as there is a provisional bishop (or, of course, a "regular" bishop). A group I am working with has proposed a similar amendment to the constitution, except that our resolution replaces "bishop" with "ecclesiastical authority" in that section of the constitution, so that there is more flexibility. For those who may not know, a diocese always has an ecclesiastical authority. When there is a bishop, the bishop is the ecclesiastical authority. When there is no bishop, the standing committee becomes the ecclesiastical authority. Thus the other version of this amendment would permit a diocese without a bishop or provisional bishop to proceed with a merger, should its standing committee and convention approve this. Lest you worry that something might go awry without a bishop being involved, there is still an elaborate system of approvals, including the action of General Convention (which involves way more bishops than you can count on all your fingers and toes). So this version is fine, but the other one has more flexibility while still ensuring plenty of due process.
A102: Amend Canon III.12.4(a). Full text. Likely vote: YES, but I think there's a better version.
Under our current canons, bishops are required to reside within their dioceses. Mostly, I think this makes a good deal of sense. However, this also means that a bishop cannot serve two dioceses at once, if two dioceses wanted a share a bishop or if a diocese wanted to have the bishop of a neighboring diocese be their provisional bishop. This resolution changes the canon so that in addition to the requirement for residency, it adds an option, "provided that, if a Bishop serves in more than one Diocese, the Bishop, with the concurrence of the Standing Committees of each Diocese in which the Bishop serves, shall reside in each of the Dioceses in which the Bishop serves." OK, that's fine. I could vote for that. However, I'm not sure it holds water. I have always thought you could have a residence (part-year residence) in multiple places, but that you resided or were domiciled in one place, and one place only. I'm sure attorneys can advise us here. Anyway, the same group I mentioned in the last resolution has also taken a look at this issue. We have proposed something similar, suggesting that a standing committee could give its bishop permission to reside elsewhere if that bishop is also serving elsewhere. So the bishop still needs lay and clergy approval to serve another diocese, essentially, but now as the flexibility to do so. If someone can advise me on the issue of one or two or more residences per person, I'll be grateful. The legislative committee will surely send one of these forward, and I will vote for whichever one comes to the floor.
A103: Schedule Length of the 79th General Convention. Full text. Likely vote: NO.
This resolution extends General Convention from its current "eight" days to "ten" days. Of course, the reality is that the Convention is much longer than its official length. At our current "eight" days, I'm already away from home 14 days. Asking people to be away longer seems burdensome. There is a better way to make General Convention less frenetic: we must reduce the amount of material the Convention considers. As I write this, there are well over 200 resolutions to consider. The vast majority of these will matter little outside the halls of General Convention or to particular special interests. This same committee tried to extend General Convention in a resolution in 2012, and it was not approved. I hope this one is rejected.
Proponents of General Convention (who are often the people in power, or General Convention employees or consultants) will sometimes say that we need more of it in order to have more democracy or something similar. There are probably virtues in lengthening the Convention. However, there are also massive costs, and I'm not even talking about the hundreds of thousands of dollars in hotels, meals, and other expenses for a couple more days. Already, ordinary working people cannot come and serve at General Convention. If you are employed by the church, if you are very young or very old, or if you happen to have a job with summers off, you can come. Otherwise, it is virtually impossible. If it were up to me, I'd shorten General Convention (the whole thing) to a week or less and have it more often. That way, more people would the possibility of coming, and I think being able to come to General Convention brings many blessings. Don't let my pie-in-the-sky idea there get us off course though.
Making a convention that is already two weeks long even longer is not the fix. The fix comes up front in the discipline to reduce the amount of material we take on for action.
A104: Consider Budget for the 79th General Convention. Full text. Likely vote: NO.
This one asks for budgetary resources to make convention two days longer. See the previous resolution for why I'm voting no.
A105: Consider Financial Assistance for Deputies Attending the 79th General Convention. Full text. Likely vote: NO, unless amended.
This resolution asks for a fund to assist deputies from dioceses with financial need to come to General Convention. We approved an identical resolution last time, except that it was to create a fund for this General Convention (2012-A094). This resolution asks for us to fund deputies at the next General Convention. Anyway, despite the fact that the resolution was approved last time, I don't think any funding was set aside. Maybe I'm wrong, but the Googles couldn't find it, so if it was done, it's pretty obscure. So without funding, this resolution becomes another in a series of lofty-sounding but ultimately empty resolutions. Voting for resolutions might feel good ("Hey, we're helping people come here!") but like all the other resolutions, warm feelings without costs do very little.
A106: Fund Initial Joint Meeting of Newly Constituted CCABs Following the 78th General Convention. Full text. Likely vote: YES, but needs amendment.
This resolution requests funding for an initial meeting of nearly all the Committees, Commissions, Agencies, and Boards (CCABs) of the church early in the new triennium. It's great to get our leaders together, and I heard all kinds of good reports from those who attended the last gathering in 2012. We should do that again, but it takes money. Someone just needs to stick a figure in here so the budget committee knows how much it costs to fund it.
A107: Fund CCAB Meetings During the 2016-2018 Triennium. Full text. Likely vote: NO.
This resolution asks for enough money for each of the CCABs to meet in person twice during the triennium. Several of the CCABs met less than that this time, and some of the reports indicate this works. It's up to each CCAB to request funding for the meetings they need to do their work. They will not all have the same needs, and so funding need not be uniform.
A108: Budget for Mid-Triennial Web Conference of Interim Bodies. Full text. Likely vote: YES.
This asks for funding ($5,000) for representatives of the CCABs to meet together during the triennium via web conference. It's a large enough group that the free services (such as Google Hangout) won't do the trick, so it's going to take some money. Makes sense to provide a way for folks to meet and to collaborate. I'm only sorry that our system requires 1,000 people to vote on a $5,000 budget line item.
A109: Amend Canon V.3. Full text. Likely vote: YES.
This one amends the canons to require the General Convention Office to post online any appointments or elections to churchwide bodies within 30 days. Makes good sense. I might only suggest that the canon be a bit more specific, perhaps requiring Presiding Officers to notify the GCO of an appointment within 14 days and the GCO to post within 14 days after that. As it is, if the Presiding Officers took 40 days to get around to notifying the GCO of an appointment, the GCO is on the hook for lack of compliance. We probably don't need to worry about that though. So this is a good step, requiring timely online posting of new folks in new positions.
A110: Amend Canons I.1.8, I.1.11, I.2.6, and I.4.6. Full text. Likely vote: YES, but there is a better version.
Our current budget process is a mess, both in terms of the written process and our track record (complete meltdowns in 2009 and 2012). So we need to fix our rules and we need to behave better. We can't legislate the latter, but we can look at the former. The same group I mentioned twice above has also developed a budget process resolution. Ours is more thorough than this version, and I believe it untangles additional conflicts. Look for Susan Snook to have more to say on this as we get closer to General Convention, and I will say more on 7WD too.
A111: Amend Joint Rule of Order II.10. Full text. Likely vote: YES, but there is a better version.
See previous resolution. There's a better version coming to General Convention, or at least that's what I think. That said, this one does some good stuff, so I'd be inclined to support it if this is what comes out of the committee.