Tangled Up in Blue: Small churches, big convention
This is the ninth post in a series on resolutions for General Convention 2015. See also the index of resolutions and the list of resources related to #GC78.
In order to keep this scintillating journey through the Blue Book to a non-ridiculous length, I sometimes end up combining Blue Book reports or sections in more-or-less random ways. Today is one such occasion. We will look at two reports, offering just a few resolutions between them. We'll begin with the more interesting of the two reports (no disrespect to the people who plan logistics for General Convention).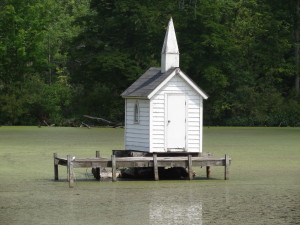 The Standing Commission for Small Congregations (SCSC) has done an impressive amount of work over the triennium. As you might gather from the name, they focus on the needs of smaller congregations. Remember from my post on the State of the Church report, that the median Sunday attendance at an Episcopal congregation is now 61. That means, for the math challenged, that half of congregations are smaller than that. Quite a few of our congregations have an attendance under 25 on a Sunday. So it's good to think about their needs, because we have a lot of small churches.
What's interesting to me, among other things, is that SCSC has hosted events this triennium which appear to me to be program offerings. I have no particular opinion about this, but it's fascinating to me how some Standing Commissions seem to do work designed only to perpetuate their own existence, others primarily recommend churchwide policy, and this one is an example of those who create resources or offer programming. It does seem that we need to get clarity on the purpose of Standing Commissions, unless we follow TREC's suggestion and get rid of most of them. But that's the topic for another post.
I encourage folks to read this report. There is some good stuff about alternatives to residential seminary training programs, and this is something we as a church had better sort out soon. SCSC has got a nice summary of most of what seems to be happening in our church in this regard. There are other worthy sections of the report, including consideration of younger people in congregations, as well as ecumenical efforts, which is good, because it makes no sense for 15 Episcopalians to be in one building on Sunday and the Presbyterians or Lutherans to have 15 in another building, which is the case in many rural towns. While merging congregations or sharing ministries may not always make sense, surely it can't be that every Christian outpost in every town needs its own piece of real estate which is well occupied an hour a week?
Other issues are covered too. Have a look, and ponder what they suggest. I'm not sure I agree with all their findings, but the topics SCSC raises are some of the ones our church needs to be thinking and praying about. Anyway, they offer three resolutions for consideration.
A044: Maintain the Centrality of The Eucharist. Full text. Likely vote: NO.
One flinches at the idea of voting against a resolution entitled "Maintain the Centrality of the Eucharist," but that's only because the title is a clever piece of marketing. This resolution, if passed, would encourage "licensing of lay ministers be expanded to allow distribution of previously consecrated sacrament in the context of Sunday public worship in the absence of a deacon, priest, or bishop." First of all, this licensure would require the development of liturgical material for this purpose, because we don't have a service which lay people can lead and which can include distribution of the Eucharist this way. Second of all, I think this kind of service is not the solution to what is, I freely acknowledge, a real challenge.
In my ministry at Forward Movement, I've been blessed to visit two dioceses with many small congregations. Last summer, I spent a week or so with folks in the Diocese of Iowa, where I learned a fair amount about the life of the church there. One of the things that impressed me is that they have quite a robust program to raise up, train, form, and ordain people for bi-vocational ministry as deacons and priests. Their smaller congregations might have two or three or more ordained priests, which allows those congregations to enjoy a Eucharistic meal that does not involve serving leftovers.
My point is firstly that I'm not sure we should upend our ancient practices without some serious thinking and consideration of every other option. Secondly, if a congregation can't raise up bivocational clergy, or if a diocese cannot find a way to train and form them, then we have other problems, and I don't think this bandaid solution is helpful.
A045: Appoint Task Force for Clergy Leadership Formation in Small Churches. Full text. Likely vote: NO.
I really want to support this resolution, and if it were amended, I could get behind it. This creates a task force "to explore quality programs for formation, for expanding education opportunities for clergy and laity, for collaboration between local diocesan school programs and seminaries, for ecumenical collaboration, and to explore a wide range of delivery methods." These are worthy goals, but I just don't see that a task force and a $150,000 budget line are necessary to do this. A half dozen dioceses (bishops or diocesan staff) could chat over breakfast one morning at General Convention and create their own grassroots network for this purposes, and they could get right to it. Look no further than the Bishop Kemper School for Ministry for a fantastic example of this kind of organic, grassroots networking. The days are over where we need to create committees with six-figure budgets to issue reports. Frankly, the need is more urgent and our resources are more constrained.
A046: Provide Lay Leadership Formation Resources. Full text. Likely vote: NO.
This resolution asks the General Convention Office or the Executive Council to "establish and make easily accessible a regularly updated and maintained online resource list and library of materials and programs for licensed lay leadership in small congregations." Of course, this is the competency of neither the General Convention Office nor of Executive Council. In fact, I think this would be right in line with the work of Forma or the Center for Spiritual Resources. Either one of those groups could do this work for a tiny amount of money, or perhaps even with volunteers. Again, this sort of work should be funded and executed at the grassroots level, where the stakeholders will be able to ensure that the work is relevant to the need. (This is not because I don't trust GCO or EC, but because I think their work lies in other arenas. The body has many members, and elbows should be elbows. I wouldn't ask Forma to recommend legislative improvements, for example.)
The Joint Standing Committee on Planning and Arrangements exists to plan General Convention. I wouldn't want their job, but I'm glad they are on it. They seem to do good work. They offer two resolutions.
A042: Consider 80th General Convention Sites. Full text. Likely vote: YES.
This resolution puts several sites for the 80th General Convention, to be held in 2021, on a short list. I'm not sure why it makes sense for 1,000 deputies and bishops to get into this level of detail, but I wonder that about many things. Anyway, the short list is…drum roll…Anaheim, California (Diocese of Los Angeles), Baltimore, Maryland (Diocese of Maryland), Louisville, Kentucky (Diocese of Kentucky), Minneapolis, Minnesota (Diocese of Minnesota), and St. Louis, Missouri (Diocese of Missouri).
Personally, I don't care much where to hold General Convention. I trust the committee to find a location that balances cost versus convenience versus facilities, and so on. We were just in Anaheim, so it seems good to share the love, but I'd be OK with any of these choices. For what it's worth, last time around, there was some consternation because we were talking about holding the 2018 General Convention in the Diocese of Texas, which does not pay its full asking to the Episcopal Church. Of the list we are considering here, it looks to me like Kentucky and Maryland do not pay their full amount. I would also note that the Diocese of New York, where our headquarters are located, also does not pay its full amount. So for those who heaped scorn on Texas, I trust you'll be equally concerned about these others.
But I have digressed. This committee has put together a good short list. Let's vote yes, and keep them moving in their work.
A043: Set General Convention Daily Agenda. Full text. Likely vote: YES, with an ironic expression on my face.
It always cracks me up this time of year. I'll be in conversation with some Episco-wonk, and I'll say I kind of wish General Convention wasn't two weeks long. And they dutifully reply, sounding like a Marxist propaganda announcer, "No, General Convention is only nine days long." Yes and no. Have a look at this resolution, dear friends.
On the day we vote on this one, it will be June 25, the first legislative day (which is the first of the nine days that people count in order to make General Convention sound shorter). But look! The official agenda of General Convention — it's right here in the Blue Book! — starts on Monday, June 22. Now apart from the fact that I don't like to be away from home for such a long stretch, I'm perfectly OK with General Convention being as long as it needs to be. But let's be honest and at least admit the cost. Because I won't be the only one flying out on Sunday, June 21, and returning Saturday, July 4. Let's say, with a sincere expression, "We have a General Convention that is two weeks long."
So just before you vote for this, you might want to ask the chair for a moment of personal privilege and see if the House can enter a time warp so that we're approving the agenda for the meeting before it actually begins. Because we'll be voting for a meeting that started three days earlier. Aside from my pedantry, we should all vote yes because these folks have done their homework and the agenda will work just fine.
NOTE: Lest I sound ungrateful, this is one of several times I want to say a couple of things. I'm grateful to be in a church with an open legislative gathering in which lay people, bishops, priests, and deacons work together for the good of the church. I'm also grateful for all the people who plan General Convention, who run the logistics which are more complex than I can imagine, and who make it possible for folks like me to show up and deliberate/worship/network with a abandon. It's a long two weeks, but lots of great stuff happens.