Tangled Up in Blue: State of the Church
This is the seventh post in a series on resolutions for General Convention 2015. See also the index of resolutions and the list of resources related to #GC78.
After yesterday's resolution-palooza covering fifteen Executive Council resolutions, we have an easier one this evening. We come to the House of Deputies Committee on the State of the Church. If you read only one report in the Blue Book, make it this one. It's just over 20 pages long, with about 15 pages of appendices, all chock full of data on the vitality of the Episcopal Church.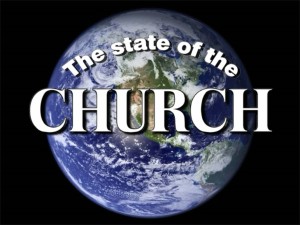 Disclosure: I am such a fan of this report that I wanted to work with them in my capacity as executive director at Forward Movement to release a summary of their work. You can read about the collaboration here or here, and you can download a full-page sheet or a bulletin insert for congregational use. This might make a good way to start a conversation in your local church.
Anyway, most of what's in the report is sobering. In the last ten years or so, our worship attendance has plummeted. The median Sunday attendance has gone from 80 to 61. It's hard to keep a congregation viable with only 61 in regular attendance. Meanwhile, pledging has gone up, slightly exceeding the inflation rate. However, total operating income has not kept up with inflation. In 2014, 22% of congregations reported financial stress. Among smaller congregations, 74% report financial stress. Our congregations skew older than the US population, and most of the financial support comes from older members.
Taken together, this means we are likely to see massive numbers of congregations closing  in the next couple of decades. This will have a great impact on diocesan income, which will in turn affect the churchwide budget. Like it or not, the institutional church is just getting started in a kind of change we have never seen. But there are also signs of hope. There are reports of vitality among congregations of all sizes.
Personally, I think this change is fundamentally good for the church. A congregation which is preaching the Gospel and practicing discipleship will thrive. We have been coasting on our position of privilege from the 1950s for decades, and we can't ride that coat tail any longer. Like the early Christians pushed out of Jerusalem against their will, we are being pushed into new places. This means we have to find life in Jesus Christ, because we aren't going to keep it very long rooted in maintenance or museum Christianity.
Anyway, back to the report. Most of what's on the parochial report (ask your friendly priest to see your congregation's report, if you've never seen one) is about numbers: attendance, finances, ministries, and so on. Looking at those numbers, one can easily gauge the financial viability of a congregation.
The SOTC report calls for the development of a vitality index, based on other measures that might help determine if a congregation is engaged in discipleship (including evangelism and mission). Some churches might look strong, but lack vitality. Or vice versa. As we have discovered with the RenewalWorks initiative at Forward Movement, led by Jay Sidebotham, it's quite possible to learn a lot about the spiritual health of a congregation through analytics.
In the past, when I've heard people call for additional metrics beyond the parochial report, it is often a way of dismissing the grim news presented there. In our everyone-gets-a-medal culture, we don't like to be told that we are headed toward closure (which many would see, wrongly, as failure). We like to think our church is awesome, even when the numbers tell a troubling story, so we want to collect friendlier data. Don't like the attendance numbers, then look at how many notes the choir sang! Don't like the financials, then see these impressive numbers about our parish hall! But the SOTC motive is different, I think, and it could lead us to learn more about spiritual health that drives some of those vitality numbers.
There's much more in the report, and it's well worth reading and discussing. I'm not sure why this is a committee for deputies only, but their work is some of the most important work that happens leading up to General Convention. In an era in our church of fiefdoms and denial, this is a strategic and hard-nosed look at our state. The short-term news is hard to swallow, but the long-term prognosis is quite good, I think.
The SOTC has presented two resolutions.
A038: Develop an Index of Vitality. Full text. Likely vote: YES.
This tasks the SOTC with creating the above-mentioned vitality index, and it urges them to consult with experts in the field. We need this, and I hope we'll pass it and fund their work to the tune of the $10,000 they request.
A039: Fund the House of Deputies Committee on the State of the Church. Full text. Likely vote: YES.
I'm not sure why a canonically required committee which exists to present a canonically required report (which is full of awesome) has to ask for its own money, but that's how our polity works, I guess. Anyway, yes, let's give them the $30,000 they request.