Tangled Up in Blue: Politics, slacktivism, and discipleship
This is the fourth post in a series on resolutions for General Convention 2015. See also the index of resolutions and the list of resources related to #GC78.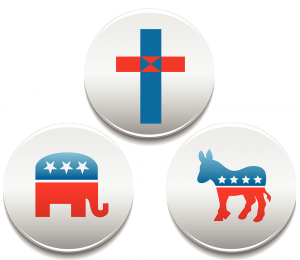 As I work my way through the Blue "Book," I am coming up to a number of resolutions which deal with political matters. When I blogged through the Blue Book in 2012, I articulated a position on political resolutions: Let us tell the world what we are going to do about political problems, rather than telling the world what they should do about political problems. So, for instance, if we want to see universal health insurance, let's ensure our own employees are covered before we pass statements telling someone else to do this.
You could review the original post and its comments for more thorough treatment, but there are several reasons why I have come to this position. I have several concerns:
Cheap grace. It might feel good to take a slacktivist approach and vote "yes" on a resolution which demands nothing of me, but it counts for little. Social change requires costly investment, including of our time, prayer, money, and energy. If our church wants to have impact on climate change, we should work on reducing our carbon footprint. This will be a more effective witness than a resolution demanding change from the UN.
Scope. Our leaders rightly remind us we are not a national church; we are a global church. For that reason, I think we should offer the United States of America the same legislative attention–and no more than–we offer Taiwan, Haiti, Honduras, or Italy. When we spend so very much time on domestic American issues, we undermine our witness as a global church.
Efficacy. I simply do not think the Israeli Knesset is trembling in anticipation, wondering what the 78th General Convention will decide about policy in the Middle East. Will the White House change its direction when the Secretary of General Convention emails a copy of a freshly passed resolution? I think not.
Bad polity assumptions. The usual argument is that we need General Convention to pass reams of political resolutions so our Office of Government Relations can do its thing. First of all, I just don't think that's true. Among other things, our canons provide license for our Presiding Bishop to speak "to the Church and to the world, as the representative of this Church," which should be enough of a mandate for churchwide staff to get busy. Moreover, Executive Council passes political resolutions all the time. If we must pass resolutions for OGR to work (which, again, would only be true for brand new positions, since there is a wide corpus of extant resolutions as well as other ways to enable OGR to act), then I'd rather see 40 people at Executive Council do this work than 1,000+ people at General Convention. Lastly, we do not need to keep re-passing the same resolution at successive General Conventions, because once General Convention acts, that act remains in force until otherwise stated.
Division. Sometimes the topics of these legislative resolutions are clearly in line with Gospel values. Feeding the hungry cannot possibly be controversial for any serious Christian. However, we often stray into the territory where faithful Christians can and do disagree. In that latter case, General Convention ends up creating winners and losers, alienating people from their church. I do not mind prophetic stances, but too many of our political resolutions are liberal, not prophetic (there is a difference; and I say this as one who happens to agree with most liberal positions). Prophets suffer for their work; they do not adjourn to safety having committed nothing to the cause themselves.
So then, do I oppose all political resolutions? No. In fact, I think Christians — whether as individuals, as congregations, or as churches — can and must engage in the political discourse of our time and place. Jesus challenged the political system of his day, and he challenged his followers to do the same. However, we must do this in a way that embodies costly discipleship. We must not just pass vague resolutions in support of the voiceless, but rather we must stand with them and take risks on their behalf. When General Convention speaks on political matters, we must move beyond feel-good sentiment, and we must take up our cross and follow Jesus.
So, again, I will support resolutions on political matters which commit us to real engagement, to risk, and to great cost.
Let us tell the world what we are going to do about political problems, rather than telling the world what they should do about political problems.