Holy Week with the Book of Common Prayer
If you aren't a liturgical Episco-geek, move right along.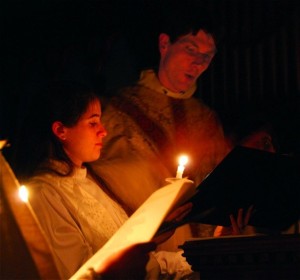 Looking at Facebook lately, I've seen that plenty of folks have been wondering what to do about Holy Week services. One sees lots of versions of "How can we be more 'creative'?" I'm late to be writing this, because many Episcopal congregations will have already printed their service leaflets for Holy Week. Despite the fact that I'm too late to the party to affect what folks might have decided to do (as if anyone pays attention to 7WD in the first place), I'd like to share a few thoughts.
We are well served by our prayer book. We are generally not well served when clergy decide that their proclivities are something that should be imposed on congregations, which is the height of clerical hubris. See "Of common prayer and its neglect" from the 7WD wayback machine.
Certainly our prayer book is not perfect, and in due course it will require revision. But it's a fine liturgical resource which has (with the possible exception of Eucharistic Prayer C) worn very well in the last few decades. So I am not suggesting that we cannot every improve or change the liturgy, but we must do so with care. Unfortunately, most liturgical "improvement" is the epitome of careless.
To put it another way, our prayer book presents a carefully crafted and beautiful theological and liturgical ecosystem. When we start to muck with it, our changes almost always have unintended consequences, and before long our previously lush ecosystem is a wasteland (with heretical tumbleweeds throughout).
All of the preceding is especially true of the Holy Week liturgies. The rhythm of Palm Sunday – Maundy Thursday – Good Friday – Great Vigil – Easter Day is lovely. (Of course, one can toss in additional masses, tenebrae, and the Liturgy of Holy Saturday too.) When we start messing with things, we risk upsetting a cycle that is theologically balanced and deliberately rooted in the Paschal Mystery. One cannot celebrate the fullness of Easter without first gazing at the cross. Without the liturgy of Maundy Thursday, the horror of Good Friday makes little sense.
Somehow, there are people in our church (clergy, I'm looking at you) who convince themselves that the tradition of the church will not work at St. Swithin's. Let's wash hands instead of feet, because awkward! Let's skip the veneration of the cross, because depressing! Let's do the Great Vigil of Easter in the afternoon, because convenience!
Jesus weeps, and so do the children. Let me explain. A friend tells me she was chatting with a mom who had taken her young child to a "children's Maundy Thursday service." To make the service "child friendly" they had re-written the entire liturgy, dumbed it down. The child was (rightly!) upset. "Mommy, why aren't we saying the prayers I know?!" The child wept because she had been in church enough on Sunday to know what the liturgy of the church looks like. This was not it.
We need to wash feet precisely because it is awkward, whether you are washing or being washed. We need to venerate the cross because it horrifies us. We need to begin the Great Vigil in total darkness, because the New Fire is only a potent symbol of the resurrection if the Paschal light pierces the night with startling brilliance.
I've made a promise every year I was a parish priest. "Come to the entire Triduum Sacrum. I promise you, these liturgies — the very heart of our faith — will change your life." I often added a joke that I wished we charged admission so I could offer a money-back guarantee. No one has ever said they regretted coming to the Three Holy Days.
The people who complain about our prayer book and Holy Week have, in my experience, never given it a fair chance. The people who believe that Holy Week liturgies don't work for children or young adults or older people or whatever have either never tried them or never tried them in a place that poured heart and soul into the liturgies, celebrated according to the tradition of the church.
There simply is no better church than the Great Vigil, and Maundy Thursday or Good Friday offer a close second. If the liturgies are done well, children and grown-ups alike will be transfixed. I've seen toddlers gaze in awe as the Procession of the Holy Sacrament passed by on Thursday or Friday.
This Holy Week, let us "enter with joy upon the contemplation of those mighty acts whereby [God has] given us life and immortality." To do that, we'll need to actually contemplate the mighty acts, and not a sanitized, dumbed-down version of them. We'll need to devote the time to be in church four or five times this week.
If you are a liturgical leader, I beseech you to give the prayer book forms a try, even if you're not sure they'll work. If you are a person who attends church, make sure you are in a church that attends to the fullness of Holy Week. You might need to find another congregation to visit this week!
There's another thing I used to remind people when I was a parish priest. It is this: For Christians, there is nothing in this earthly life more important than gathering with fellow disciples in Holy Week to journey through the Three Holy Days together. In these liturgies, we explore everything it means to be a Christian, a follower of Jesus. So let us put these liturgies at the top of our priority list. Homework can wait. TV can wait. Errands can wait. Everything else can wait.
At the beginning of the Great Vigil, we hear these words: "…the Church invites her members, dispersed throughout the world, to gather in vigil and prayer. For this is the Passover of the Lord, in which, by hearing his Word and celebrating his Sacraments, we share in his victory over death."
Amen. Come, for the feast is ready!