The thing we need to hear every Good Friday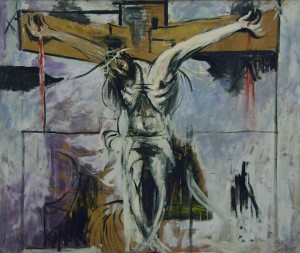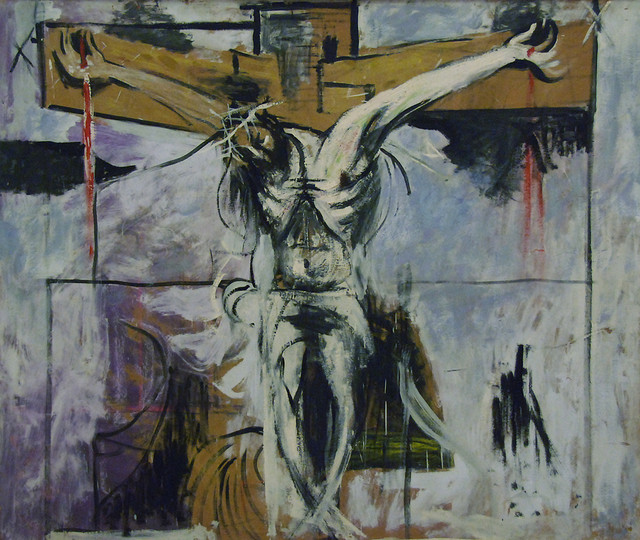 There is a blog post titled "The Thing I Never Want to Hear Again on Good Friday" making the rounds on Facebook. In the post, Paul Brandeis Raushenbush describes a powerful experiences of a dramatic Passion reading in which the congregation practiced the custom of shouting "Crucify him, crucify him!" The author writes:
I heard myself say the words and take part in this ritual and it made me physically sick. I couldn't believe that this was the liturgy that this kind, little church had been using for the past decades, maybe longer. But even worse, I found myself participating in it; perpetuating an anti-Jewish theology of deicide that I knew was wrong, but feeling helpless to do anything about it.
I sympathize. The words are powerful, and many people are struck by the liturgies of Holy Week, often in unexpected and varied ways. What sickens one person inspires another. Here of course, we are dealing with the possibility of anti-Judaism, something which no Christian has the luxury of dismissing casually. Our legacy with our Jewish brothers and sisters is a moral blight on the Gospel and on our faith.
But I find myself disagreeing strenuously with the conclusions of the blog post. Raushenbush quotes professor Mary Boys from Union Theological Seminary, "We have to change the liturgies. The passion narratives should not be read without commentary on who Jesus was and what his wider ministry was about."
You see, I think the Passion narratives themselves teach us who Jesus was and what his wider ministry was about. Far from dismissing them, we need to embrace the heart-wrenching story of the Passion and gaze at Jesus from the foot of the cross. The Lord of Life hanging on a cross teaches about sacrificial offering, about the wide embrace of God's love.
To be sure, I freely and with great sadness acknowledge that Christians have perverted the Gospel and the liturgy to stir up rage and to incite violence against Jews. We must confess our sins past and present, and seek to turn anew toward God. I think that sanitizing our past or the scriptural witness would be unhelpful, if we are to avoid repeating the same sins. Indeed, we must remember continually that the the God of Abraham, Isaac, and Jacob does not belong to us Christians alone.
I even acknowledge that the Passion narratives, especially in John's telling, contain within themselves anti-Jewish elements. But this is because the inspired word of God, containing all things necessary to salvation, was recorded by flawed humans, filled with human fears. We can and must look at the difficult places of the narrative and then step back and see the wider story of self-offering and boundless love.
A preacher on Good Friday would do well to talk about how the crucifixion is the fruit of human sinfulness, something we all share in, not something that can be blamed on any person or group. We humans crucified Jesus. When we ignore the homeless on our doorsteps, we fail to care for Jesus Christ himself. When we eat our fill while others starve, we steal nourishment from Jesus Christ himself. When we stir up hatred against the vulnerable or fear of those who differ from us, we alienate ourselves from Jesus Christ himself. In other words, Good Friday is the chief exemplar of a pattern of sinful behavior that we continue to this very day.
When we shout "Crucify him, crucify him!" we are not, I think, standing in the place of some particular group of people. We are shouting "Kill God, kill God," because the painful reality is that this is something we all find too easy to do. We need to stare into the abyss of our own sin so that we might remember our need of redemption. If we cannot name our own desperate sinfulness, we forget our need of salvation.
To mitigate the very real dangers of the Good Friday liturgy and the Passion narratives, we might offer teaching and preaching about anti-Judiasm and the deeper, more faithful reading of the Passion that sees a gracious God offering salvation to all and then being rejected by all people. We might, at the very least, place a note in the leaflet. Here's what I noticed in the leaflet at Christ Church, New Haven several years ago.
Together with Christians around the world, we stand before the cross, in awe of what God has accomplished through these events, and are keenly aware that it is "for us and our salvation" that Jesus endures this death. We see ourselves in this story—our betrayals and denials, our hatreds and fears, which brings this story to its conclusion. In our best moments, we rise to stand with Mary and John at the foot of the cross and accept our responsibility towards each other. In our worst, we turn against each other, falsely calming our conscience by blaming the other. It has to be acknowledged that the Passion narratives and even the liturgies of Holy Week have been perverted to incite anti-Semitism. The Evangelists wrote the passion narratives out of their understanding of the events, and to some degree, under a growing tension as the early Christian community was becoming separate from its roots in the Jewish tradition. These ancient texts disturb and unsettle us, and the discomfort points to the burden of scapegoating and violence that we forget at our own peril and to the peril of our Jewish brothers and sisters.
We need to resist the temptation to avoid that which disturbs and unsettles us, for those same texts also convict us. If we imagine that these texts actually convict others, we are practicing the very kind of scapegoating that seeks to shift blame and let ourselves off the hook. The Passion narrative is, above all else, a story about how God's free gift of love and redemption was rejected by humanity. The gift was not rejected by Jews, but by us all. Let us make no mistake: we continue to reject God's free gift of love.
So this Good Friday — and, for that matter, this Palm Sunday — I hope the story of the Passion will stir us all. I don't want to hear it. I need to hear it. We might be revolted, inspired, sickened, saddened. But let us certainly be convicted, for we crucified Jesus. We crucified Jesus.
Kyrie eleison.
Illustration: "Study for Crucifixion" (1947) by Graham Sutherland — in the Vatican Museums, from my flickr.