God poured compassion upon us
Monday in the fourth week of Advent
1 Samuel 1:19-28; Canticle 9 or Psalm 113 or 122; Luke 1:46-56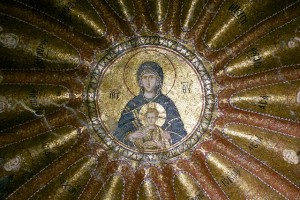 Luke 1:46-49
And Mary said, "My soul magnifies the Lord, and my spirit rejoices in God my Savior, for he has looked with favor on the lowliness of his servant. Surely, from now on all generations will call me blessed; for the Mighty One has done great things for me, and holy is his name."
From Adversus Haereses of Irenaeus of Lyons.
For who else is there who can reign uninterruptedly over the house of Jacob for ever, except Jesus Christ our Lord, the Son of the Most High God, who promised by the law and the prophets that he would make his salvation visible to all flesh; so that he would become the Son of man for this purpose, that man also might become the son of God? And Mary, exulting because of this, cried out, prophesying on behalf of the Church, "My soul doth magnify the Lord, and my spirit hath rejoiced in God my Saviour. For he hath taken up his child Israel, in remembrance of his mercy, as he spake to our fathers, Abraham, and his seed for ever." By these and such like [passages] the Gospel points out that it was God who spake to the fathers; that it was he who, by Moses, instituted the legal dispensation, by which giving of the law we know that he spake to the fathers. This same God, after his great goodness, poured his compassion upon us…
Reflection
Reading the most ancient sources of Christian teaching on the Incarnation, one is quickly cured of our modern desire to domesticate Christmas. I'm not talking about commerce, which is hardly Christian. I'm speaking of the more pernicious tendency of the church to reduce the significance of Christ's incarnation to our feelings. We make Christmas an emotional celebration laden with beloved tradition. But that's not what it's about, as this timely reminder shows us.
God's arc of salvation history began with the creation ("In the beginning was the Word…") and continued through the prophets, and on to ancient Bethlehem, when God-with-us was born of a human though fully divine. All this is because of God's great love of creation and desire to save us all. Put that in your feel-good pipe and smoke it!
Christmas is about redemption. Advent is a season to remind ourselves of our need of redemption, and I for one hope we as a church and as Christians will savor every second of Advent.
Photo by yours truly of a mosaic of the Theotokos and Child in the domes of the narthex of Chora Church, Istanbul.