My burden is light
Wednesday in the second week of Advent
Isaiah 40:25-31; Psalm 103:1-10; Matthew 11:28-30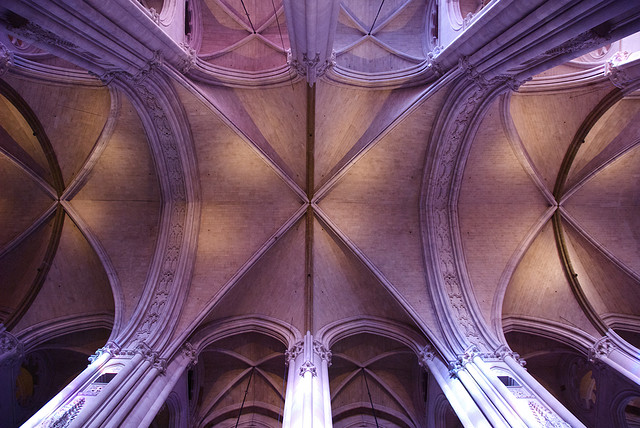 Matthew 11:28-30
Jesus said, "Come to me, all you that are weary and are carrying heavy burdens, and I will give you rest. Take my yoke upon you, and learn from me; for I am gentle and humble in heart, and you will find rest for your souls. For my yoke is easy, and my burden is light."
From St. Ambrose, Concerning Repentance (Book I)
So, then, the Lord Jesus refreshes, and does not shut out nor cast off, and fitly chose such disciples as should be interpreters of the Lord's will, as should gather together and not drive away the people of God. Whence it is clear that they are not to be counted among the disciples of Christ, who think that harsh and proud opinions should be followed rather than such as are gentle and meek; persons who, while they themselves seek God's mercy, deny it to others…
Reflection
You'd think it would be pretty simple for us Christians. Like Jesus, we should reach out to all people. Like Jesus, we should offer the refreshment of the Good News of God's redeeming love. But it turns out we're not so good at this. We exclude all manner of people, sometimes overtly and sometimes in subtle ways. Liberals love to shun conservatives. Conservatives love to shun liberals. Not to mention our miserable failure as Episcopalians to create church communities that look as racially and economically diverse as our society. If we were offering the easy yoke of Christ's love to all, our churches would look like our communities.
Of course, there's also the transformation part. Jesus doesn't just reach out to everyone and give them a pat on the back. He invites them to turn to God, to sin no more, to be changed. Surely we too should offer the Good News to all? That Good News means we will be changed. Jesus says his burden is light, but there is a burden. There is a yoke, and that yoke is discipleship — following him.
Perhaps that's the key. If we all really believed that following Jesus matters more than anything else, we wouldn't be able to resist sharing that gift with others. If our churches were joy-filled places with visibly transformed lives, they would be irresistible.
Let us be gentle in our approach to others, taking care always to offer the Good News that all are liberated from all our fears, that all people are redeemed in Christ Jesus.
Photo by yours truly of the some arches in the nave of the Cathedral of St. John the Divine, New York.