Cast them at the feet of Jesus
Wednesday in the first week of Advent
Isaiah 25:6-9; Psalm 23; Matthew 15:29-39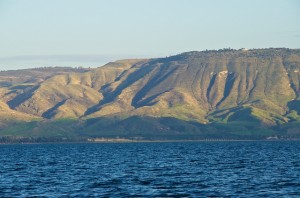 Matthew 15:29-31
After Jesus had left that place, he passed along the Sea of Galilee, and he went up the mountain, where he sat down. Great crowds came to him, bringing with them the lame, the maimed, the blind, the mute, and many others. They put them at his feet, and he cured them, so that the crowd was amazed when they saw the mute speaking, the maimed whole, the lame walking, and the blind seeing. And they praised the God of Israel.
From Origen's Commentary on the Gospel of Matthew (Book XI)
Let us then cause to go up along with ourselves to the mountain where Jesus sits — his church — those who wish to go up to it along with us, the deaf, the blind, the lame, the maimed and many others, and let us cast them at the feet of Jesus that he may heal them, so that the multitudes are astonished at their healing; for it is not the disciples who are described as wondering at such things, although at that time they were present with Jesus, as is manifest from the words, "And Jesus called unto him his disciples and said, 'I have compassion on the multitudes.'"
Reflection
Origen reads this story with an allegorical flair. This story isn't just about a mountain, for that mountain represents for us the church. We disciples are encouraged to bring along with us great crowds, especially people who are in need of healing. In the church, Origen says, crowds of people will be healed by Jesus Christ and thus these same crowds will be astonished. It isn't us, the disciples, who need to be astonished. It is the crowds for whom these deeds are done.
It's a good point. It seems to me that too often we have domesticated the church to the point where we simply don't expect radical transformation any more. What would our church be like if we expected that those who need healing would surely find it in what would be a mountaintop experience? Our entire world desperately needs healing. What would it be like for us to proclaim confidently that Jesus Christ in his church is among us, ready to offer the healing we crave?
In reality, there are already lots of miracles in our churches. I have seen lives utterly transformed. The hopeless have found hope. Broken relationships have been made whole. Lives destroyed by addiction have been saved. There are more examples than I can list here. For some reason, we Episcopalians don't talk about this enough. For some reason, we don't often enough invite people to come along with us. "Come with me to the church, where Jesus will astound you."
Amazing things are already happening. We should expect more, and we shouldn't keep Christ's healing to ourselves. Jesus Christ offers his love to the crowds, and so should we.
Let us cast ourselves, and those around us, at the feet of Jesus. Let us prepare to be astounded.
Photo by yours truly of mountains by the Sea of Galilee.