Holy love raiseth us to heavenly things
I am going to try to offer a brief post each weekday of Advent. We'll see how it goes, so please bear with me. My hope is to post a brief bit of scripture from the daily Eucharistic lectionary of Advent, a patristic text related to that text, and then a few thoughts of my own. My hope is to encourage myself and others to explore the riches of scripture and our ancient tradition.
Monday in the First Week of Advent
Isaiah 2:1-5; Psalm 122; Matthew 8:5-13
Psalm 122:1-2
I was glad when they said to me, *
"Let us go to the house of the LORD."
Now our feet are standing *
within your gates, O Jerusalem.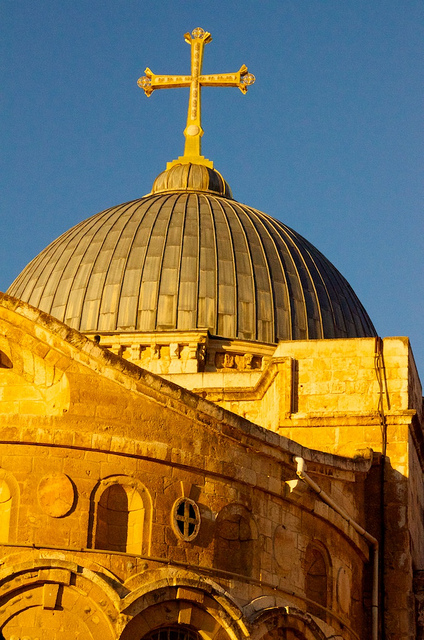 From St. Augustine's Exposition on the Book of Psalms:
As impure love inflames the mind, and summons the soul destined to perish to lust for earthly things, and to follow what is perishable, and precipitates it into lowest places, and sinks it into the abyss; so holy love raiseth us to heavenly things, and inflames us to what is eternal, and excites the soul to those things which do not pass away nor die, and from the abyss of hell raiseth it to heaven. Yet all love hath a power of its own, nor can love in the soul of the lover be idle; it must needs draw it on. But dost thou wish to know of what sort love is? See whither it leadeth…
This Psalm is a "Song of degrees;" as we have often said to you, for these degrees are not of descent, but of ascent. He therefore longeth to ascend. And whither doth he wish to ascend, save into heaven? What meaneth, into heaven? Doth he wish to ascend that he may be with the sun, moon, and stars? Far be it! But there is in heaven the eternal Jerusalem, where are our fellow-citizens, the Angels: we are wanderers on earth from these our fellow-citizens. We sigh in our pilgrimage; we shall rejoice in the city. But we find companions in this pilgrimage, who have already seen this city herself; who summon us to run towards her. At these he also rejoiceth, who saith, "I rejoiced in them who said unto me, We will go into the house of the Lord"
Reflection
Back in my parish priest days, I was in the habit of sharing the notices before the service began. At the end, I would invite people to prepare for worship with a moment of silence, after first sharing a sentence of scripture. Quite often, I used to quote the first verse of this psalm.
I love the time-transcending nature of it. It is both ancient (a song of ascent for God's people going up to Jerusalem), modern (a song for us as we prepare for God's presence in Word and Sacrament), and anticipatory (one day we will enter the eternal realm of God). St. Augustine focuses especially on an eschatological interpretation of this psalm. We don't often read scripture this way, but it is quite fitting for Advent.
Eschatology, the study of final things, is not just about the future. It is about how we live now. The Eucharist itself is both a re-presentation of Jesus Christ's final meal with his disciples, a thing we do in our time, and a foretaste of the heavenly banquet. St. Augustine is almost urging us to see life itself as all of these things.
In other words, "it's not about us" doesn't even do it justice. "It's not about our time." What we are doing as individuals and as a church is about now, but also about the future, whenever we manage to give ourselves and the world around us a foretaste of God's eternal kingdom.
This Advent, I hope I can pray "thy kingdom come, thy will be done" with fervent hope that God's kingdom will be made real not only at the end of days, but in our time.
God's love elevates us beyond ourselves, beyond our time, and beyond our very world. Indeed, God's holy love raises us to heavenly things.
Photo by yours truly. Church of the Holy Sepulchre, Jerusalem, in the morning light.