Restore us, O God of hosts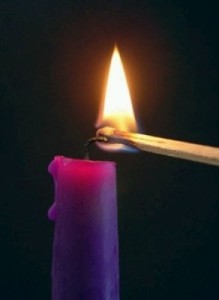 Another Advent has come upon us. In several previous years, I've written a post for the beginning of Advent, trying to schedule it for the vigil of Advent Sunday. This year, I'm a bit late to the party, due to some travel yesterday and a drained car battery today (all is well now).
So, if you'll ignore the irony of a late post on the Sunday we heard a Gospel reading about the necessity of wakeful preparation, I'd like to share a couple of thoughts about Advent and then share a few resources for the journey this year.
Advent is my favorite liturgical season, I think. I could come up with lots of reasons for that, but I think it really boils down to the music. Last year I shared some favorite albums, and they're still my favorites. I've also written about the liturgical color of the season and how we need Advent in our time. This year I'd like to touch on a simple theme: we "nice-ify" Advent at our own peril.
I maintain that Advent is a penitential season, albeit a very different one from Lent. Check out the collects in our own prayer book if you don't believe me. But even if I'm wrong about the season, there can be no question that the First Sunday of Advent, with its focus on the Second Coming, is penitential in theme. Repent, because Jesus could come any time!
My sense is that comfortable people — people with great privilege — like to soften the rough edges of the Gospel, because otherwise it's pretty hard to take. If I'm honest with myself, the Gospels are pretty hard to read, especially on a cold night when I've walked right past a homeless person sleeping on the sidewalk and then a few minutes later past our empty guest room. It would be lovely for me if I was never confronted for my failure to care for those on the margins, but I simply don't think it works that way. There are no easy answers, and flee from anyone who says otherwise.
Advent is not a sweet season when we can take pride in refusing the sing Christmas carols at church while we run up credit card debt buying stuff no one needs. Advent is not a season to think nice thoughts while the Gospel demands that we confront injustice. Advent is not a season to imagine that "joyful expectation" will somehow yield justice in a land that is growing more unequal economically and racially every day. Advent is not a season to think that "quiet waiting" on its own will transform our lives.
No, Advent is a season that is meant to be uncomfortable, as we prepare to worship Jesus Christ at Christmastime, at the Second Coming, and in our earthly pilgrimage. If we think for a second that meeting Jesus Christ is going to be a piece of cake, we aren't paying attention. Read what Jesus says to the rich, the powerful, the hypocrites, and unpenitent sinners. Guess what? We Episcopalians sitting in our beautiful churches with our above-average socio-economic status and our use of resources to support our own institutions does not make us sheep who are about to get a pat on the head. We're the goats. That's not good (even though I think goats are awesome, Jesus doesn't seem to share that view, at least based on his examples).
So what's the Good News? Jesus offers salvation to all of us, and he also speaks words of comfort to those who are willing to repent. So let's repent, shall we? A first start would be admitting that we need to do that, and then perhaps welcoming a season which gives us the space to get to it. So let's stop pretending Advent is another chance to think nice thoughts while we sip peppermint lattes. Let's take the gift that Advent offers: a chance to repent and prepare ourselves to meet Jesus Christ, whenever and wherever that happens.
Now, with all that said, here are a few resources for one's Advent journey. (Many of last year's are still available, so check that list out, too.)
Come back to 7WD in future days. I'm also hoping to have some Advent stuff here. You'll know tomorrow, because it will either show up, or not. Stay tuned! Keep awake!