Of stress and leadership
Yesterday, I preached a Michaelmas sermon in which I talked about spiritual warfare in our world. If you doubt the existence of spiritual warfare, look at a newspaper. Or consider what's happening in our church.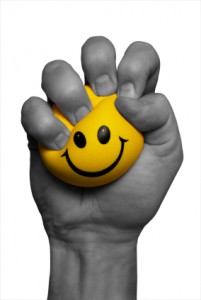 My social media feed has been taken up by an unfolding crisis at The General Theological Seminary over the last few days. Not long before that, it was Episcopal Divinity School. On a regular basis, I hear about about crises in congregations. And then every three years in the lead-up to General Convention, you can count on a crisis in one form or another.
It's going to get worse before it gets better.
When we are under stress, we are never our best. That's part of the human condition. Our church has been stressful for many, and that's only going to increase. Lots of congregations are facing increasing pressure as attendance plummets and (often deferred) maintenance needs rise. Our seminaries are mostly not a picture of health. Dioceses are trying to figure out what to do as assessments look to get smaller. And then there's the churchwide level, which is a whole new level of impending doom.
Standard 7WD digression: yes, there are lots of truly healthy congregations, and I'm bullish on the overall future of our church. I have every confidence that Christ will guard his church's witness in the world. But we shouldn't turn away from some real challenges, primarily because those challenges alert us to some failures to proclaim and to embody the Gospel. But that's another blog post.
Back to topic: as stress levels increase, it gets harder to behave well. Or easier to behave badly. Our reptile brains take over, and we don't think strategically or well. Fear pushes out our capacity to be generous. And of course, when a community is under stress, it is that much harder to forgive offenses from leaders and from those whom leaders serve.
There is no magic bullet, I'm afraid, to make stress go away. We can work on being "non anxious" but the cloud of stress in many places is here to stay. There are three things we can do, however.
First, as a church, we must not forget our hope is in Jesus Christ and our anchor is in prayer. Prayer opens the way for the Holy Spirit to work in us. It changes our hearts and perhaps the hearts of others. In crisis mode, it's tempting to do things like "skip the prayer" or offer perfunctory prayers in meetings. This is spiritually deadly.
Second, we can practice reconciliation. It does no good for us to say we have Good News to share if we cannot practice reconciliation in our churches. This will, of course, take many forms. Sometimes it means moving on. Sometimes it means truth-telling. Sometimes it must include justice before anything else. And it always, always, always involves repentance. See next point.
Third, we must hold ourselves and one another accountable. There are communities which are toxic, and a parade of new leaders is successively run off, while the community never repents (see step two). There are leaders who serially abuse those whom they are called to serve. While I think we must be exceedingly generous, because we all make mistakes, there are times in which communities (congregations, for example) must be closed, for there is no hope for them having a healthy future. There are people who should forfeit any future call as leader, for there is no hope of them being a healthy leader. Forgive often. But Jesus also told his followers to let the dead bury their dead. And while Jesus loved everyone, he also told all those whom he met to change, to repent. We cannot say we are followers of Jesus if we are not ready to repent.
As I write this, I don't really know much about what's happening at General or EDS. I don't know much about the woes of hundreds of congregations across our beloved church.
I do know this. We must all pray, and not just for "our side" if we have one. We must anchor any hope of a future for our church in our own hope in Jesus Christ. Jesus taught us to offer forgiveness, but he also insisted on repentance. Only great wisdom and the guidance of the Holy Spirit can help us know when to emphasize one or the other in this duet.
I began this post mentioning spiritual warfare. It's going on in our church. Good battles evil. Hope battles fear. Future battles past. How do we enter this fray?
Prayer. Reconciliation. Repentance.
When it comes to working on institutional health, by all means, let's look at technical fixes. Let's bring in experts. We should use every analytical tool at our disposal and every organizational best practice we can learn. But I would encourage us all to use three things above the others.
Prayer. Reconciliation. Repentance.
Today is Michaelmas. I leave you with a hymn verse about St. Michael.
Send thine archangel Michael to our succor;
peacemaker blessèd, may he banish from us
striving and hatred, so that for the peaceful
all things may prosper.