The Peace, and how we fail to pass it
Over the weekend, I posted this status on Facebook, "The passing of the peace is not liturgical halftime, nor is it the same as coffee hour. Just a random thought on a Sunday morning." It provoked quite a reaction, getting over 125 likes and almost 80 comments as of this writing. Comments broke into two camps: "yes, preach it" and "the longer the better when it comes to the peace." I've grossly simplified, but you get the idea.
Since I appear to have struck a nerve and have a freshly-out-of-hibernation blog, I thought this might make good fodder for a further look. The commenters who think a lengthy peace is fine basically fell into two groups. First, some folks said that they like it that way. If it ain't broke, don't fix it, they said. Meanwhile, others said the Peace offers an important opportunity to welcome guests, and we need to encourage lots of conversation to facilitate that work. Obviously, there are a variety of approaches to the Peace, to liturgy, and to the Church itself. I'd like to share some thoughts about the Peace.
The Peace is primarily intended to prepare us to receive Holy Communion. Here I quote the awesome but too-rarely-used Exhortation from our prayer book:
But if we are to share rightly in the celebration of those holy Mysteries, and be nourished by that spiritual Food, we must remember the dignity of that holy Sacrament. I therefore call upon you to consider how Saint Paul exhorts all persons to prepare themselves carefully before eating of that Bread and
drinking of that Cup.
And this:
And acknowledge your sins before Almighty God, with full purpose of amendment of life, being ready to make restitution for all injuries and wrongs done by you to others; and also being ready to forgive those who have offended you, in order that you yourselves may be forgiven. And then, being reconciled with one another, come to the banquet of that most heavenly Food.
This is why we have Confession and the Peace before Holy Communion. The purpose of Confession, I hope, is self evident. The Peace is intended, as the Exhortation makes clear, for us to make peace with those with whom we are estranged. Matthew 5, which pops up as one of the suggested Offertory Sentences, gets right to the point, "If you are offering your gift at the altar, and there remember that your brother has something against you, leave your gift there before the altar and go; first be reconciled to your brother, and then come and offer your gift."
If we use the Peace to chat with our friends to the detriment of reconciliation, we commit a grave error. When we are so busy glad-handing that we omit the true function of the Peace or obscure its purpose for others, we neglect our necessary preparation for the Sacrament.
Most of our liturgical tradition — word, action, sign, and symbol — has a theological and practical purpose. When we alter the character of liturgical fundamentals, we are upsetting a beautiful and balanced theological ecosystem. The point of the Peace is not a friendly chat, but to make space for reconciliation.
The Peace is often the least hospitable time for guests. At the very moment when we should be manifesting the Body of Christ and seeking unity, we often shun our guests. How is this possible during a chatty greeting-heavy Peace, you ask? My experience when I visit congregations is disturbingly consistent (unless I am dressed like a priest): a couple of people give me perfunctory greeting, and then I'm left standing there for several minutes while the regulars chat each other up. The Peace doesn't appear to be a time to welcome strangers (as our Lord asked us to do in Matthew 25), but rather a time to catch up on weekend activities among the regular members of the local club. So it seems like a friendly time if you've paid your membership dues, but not so much if you're new. Anecdotal comments from friends suggests my experience is not unique, sadly. Of course, there will be exceptions, but I'm pretty sure we have a clear, sad, and sinful pattern.
The aim of liturgy is not community among worshipers. Rather, our liturgy is for God and the whole world. Liturgy does not mean "work of the people" but rather "work for the public good." In other words, it's not about you. Whether we "like" the Peace or whether the local church "likes" the Peace is perhaps interesting but certainly not very important. The point of what we are doing is to carry out Christ's commands to us, to be nourished for our Christian ministry in the world, and to pray for the good of the whole world. In this worldview, reconciling with our neighbors before we share Communion matters. Mere social niceties have no place before we do one of most important things we humans can do in our earthly pilgrimage.
There is a place to carry on the stated goal of greeting one another and "building community." That place is coffee hour. If liturgy has a function, it is to bring us to Jesus and to feed us so we can share the Good News with the world. I think local community is awesome and even indispensable, but there are lots of ways to do that outside the Eucharistic service.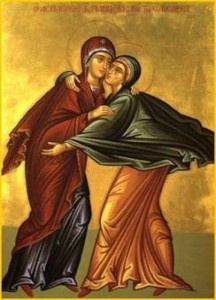 Now some will have noticed that the prayer book encourages us to greet one another in the name of the Lord. One might first notice that the word "may" appears before that, suggesting that the whole chatfest is optional. The Peace can — according to our prayer book — be carried out simply by the Celebrant and People exchanging words. "The Peace of the Lord be always with you. And also with you." Period. And if one reads the Exhortation, the function of the Peace is made clear. Even if we say that greetings are what matters, the scriptures suggest "Peace of Christ, how was your weekend so far" is not the way to carry this out, viz. Romans 16:16, I Corinthians 16:20, II Corinthians 13:12, I Thessalonians 5:26, or I Peter 5:14.
We can do better. There are congregations who manage to get the right balance of a warm liturgy and a Peace that fulfills its function. It takes some teaching and some adjustment. Perhaps it will help to move the Peace to the other spot our prayer book allows, just before or after the Communion invitation. People *might* be less likely to start the chatfest after "The gifts of God for the people of God." Or preachers and teachers can help to form communities. It might be enough to visit other congregations where one is unknown and see what it's like to be a stranger at that moment. And, of course, clergy might try visiting a church without looking like a cleric when you are the center of attention. Many, many things in church look very different from the pew than they do from the Holy Table!
It was obvious from some of the comments under my Facebook post that we simply haven't done a good job of teaching congregants (and in some cases, clergy) what the primary purpose of the Peace is. It's never too late to learn, so let's fix that.
Our world is in desperate need of reconciliation, and here the mission of the church is essential, "to restore all people to unity with God and each other in Christ." What we need to do here is to reconcile, which is a lot harder than being nice. Each week, as we gather on the Lord's Day, we need to practice reconciliation; we don't need more practice being nice. If we are to carry out reconciling work in the world, we do well to get it right as often as we can in our churches.
The Peace is but one of many times in which we might be tempted to yield to the familiar and the comfortable. But liturgy, like discipleship more broadly, is not about us. Liturgy, and the Christian life, are about Jesus: we seek to follow him and to invite others to do the same. The Peace should not be the time when we shun guests and close our circle among friends. Rather, we should offer greetings in the name of Christ and reconcile with our enemies. That's very different from small talk and pleasantries.
To sum it up: we need the Peace of Christ, not a piece of nice.