Thoughts on TREC: To boldly go where we've gone before
Finally, I've been motivated to bring 7WD out of hibernation. You're welcome, readers. What is that something? Why, of course, it's the latest TREC letter! Yep, the Task Force for Reimagining the Episcopal Church has spoken. Non church-geeks will want to move right along now. Come back next time, when I rant about something of more general interest
OK, church geeks, now that we're on our own here, let's talk about the TREC letter. I'm not going to unpack abbreviations or code language, since we're among friends of high geekery. Now, most of what needs to be said has already been said by my fellow church geek bloggers. Go check out the many excellent posts in this handy roundup brought to you by Acts 8. I agree with much of what's been said. Just a few thoughts here. Don't worry, you won't get anything here that's Crusty Sized. I trade in pamphlets, hence my relative brevity.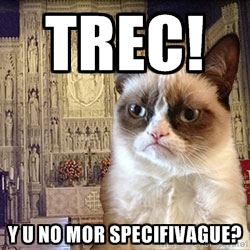 First, I'm grateful for everyone on TREC for taking on what will mostly be a thankless job. The people I know on the task force are deeply committed to making our church better, and I know they have worked and will continue to work very hard. In return, they are going to get clobbered from all sides. Not bold enough! Too bold! Too simple! Too complicated! Too general! Too vague! More power to the PB! Down with bishops! And so on. The Grumpy Episcopal Cat has it exactly right in only six slightly misspelled wordz.
Second, our current system of governance is so dysfunctional that almost any change is going to be an improvement. At present, as I've said here before, the various entities (General Convention, its two houses, Executive Council, the staff / Missionary Society, and the presiding officers) are at times over-functioning, under-functioning, getting in trouble for doing their jobs, or not doing their jobs for fear of getting in trouble. What we need is clarity of role for all the entities.
Many people in our church won't like TREC's proposal to align authority and accountability in the office of the PB. While I have mixed feelings — I'm not actually sure what makes the most sense among the various options — for presiding officers and for managing staff — the proposal would at least create clear lines of authority and accountability for the first time in anyone's memory. If we want to make the PB more accountable to the whole church, since she or he will be managing our staff, there are lots of ways to do that. We could have both houses of General Convention elect the PB jointly (or just take our current system of HoD concurrence more seriously). We could elect the PB at every General Convention, so if the PB gets out of sync, they are tossed out of office relatively quickly. Executive Council could wield its budgetary authority in ways to encourage alignment with stated churchwide goals.
I'm also OK, I think, with the idea of a General Secretary. We'd need to get clarity though that this is not an expansion of the current General Convention office, but rather a whole new thing. This solves some problems, while creating others. Same is true for increasing the role of the PB, by the way. I'm also OK with the idea of making the PHoD a salaried position, so that it's a real possibility for more people.
Third, as others have said, we need to back up and ask what our church and its various entities are for before we go tweaking them. It doesn't do any good to start driving unless you have a destination in mind and a good map. Too much to say here now, but I think this would be a good topic of churchwide conversation over the next few months.
Fourth, the forces resistant to change are very, very strong. Any dysfunctional system works for some people, and our current system is no exception. At last General Convention, we unanimously passed the resolution calling for restructuring and then proceeded to vote down nearly every subsequent resolution that made actual changes. We are in love with the idea of change, but specific changes are, well, scary and possibly unpleasant. We need to be aware of this as we head toward General Convention. Pay lots of attention to who says what, and note their (often unstated) interests. Some people who will speak have financial interests in the current system, etc.
On a related note, let me disclose my interests. I work at Forward Movement, which is an agency of the Episcopal Church, created by General Convention as a ministry of the Presiding Bishop. I serve in the House of Deputies.
Fifth, if we take this opportunity seriously and make lots of real changes in our church, we won't get them all right. That's OK. We can make more changes. We need to get over the idea that whatever we do lasts forever. Our structures have changed before, and they'll change again. We're just doing our best job of making our church meet the needs of our time and our context.
Sixth, a bit of advice to TREC. Listen to what the church is telling you, and share in that conversation. Weigh in on Facebook and Twitter and blogs where these conversations are taking place. Publishing reports and otherwise staying silent is a 20th century way of communicating, and we're looking to you for 21st century thinking and acting.
Seventh, beware fear mongering. When someone says, "This is robbing lay ministry" or "This abandons our Episcopal identity" think through whether or not that is true. On a very specific note, the TREC letter proposed making some of our churchwide (Missionary Society) staff contractors. Guess what: that does not necessarily mean that people will not have excellent benefits and that they will not be treated well. Perhaps it does, perhaps it doesn't. Full-time, regular employees can be treated badly. The status of employees and how they are valued are related, but not connected, ideas. This is one example of how specific ideas will be polarized, if we do not guard against this. (See my last point: if TREC responded to these concerns, we could keep our conversation moving along usefully, instead of getting bogged down in idle speculation.)
Lastly, we all need to keep our perspective. Churchwide structures are important, especially to church wonks and people (like me) who make their living serving churchwide organizations. But 99% of church activity happens in congregations. Our catholic identity depends on having bishops, and many good programs and networks come from our churchwide offices. But whether we have a PB or a General Secretary to manage the staff is not a matter of first-order importance to most congregations, to take one example. I'm not saying it's a trivial matter, but I am suggesting we need to keep our perspective. We also need to realize that nearly everyone who will speak about any of this is doing so out of a place of love for the church and usually for the Gospel.
One reason, I think, to try to get it right, is because there is tremendous opportunity cost when we have it wrong. Inefficiency wastes time and prevents further ministry. Pointless legislation or infighting wastes time that could be used in other ways. When our focus becomes structure, we are no longer focused on Jesus. To be sure, structures can help us keep our gaze on Our Lord, and I think that's why it's really worth trying to do better.
Most of what needs to happen to reinvigorate our church will happen at the congregational level. General Convention can't easily legislate that, so the temptation will be to tweak things that are within easy grasp. We pursue this course at our peril. At the big picture level, let us remember that Jesus is our way, our truth, and our life, and any of our church which takes us away from that does so to our peril.
I don't know how to reimagine and restructure our church. I hope we'll do lots of the former before we dive into the latter. Otherwise, we're just doing more of what we've always done. We need to go into uncharted, unknown territory, rather than moving around the furniture at home.
To change metaphors, the field is ripe for harvest, and we can't gather in so many crops if our church is less than its best. Let's dream big, and let's be bold. My hope is that the TREC letter will begin in earnest the conversation that our church needs to have. The very best ideas won't come from a couple of dozen people, no matter how dedicated and smart those people are. The very best ideas will come through the whole church — perhaps from unlikely places — through the guidance of the Holy Spirit.
O God of unchangeable power and eternal light: Look favorably on your whole Church, that wonderful and sacred mystery; by the effectual working of your providence, carry out in tranquillity the plan of salvation; let the whole world see and knkow that things which were cast down are being raised up, and things which had grown old are being made new, and that all things are being brought to their perfection by him through whom all things were made, your Son Jesus Christ our Lord; who lives and reigns with you, in the unity of the Holy Spirit, one God, for ever and ever. Amen.