Discipleship and celebration — An interview in The Living Church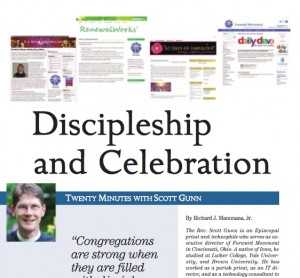 Not long ago, I did an interview with Richard J. Mammana, Jr. of The Living Church. They've now published the interview. Here's a sample:
We water down the demands of the faith, hoping it will be more attractive to seekers, but forgetting that it is precisely the invitation to take up our cross and follow Jesus that compels disciples. We give up too easily on challenging relationships, whether in our personal lives or in the Anglican Communion, because we forget that we have the Advocate to help us reconcile. We settle for mediocre liturgy, preaching, and teaching, because we begin to substitute the perceived friendliness of community for the transforming presence of God among us. We think that our task is to renew the Church, when our call is to renew the world. Of course, I think the Church does need renewal, but that is the means and not the end.
Go read the whole thing, if you like. We talked about Forward Movement, the Anglican Communion, and discipleship, among other things.
By the way, I encourage you to subscribe to The Living Church. After a rough patch, in which I let my subscription lapse, I've become a subscriber again. It's gotten really good the last few years under the leadership of Christopher Wells. Lots of thoughtful articles, book reviews, interviews, and news of the church.