New commandments: Thou shalt Tweet…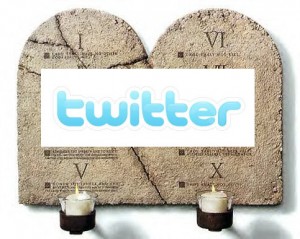 Courtesy of the BBC, I ran across a new social media policy from the Church of England's Diocese of Bath and Wells. In the article, the diocesan spokesperson demonstrates that they have earned their way onto the clue train:
A spokesman for Bath and Wells diocese told the BBC that publishing the resource was what "any good organisation" would do. "The Church of England is in every community in the UK, so it seems right that we should be in online communities too," he said. "We're not the first diocese to provide guidelines, but our clergy increasingly use social media. A vicar might engage in conversation online in the same way that they do in the street, post office or pub." (emphasis added)
Couldn't have said it better. The church needs to be communicating in this space, because it's where people are communicating.
In order to avoid confusion with the somewhat more famous Ten Commandments, they have cleverly come up with "Nine Commandments" for social media. Go read the policy for the full version, but here's the abridged version:
Don't rush in
Remember tweets are transient yet permanent
Be a good ambassador for the Church
Don't hide behind anonymity
Be aware of public/private life boundaries
Maintain a professional distance
Stay within the law
Respect confidentiality
Be mindful of your own security
I agree with all of these. But these seem to come primarily from a place of caution, if not fear. While we should be careful, I think we should also proceed with joyful zeal and moderately reckless abandon. I would add:
Be joyful
Proclaim God's love fearlessly
Be yourself
Smile, and encourage others to do the same
Invite people along for the journey
Ask great questions
Get people thinking
Apologize when you mess up
Again: be your true self
Too often congregations or church leaders hold back on social media out of fear. We think of all the reasons not have a presence or reasons why our presence should be bland to the point of deadly boredom.
I applaud Bath & Wells for having a solid and well thought out social media policy. More dioceses in ECUSA should think this through. Even more important, more dioceses, more clergy, more congregations, more lay leaders, and more Christians generally should find a way to bring our faith the a world in desperate search for meaning and hope.
Here three greatest commandments for social media. On these commandments hang all the rest.
Love God
Love your neighbor
Be not afraid
I'm sure there are other lesser or greater commandments. What "commandments" would you add or take away?
Image from Global Grind.