The Church could learn a thing or two from athletes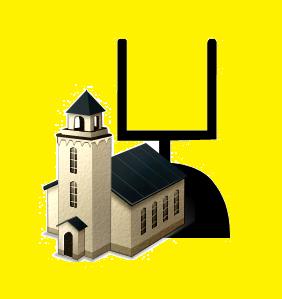 As longtime readers of 7WD will know, this blog has had precisely nothing to say about professional sports. You might think I'd be a big baseball fan, since we can see inside the Cincinnati Reds stadium from our apartment. But no. It's not that I object to sports, but they aren't usually my cup of tea.
All that changed last night. As Richard Sherman was giving his infamous pithy interview after the Seahawks beat the 49ers, it occurred to me that church leaders might learn a thing or two from athletes. If you don't know about the interview, go read a certain unnamed blog by my archnemesis, which has (in all seriousness) covered some of the complexities of the interview and our reactions to it, not neglecting the humor potential, of course. Tim has time to write stuff like this, because his team was eliminated from the postseason by another football team…from Cincinnati, I might add.
In any case, it's time that those of us in the church drew upon the collective brainpower of people who are packing in the crowds every weekend, whilst many churches stand empty. Here's where we could gain some advantage from athletes. They are veritable fountains of wisdom and clarity, and it's high time we adapted some of their talking points for our use. As Yogi Berra reminded us, the intellectual side of the game really matters. I paraphrase slightly: "Church is ninety percent mental and the other half is physical."
Here is a smorgasbord of opportunities to apply well-honed aphorisms to real world situations.
10. The first time a newly ordained priest celebrates the Eucharist can be nerve-wracking. Ben Hogan will get you through the occasion with some honest advice. "Relax? How can anybody relax and celebrate Mass? You have to grip the chalice, don't you?"
9. Every preacher has an off day. In the handshake line when someone gives you one of those backhanded compliments, or perhaps says you were in a slump, Yogi Berra has your line: "Slump? I ain't in no slump. I just ain't preachin'."
8. Being a verger is one of the hardest jobs in the church. You have to wrestle wayward acolytes and corral distracted clergy. Wayne Gretzky is your guide. "A good verger plays where the procession is. A great verger plays where the procession is going to be."
7. If your church is not air conditioned, it will be tempting to avoid vestments on warm Sundays. But of course Jesus never said it was going to be easy to follow him. Those of us lay leaders and clergy charged with wearing vestments need some inspiration, and it comes here from Heywood Hale Broun. "Sweat is the cologne of accomplishment."
6. Bobby Knight is widely known as a leader for whom rhetoric alone couldn't contain his charism, so he graduated to chair-throwing. What you might not know is that he is fiercely devoted to St. Peter, who was crucified upside-down. Or maybe he loves St. Joseph, the saint behind all those upside-down statues that people bury in an effort to sell their houses. Either way, he combines his pious devotion with a clear response to critics. Also, who knew he, like Balaam, owned a donkey? "When my time on Earth is gone, and my activities here are past, I want them to bury me upside down, and my critics can kiss my ass."
5. Herschel Walker has some (modified) advice for preachers. "If you exegete hard, you'll not only preach hard, you'll be hard to beat."
4. It's Ash Wednesday, and you need a homiletical nugget. You won't do better than this one, quoted directly from John Wooden, unaltered. "Don't measure yourself by what you have accomplished, but by what you should have accomplished with your ability."
3. Pele's wisdom is adapted slightly here. "Every seminarian around the world who learns church wants to be a Cardinal Rector. I have a great responsibility to show them not just how to be like a Cardinal Rector, but how to be like a priest."
2. Ultra marathoner Dean Karnazes has some advice for priests who struggle with high church priestcraft. "Chant when you can, sing if you have to, speak if you must; just never give up on the Sursum corda."
1. Last, but not least, when that crank stands up in the annual meeting just to be a noodge, it's time to come down like a ton of bricks. "I'm the best rector in the game. Don't you ever talk about me. Don't you open your mouth about the best or I'm gonna shut it for you real quick."
Now all we need to do is introduce the instant reply of deft moves from the thurifer along with Gatorade plunges after really great sermons, and the church will have assimilated every good thing from sports. Well, once we replace uncomfortable pews with stadium-stye seating and have vendors selling snacks during Mass.
For now, I leave you with another gem by Yogi Berra, which is surely true of the church. "The future ain't what it used to be."
Illustration from Caffeinated Thoughts.