When God gets real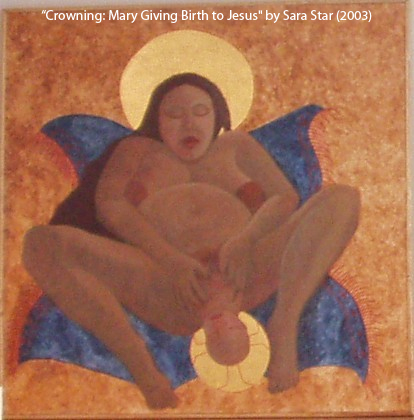 One of the ways to understand Christmas could be to think of this day as a celebration of God getting real. Oh, God was real from before the creation. But with the exception of a few one-on-one encounters here and there with God's people, the Divine was an abstraction. Moses might have glimpsed God, but for most people, their encounter with the Holy was wholly other.
Enter the Holy Family onto the stage. With Jesus, God gets real, sharing our human nature. The chasm between God and humanity, if it had ever existed, is crossed. Mary and Joseph and sundry characters gathered in an ordinary place to experience an ordinary birth. Jesus, God-with-us, came into this world in the most ordinary, messy, vulnerable way possible. God gets real.
It's pretty easy for Christians to agree about abstractions. "Change is good," we say, until something we care about has to go away. "Care for the poor," is a lovely sentiment until that person is standing in front of you demanding attention or money. "The church is for everyone" is an attractive bumper sticker, but it's messy in practice.
We can't really celebrate Christmas unless we're ready to dive into the ordinary, messy, very non-abstract reality of the Incarnation. By God's dwelling among us, human nature has been sanctified. That business we mutter about seeking and serving Christ in all persons isn't just an abstraction.
I'd like to offer two examples that we can all practice with starting today. Those of us who hang out in churches are likely to get a chance to see how well we celebrate the Incarnation in a little while. Pro tip: there are no bonus points for lovely poinsettias, beautiful choirs, flawless chant, cute pageants, or heart-warming rituals with candles. No, I think all those things are fantastic, but they are the proverbial icing on the Incarnational cake.
The cake is that ordinary, beautiful, messy, difficult, holy thing at the core of our celebration. Incarnation. God-with-us.
Today our churches will fill, and in lots of places that's not usual. How will we welcome those who show up for worship? How will we greet those who came seeking a word of hope, listening for the glad sounds of the angels? For the love of God, literally, I hope there will be no murmuring about "Christmas-and-Easter people" or "sitting in my pew" and so forth.
As I wrote in today's Forward Day by Day meditation, referencing Galatians 3:28,
Many of us will go to church this evening for Christmas Eve. And there we will experience another great divide, at least in our churches. I think Saint Paul would remind us that both lifelong members and first-time or seasonal attendees are one in Christ. The latter are not guests in our church, but rather we are all one as we celebrate Christ's birth. Maybe if the person who has come to church with great trepidation receives the same welcome as the lifelong member, some grace will happen all around. And that would be a profound Christmas gift for everyone.
We are all guests, together, at Christ's table. The person who has come to church for reasons they can't quite articulate, perhaps for the first time, has the same claim on Christmas that I do. In fact, theirs might be more admirable, because it is borne on faith and hope, not habit and familiarity.
And then what about outside the church? Or maybe in the narthex? If you worship in an urban church like I do, it's quite possible someone will show up not to make an offering, but to seek an offering. How can we shoo this person away as we sing nativity carols? You can't post a guard to keep out the riffraff when we have gathered to worship that very same riffraff, fully Divine and fully human.
Over at The Anglican Digest, Kelly Grey Carlisle writes about an encounter with a pregnant woman looking for a handout, maybe for bus fare or maybe for something else. In that encounter, Carlisle writes, she met Mary the God-bearer.
I saw a pregnant girl from 2,000 years ago, looking for an inn in a strange town, being told "no," "no," "no." I saw her Son who promised that women like the woman in the bus station would inherit the earth. Who promised a new world where there wouldn't be that enormous gulf between me and her, between me and the people in the [bus] station.
Holiness is rarely neat and tidy and predictable. We should know that from our celebrations of the Incarnation, if we peel away all the sentimental, familiar layers of the story. Holiness is messy. Incarnation is messy. The Christian life well lived is messy. And God is right there.
O come, let us adore him.