Advent Day by Day
As many readers will know, I serve at Forward Movement, a ministry of the Episcopal Church whose mission is to reinvigorate the life of the church. We do this by offering resources that encourage discipleship and support evangelism. Lately we've been doing more edgy things like Lent Madness and formation offerings like Confirm not Conform. There are partnerships with Episcopal Church Foundation and the Society of St. John the Evangelist. But the most well-known offering of Forward Movement is Forward Day by Day.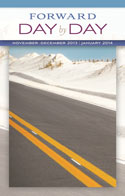 It's our core offering, and about 90% of Episcopal congregations have subscriptions, not to mention individuals and congregations around the world (in nearly every province of the Anglican Communion). As executive director, my role is usually taken up with work other than writing and editing. We have amazing editors on staff, and we're able to call upon tremendously gifted writers. So usually others are doing the writing and editing. But for various reasons, it seemed like a good idea for me to have a crack at writing a month of meditations for Forward Day by Day.
My month is here, starting December 1. I picked Advent (the benefit of knowing people) before I remembered what's in the daily office lections for the month. Zoinks. It's not all fun and games. Woe to those who say Advent isn't penitential! And, as I've now learned, it's incredibly hard to write a bunch of 200-word meditations. That's a long enough chunk to require some shape, but short enough that every word counts! I have fresh appreciation for the difficult task that our writers face with each month of meditations.
Anyway, if daily devotions might be part of your Advent scheme, I invite you to give Forward Day by Day a try. Let me know what you think. I'll be following the comments on our social media channels. Just be gentle with me. Mostly, I hope Forward Day by Day will be a blessing to you. If you don't care for my writing, there's always next month!
SUNDAY, December 1. Advent 1

Isaiah 2:3. Come, let us go up to the mountain of the LORD, to the house of the God of Jacob; that he may teach us his ways and that we may walk in his paths.

Mountaintop experiences in scripture often bring people to extraordinary encounters with God. In Isaiah's vision, people will stream to the mountain, marching to meet their God. The whole season of Advent could be seen as a journey to a mountaintop experience at Christmas.

I think we often forget that in order to have the mountaintop experience, you have to climb the mountain. The most amazing encounters between God and God's people in the scriptures are almost never convenient or instantly accessible. We have to go on a journey first, and that work prepares us…

Read the rest of the first day's meditation online.
Some fun facts: Forward Day by Day is read by over 300,000 print subscribers and thousands of others on the web, Facebook, Twitter, Kindle, Nook, and iTunes. And it's in Spanish in all those forms, including print, Facebook, Kindle, Nook, and iTunes.
Have a blessed Advent. Please pray for the ministry of Forward Movement. If you have questions, comments, or suggestions, let us know. We love to hear from our readers and friends.