Pay to pray? Admission charges and church buildings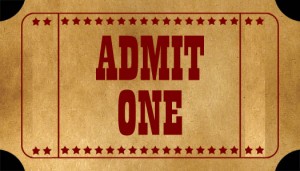 Every church building should be open day and night for prayer and refuge. That's the ideal. When churches are locked, and when they're not free to enter, we've fallen short of the ideal. Let's agree on that.
It's no surprise that some media jumped all over recent news that Washington National Cathedral will soon begin charging $10 for admission (reduced for children, yada, yada). Check out samples here and here. The Washington Times used the sensational, but slightly misleading, headline, "Pay to pray." ABC did better, saying that the cathedral would "Charge Fee to Tourists." The right-wing church blogs love this story too, because it fits their narrative. I've already seen some loud wailing on social media from several quarters. But let's look at the whole story.
I've traveled around the world a fair amount, and it's pretty common to pay entry fees for religious sites. I've paid to visit Hindu temples in India and Shinto shrines in Japan. I've also paid to be a tourist at Christian sites in several countries. Anglicans will probably already know that you have to pay for tourist access to Westminster Abbey or St. Paul's Cathedral in London. I believe it's also the case that in every single one of the examples I cited, access for prayer is free and open.
Not too long ago, Trinity Church, Copley Square in Boston started charging admission for tourists. Worship services are free, but if you want to wander in off the street and admire LaFarge's decorative work, it'll set you back a few bucks. Shortly after they started charging, I noted that one of my Facebook friends was howling about having been "denied entry" to the church. "They should be open for everyone, and free!" my friend said. I happen to know this friend serves as clergy in a church which is locked most of the week. Hypocrisy much?
Before we get too outraged at churches that charge money, let's think about several things:
Very few church buildings are open for free, public access. Mostly, they're locked during the week. Sure, there are exceptions, but I'll stand by my claim. (When I was a rector, the church I served was locked during the week; guilty!) No one who serves in a leadership capacity in a church that's routinely locked should howl too much about other churches charging admission.
Most of the places which charge admission will grant free access for prayer and worship, though times may be restricted. As I recall, St. Paul's has a chapel that's always open for prayer for free. The daily offices and masses are celebrated without admission charge. Westminster Abbey offers free daily worship. So it's not quite correct to see this as "pay to pray" in many cases. Washington National Cathedral says Sundays will be free, and likely other times as well.
Many of the people who visit these major tourist sites are not particularly interested in prayer. Like me visiting a Hindu temple, they are tourists not pilgrims. Sure, I may well encounter holiness in another tradition's site, but my role is tourist. For that reason, it seems fair to charge for entry, just as many other tourist sites charge entry fees. I suspect that many of the busloads who stop by Washington National Cathedral are there as tourists moreso than pilgrims.
The places who deal with lots of visitors are also likely to have enormous capital needs with their historic buildings. Certainly that's true at Washington National Cathedral, where they have the additional burden of earthquake damage repairs. Expecting a worshiping community to fund these structures on their own would require a level of giving that is beyond imagination. In this country, religious buildings are unlikely to receive government grants, and even foundation grants are difficult. Admission charges are likely to be necessary for survival.
No church decides to charge admission easily. I'm sure every one of them would fund their operations differently if they could find a way. Frankly, it's not great press for the church to do this, which WNC acknowledged in their letter about the new policies. But capital expenses have to be paid. If the choice is cease operations, lock the doors, or charge admission, I'll take door number three.
It is not abandoning the Gospel to try to figure out how to keep these sites open, especially when entry for corporate worship is free of charge. If we Christians have abandoned the Gospel at all, it's in our reliance on church buildings, period. I've written about that elsewhere, but here we are talking about landmark buildings whose very presence is a witness to the world. It's vital that most of them stay open for ministry, worship, and even tourism.
On a related note, I hope all Christian houses of worship that are open to the public, for any reason, will find ways to share the Good News with those who enter. Many cathedrals I've visited don't have a single bit of info about Christianity, or at least none that's visible. The best witness to tourists I've seen so far was in some mosques I visited in Istanbul. "If you would like to learn more about Islam, there is a person who can answer your questions at ____." Near that sign were brochures in a number o languages. We Christians should do no less!
I don't think it does much good to tell churches they shouldn't charge admission. They didn't do it for fun, and they'd love an alternative. So if you don't want a church to charge admission, make a concrete suggestion and perhaps send them a generous financial gift.
As I said at the outset, no one thinks it's ideal to charge for entry to a house of prayer. But if that entry fee is required to keep the house of prayer in operation, I think we should all concede its necessity.
By the way, I just made a gift to Washington National Cathedral. If you value their ministry in Washington, in our nation, and in our world, I hope you'll do the same. If enough of us did that, they could cancel that plan to charge admission. And, while we're at it, let's work on getting more of our own churches open for public prayer throughout the week.