Parsonage allowances, parsimony, and privilege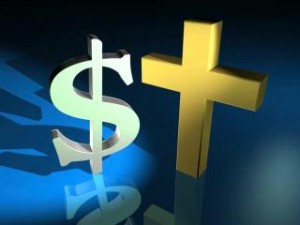 Late last night, I saw a news story pop up in my Facebook feed, thanks to some upper-midwestern church types. It seems that a federal judge has found the IRS provision which allows clergy to avoid income taxes on their housing to be unconstitutional. Now The Lead has picked up the story, and there's a fair amount of conversation amongst clergy on the internets.
For those who aren't familiar, ministers receive a tax benefit that is unique to ministers and members of religious orders. We are able to declare a portion of our cash income or the value of provided housing as a "parsonage allowance," and thus avoid income taxes on that amount. We're still required to pay social security tax on all income, both the stipend and the housing allowance. This ruling, if upheld and implemented in tax practice, would significantly increase the income tax liability of most ministers.
Let's dive into the news report.
[Judge Barbara] Crabb acknowledged in her decision that the exemption is a boon to ministers, referencing a 2002 statement by then-U.S. Rep. Jim Ramstad of Minnesota that the tax exemption would save clergy members $2.3 billion in taxes from 2002-2007. But she said the magnitude of the benefit only underscores what's wrong with the law. The exemption "provides a benefit to religious persons and no one else, even though doing so is not necessary to alleviate a special burden on religious exercise," Crabb wrote.
So there are a few things worth noting here. First, the ruling may be overturned or Congress may take legislative action to preserve this benefit. So those of us who would be affected need to pay attention now, but it's premature to hit the panic button. [UPDATE: On Twitter, I see that this ruling applies to housing allowances only, not to supplied housing. Same points apply, I think.]
Second, if it stands, this will be an expensive decision for many ministers and their congregations. Take a minister who is paid $40,000 by a congregation and who receives a housing allowance of $1,000 per month. That person would now owe income tax on $52,000 instead of $40,000. That will cost a few thousand bucks, and my example is a pretty modest one. So, effectively, clergy income will go down unless their congregation increases compensation as an offset. In other words, this would be received as a new cost to a congregation or a minister.
Third, I would expect clergy to be unhappy with this change at first. After all, it could cost most of us some real money. I would certainly be affected. Already, I've seen some (understandable) anger. "Why go after us, and not corporate tax loopholes?" We do need to close corporate tax loopholes (or, really, tax canyons). In my opinion, the wealthy need to be taxed at a higher rate than they are at present. But that's mostly unrelated to what's happening here. See next point.
Fourth, for decades, ministers have enjoyed this tax benefit as the remnant of WASPy American privilege. Only ministers and members of religious orders receive this benefit. The language itself is instructive, as one reads IRS publications talking about "ministers of the gospel." So even an imam or rabbi who claims this benefit is, in the eyes of the IRS, a "minister of the gospel." Other non-profit leaders, even those who must live in provided housing, do not receive this benefit. In our nation, protected by the Establishment Clause, does it make sense for the government to subsidize the exercise of religion? And if that does make sense, should we be using Christian language to do it?
Churches receive other benefits from their status as non-profit organizations. In most places, church property is not subject to property tax. The operating income of most religious organizations is not subject to tax, and gifts to churches are usually tax deductible for the donor. So it's not as if churches aren't receiving benefits correlative with their contribution to the good of society. But the parsonage allowance has been a benefit accorded only to religious organizations, so it's a bit of a different animal.
Fifth, if we clergy and others want to argue on behalf of this benefit, we'll need to have a much better reason than "I like it." The reason we come up with will need to withstand scrutiny from those who will trot out the Establishment Clause. The reason would need to say why clergy should receive the benefit and not the employees of other non-profit organizations, or one would need to argue that the employees of all non-profits should receive the benefit; that seems like an uphill battle. I cannot think of a justification for this benefit today, though I will certainly continue to claim it as long as it is available.
Sixth, this will increase the stress on already stressed congregations and clergy. The vast majority of Episcopal congregations, to name one denominational example, are in financial distress. Adding a new cost of several thousand dollars to preserve the income level of their clergy will seem unbearable. Likewise, clergy will are underpaid or who perceive they are underpaid will find the lack of this benefit intolerable. Hard news, friends: the financial stress on most of our congregations is only going to get worse in coming years. There is no denying it, just delaying it. Until we rethink how our congregations work, we're looking at bleak financial news and eventual closure. I've written before about any number of ways this can change (lose the buildings, increase discipleship and stewardship, or stop expecting full-time professional clergy, among others).
Finally, it would be easy to make this burden vanish. Take an average pastoral sized congregation. They probably have 100 pledging families and their pastor's tax burden is about to go up by, say, $5,000. Divide that $5,000 by 100 units, and the burden is only $50 per family. For our part, many of us clergy could shoulder more of a tax burden, just as those we serve do in their lives.
The ruling in Wisconsin opens possibilities for rich conversations about the place of the church in civic life, about our tax system, and about church finances. I hope we will move beyond knee-jerk reactions and engage in substantive conversations. We owe this to ourselves, our church, and our society.