Do numbers matter?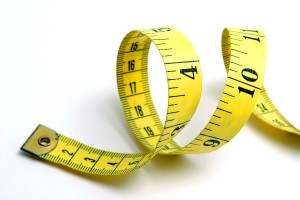 A couple of recent conversations have led me to revisit an unending topic of debate in the world of church leadership. Do numbers matter when it comes to looking at our churches? Should we or can we measure success in congregational life? I dug through my blog file and ran across a couple of pieces from last summer as fodder.
Tom Ehrich says Sunday attendance is a "meaningless metric" and that we should instead measure "touches" of those who come in contact with a church or its ministries. In a somewhat more nuanced presentation, Ian Markham says (part one and two) we have a "myth of decline," and that the Episcopal Church and other mainline churches are…not declining? Well, not really. He says basically that decline isn't the real narrative and that we have to move past this to tell a more positive story.
And then there's this cold, hard set of facts. In the Episcopal Church in 2012, a few dioceses saw growth in member numbers (which are not especially reliable), but the attendance numbers were pretty bleak. Over time, our giving numbers don't keep pace with inflation. Bleak numbers, indeed. Markham is right, but you can't really tell the story of your journey without a map and a sense of where you are. How will we know where we are if we don't see our place? Are we growing? What's working? What's not working? Let's be honest about our failures and (quicky!) move on.
After my zombie church post, I got a four-page letter from someone telling me that I shouldn't "judge" congregations. Point taken. I hope that's not what I was doing. Rather, I think we need to get some clarity about when congregations are thriving and what makes that happen. The opposite is true as well. With so many of our congregations struggling, it seems to me that we need to decide where to put our efforts. We need to learn how we might reverse numerical decline, assuming that's what we want to do!
So allow me to make a few observations:
1. No measure is perfect, but I'm not sure how else we decide if a congregation is thriving or withering. To rely on anecdotal stories or one's perception is to risk concluding that everything is fine when it is not, or that things are worse than they really are. Measures, taken together and laid along side qualitative assessment, help us get a true sense of health.
2. We need to measure so we can decide where to put our efforts. In the parable of the sower, Jesus reminds us that sometimes seed falls on rocky ground, among thorns, or in fertile soil. Surely that is true with our preaching, our ministries, and most every other aspect of parish life. Without measures, how can we see where we have rocks, thorns, or soil? Maybe numbers help us decide to stop doing one thing to make space for another. Maybe they help us know when it's time for a new clergy leader.
3. Average Sunday Attendance isn't perfect, but it's a useful number. Imagine me saying to my doctor, "Blood pressure only tells part of the story! I won't pay attention to that, because it's not the complete picture." Foolishness. We need to look at a complete picture of health, but there are a few measures that help us know if our bodies are healthy. Among congregations, the number of people who come for Sunday worship is a pretty good indicator. There are all manner of rationales for why our attendance isn't growing or whatever, but the fact remains that if Sunday attendance is growing, the rest of the numbers — and the feel of a place — are very, very likely to be thriving.
4. Worship numbers matter. A lot. Following on from the previous point, some will say that we should measure people who use a building, the number of people we fed at a soup kitchen, or some other kind of numbers. I don't disagree that we should measure those things. I even like Tom Ehrich's ideal of measuring "touches" during a week. Reggie McNeal said that several years ago. It's a compelling idea, and it's actually possible to do, though some folks (mistakenly) say you couldn't ever measure this. All that said, if we're talking about a church — the ekklesia — I'm not sure there's a more important metric than worship attendance. To be sure, we might want to start measuring "Average Weekly Attendance" to include folks who come during the week. This is especially important in urban congregations. But if a congregation begins to exist apart from its life as a worshiping community, it is, almost by definition, ceasing to be a church. I happen to think the world needs lots of voluntary associations to encourage people to do good works. This is a noble, and even Christian, purpose. But a church exists to make disciples, and disciples must worship together. So among all the numbers we measure in churches, worship attendance must be central among them.
5. Stewardship numbers reveal spiritual vitality. If you look at a congregations giving patterns, juxtaposed against the income levels of the communities it serves, you'll get a pretty good glimpse of how engaged people are as disciples. Again, we love to rationalize why numbers are low (or high), but looking at trends year-over-year and looking at average giving vs. household income will tell a vital story.
6. If a church isn't growing, something's wrong. That statement will annoy plenty of people, at least among the more than four people who will read this far down. I believe, and I think the scriptures teach, that the Gospel is compelling. If we preach and practice the Gospel, the church will be irresistible. That's what propelled the early church to grow from a few dozen people. The growth may not always be in numbers or attendance, but there will be signs of growth in a church that preaches and practices the Gospel. When this doesn't happen, there are likely to be systemic issues or other problems. Too many of our churches are focused almost exclusively on maintenance and preservation, so newcomers quickly learn that the primary aim is to repair the roof rather than change lives. They'll keep looking. And that congregation won't be growing.
7. We probably need to keep looking for the right things to measure. To Ehrich's point, our traditional measures are probably not the right ones. So let's look for some others. Number of new leaders? Adult baptisms taken more seriously? Frequency of worship attendance? Self-reported measures of happiness or spiritual growth? Clergy tenure? Hours spent serving the poor each week?
8. We need to celebrate growing congregations and learn from them. Imagine if every diocesan convention gave some floor time to the congregation(s) experiencing growth. Let them share what they're doing and, just as important, what it's like to be in a thriving congregation. Let's give bishops from growing dioceses more air time at the House of Bishops meetings (maybe this already happens and we don't know it because the bishops prefer to get medieval when it comes to communicating most of what they do in their meetings).
There are some really interesting developments in congregational measurement these days. Forward Movement has launched RenewalWorks, building on great work that Jay Sidebotham did when he was rector near Chicago. RenewalWorks seeks to measure spiritual vitality using a sophisticated assessment tool with members of a congregation. Then leaders take part in a series of workshops to address what they have learned. If people are not regular in daily prayer or in serving the poor, how might a congregation help people grow more fully into the full stature of Christ? It's early, but preliminary signs are that these measures can make a difference in people's lives and in the health of a congregation.
I could go on, but I think there's enough here to start some good conversations. What do you think? Should we try to measure congregational health? What are the best metrics?
UPDATE: My archnemesis has written a blog post about moving beyond ASA. Mostly he points out that we need to think outside the building, especially when it comes to social media. I think he would agree that metrics matter, with the possible exception of comparing our twitter follower counts.