Of Christ's body, the church: how to get healthy
It's not hard to find signs of health in our church. As I travel around the church, I hear stories of lives transformed and I see growing congregations. But there are other signs that our church is less than healthy, taken as a whole. Too many of our congregations are, if we are honest, circling the drain — being just a few years away from sure and certain death. On the one hand, I think some of that death will make possible our new life as a church, as we give up the idol of 1950s churchianity and recall our true nature as a church.
Lately, I've been thinking about another aspect of church health/unhealth that I haven't heard much talk about. Perhaps you will report some existing conversation, since I'm sure I'm not the first person to observe what's in this post. Put simply: our heads are not being heads, our hands are not being hands, and our feet are not being feet. Let me explain.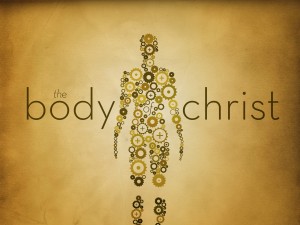 St. Paul writes, "For as in one body we have many members, and not all the members have the same function, so we, who are many, are one body in Christ, and individually we are members one of another. We have gifts that differ according to the grace given to us…" (Romans 12:4-6a). Not everyone in the church is called to do everything, and in fact, our health depends on just the opposite. We must learn be interdependent.
Not long ago, I was at another clergy conference. As usual, I heard priests bemoaning the work they "must" do as rectors. Having found myself as a rector sometimes doing some of this, I feel their pain. Sort of. But I also think it's up to priests and lay people to step up when it's time and to step back when it's time. Here's a specific example. In most congregations there are lay people gifted in construction, finance, office machinery, and even plumbing. So why should a priest take away someone else's vocation by doing their ministry instead? If a lay person has been given the gift of preaching in a congregation, why not let them do that? What if the priest did only those things that must be done by the priest, and the baptized community did everything else?
As Bishop Thomas Breidenthal preached recently at an ordination, too often we treat the balance of clergy and laity in the church as a zero-sum game. We imagine that when we elevate the ordained, it is diminishing the laity, and vice versa. But as the bishop rightly observed, this is a false dichotomy. When we elevate the laity to their vocation, we are elevating the clergy. And the reverse is also true.
As it is, we atrophy the sense of vocation within a congregation when people do not let others take their part. In a sense, all Christians are members of the laity, and for almost all of us our primary ministry is properly exercised outside the church. Even clergy have missionary responsibilities outside the church, at least if we are doing it right. And inside the church, the job of the clergy is not do be the administrator or worse yet, to be the hired hand for pastoral care. Instead, the task of clergy is to exercise their vocation (preaching, teaching, sacraments, etc.) and to raise up the vocations of the whole company of the baptized community.
I hear parish clergy complain they are overworked, and the things they complain about doing are usually things that they shouldn't have been doing in the first place. I hear bishops complain about the state of clergy (or a lack of discipline) in their dioceses, and I wonder to myself, whose vocation is it to teach, mentor, discipline, and pastor the clergy? Because lay people are sometimes not encouraged or even allowed to do the work that is theirs, I sometimes see the tasks of clergy being done by lay people.
All of this distorts the body of Christ, the church. In healthy congregations, everyone plays her or his part, whether clergy or lay. You will see this in pastoral care, liturgy, church governance, and administration. There is plenty to do in the church, and it will go much more smoothly if we all do our part.
This pattern of the parts of the body doing work that is not theirs accounts for much of the dysfunction at the churchwide level in the Episcopal Church. Executive Council, General Convention, the presiding officers, and the Church Center staff have, at times, either stepped into the role of others or failed to do what was their to do. Until we sort out the whole complicated system, we won't move toward health.
We have all the resources we need to create healthy congregations and to have a healthy church. The prayer book and even our canons do a lovely job of spelling out the various roles of lay people, bishops, priests, and deacons. Then there are the scriptures, which also provide much guidance. I hope at least part of the churchwide restructuring conversation will include careful examination of the scriptures and prayer book, as well as the canons.
Locally, it is important for clergy leaders to exercise all the responsibilities that they have been given and not a bit more. Lay leaders must also do what is theirs to do. "For as in one body we have many members, and not all the members have the same function, so we, who are many, are one body in Christ, and individually we are members one of another. We have gifts that differ according to the grace given to us…"
If we can manage that, we will discover that God has given us everything we need in order to thrive as individual Christians and as a church. So let's all be feet, or hands, or elbows, or noses, or….
Image from the Malphurs Group blog.