The Great Vigil of Easter: Do not be afraid
A sermon preached at Christ Church, New Haven, CT at the Great Vigil of Easter 2013.
The angel said, "Do not be afraid; for I know that you seek Jesus who was crucified. He is not here; for he has risen, as he said."
+
There is a reason our celebration on this most holy night begins before the alleluias. We begin in darkness and bless the new fire to call to mind how God brought light into the world, both at the moment of creation and in Jesus Christ. The Paschal Candle reminds us of the pillar of flame that led God's people, and which leads us. It recalls for us the Light of Christ, the light which fills the world.
Tonight we told the history of salvation to remember how God has relentlessly loved us throughout history, again and again seeking our salvation. It's astounding, really, how God has never given up on us, though we never quite succeed in living how we are meant to live.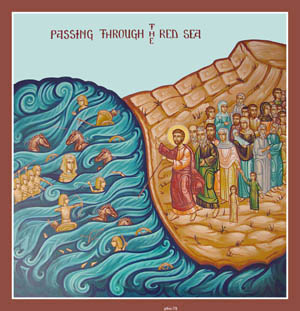 Take, for example, the deliverance of the ancient Israelites. God provides for them again and again, and still they complain about how things used to be. Once they escape Pharaoh initially, they see the advancing army, and offer one of the most poetic and ridiculous complaints in history: "Was it because there were no graves in Egypt that you have taken us away to die in the wilderness?" This is perhaps one of the earliest known examples of snark. It's just the sort of thing they would have would have tweeted, if Twitter had been invented a few thousand years earlier.
God leads the people across the Red Sea and destroys the army of their enemy. It is not just an escape, but a decisive victory. As Exodus says, "Israel saw the great work that the Lord did against the Egyptians. So the people feared the Lord and believed in the Lord and in his servant Moses." They believed in the Lord, for a while. But not for long.
Soon, when they get hungry, God provides food. They get tired of the food God gives them, and so they complain, mentioning how nice the food was back in Egypt. When they are thirsty, God provides water, but they don't like the taste of it. Time and time again, God provides for their needs, often in dramatic ways. And again and again, they briefly believe in God's power before returning to their short-sighted view of the world.
Egypt was all about death and graves. They were everywhere. The people of God are leaving that behind and heading toward the promised land, led by Moses. The people of God are leaving behind a culture of death and a life of slavery, and still they complain. The people of God are seeing how God continues to provide for them, and still they complain. God's people are unable to imagine a wondrous future, because they are chained to their past.
It might be convenient for us if this were only a story about God's people thousands of years ago. But of course, we are not all that different. God provides so much for us, and still we complain. As a nation, as a church, as individuals, we are unable to imagine the promise of a wondrous future, because we are chained to our past. Too often we hear how great things used to be, rather than how great things will be in the future.
The crossing of the Red Sea shows God's decisive victory for God's people. Easter is God's decisive victory for the universe. In case we were wondering about God's love for us, whether our future will be safe, Easter demonstrates God's decisive victory for us and all of creation.
+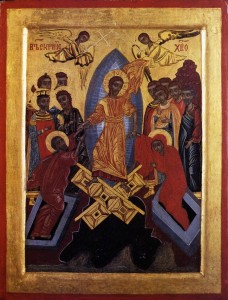 Easter is, of course, not merely a historic occasion we cherish because we learn a lesson from it or because it makes us feel good. Easter has changed everything, for ever. At Easter death was defeated, so we no longer have to be afraid. If the worst thing that can happen to us in this life is to die, and if we don't have to be afraid of that, we are truly free.
God did not just lead the Israelites to freedom, but did it in a decisive way, vanquishing Pharaoh's army. God does not just raise Jesus to new life, but does this in a decisive way.
My favorite Easter sermon of all time is the famous one by John Chrysostom. He preached beautifully about Christ's descent to the dead.
The Lord has destroyed death by enduring it.
The Lord vanquished hell when he descended into it.
The Lord put hell in turmoil even as it tasted of his flesh.
In Jesus Christ, God does not just defeat death, but rather taunts death. Jesus Christ descends to the dead to unbind the captives there. The technical, theological term for this is "cosmic smackdown."
As John Chrysostom more eloquently says,
Hell grasped a corpse, and met God.
Hell seized earth, and encountered heaven.
Hell took what it saw, and was overcome by what it could not see.
This night, this Great Vigil of Easter, is most certainly not about us. This night is bigger than the music, the flowers, and beloved traditions. This night is bigger than history. This night is about the whole of the universe. This night we celebrate our deliverance and the redemption of all creation.
As God freed his people in ancient Egypt, so we are freed. As Jesus Christ destroyed death, so we are freed from the sting of death. We no longer need to live in captivity to sin, to fear, or to a lack of imagination about a wondrous future.
Fear is everywhere. Our culture says, gather money, because you might not have enough. Our culture says, you need to look better, to get the right job, to know the right people, because it is not enough that you are made in God's image. Our culture says, stay safe in your home, and avoid things that might be dangerous.
Jesus said, perhaps more than anything else, do not be afraid. God has acted for us again and again. God has won life for us. Truly we have nothing to fear.
As Christians, we can reject fear. We can, in fact, taunt fear. We don't need more stuff. We don't need to have a fancy job title. We can boldly go into the world where God calls us. Christ has won for us the victory. It is a victory over death, sin, and fear. If you want to see what this looks like, examine the life of Archbishop Desmond Tutu. He looked into the faces of thugs with their weapons and laughed at them. With his hope-filled joy, he taunted them. Emboldened by fearless hope, reconciliation defeated hatred. It is Easter faith incarnate.
In ancient Egypt, God delivered our forebearers from a culture of death to a culture of hope. In a tomb in ancient Jerusalem, God delivered us all from death into life. Easter isn't about us, but rather about the whole creation. But if Easter doesn't shape our lives in some way, we aren't paying attention.
My hope is that we, tonight, can know that we are delivered from our culture of fear. Because we are unchained from sin, from death, from fear, we are free to proclaim the Good News and the spread the kingdom of God. We are free to be bearers of Christ's Light in the world. We are free to imagine a future that is wondrous.
Imagine life without any fear. That, my friends in Christ, is the life we have. Death is defeated, fear is conquered. Do not be afraid.
Alleluia! Christ is risen!
Amen.