Good Friday: By virtue of the Cross, joy hath come to the whole world
A sermon preached at Christ Church, New Haven, CT on Good Friday 2013.
For by a single offering he has perfected for all time those who are sanctified. (Heb. 10:14)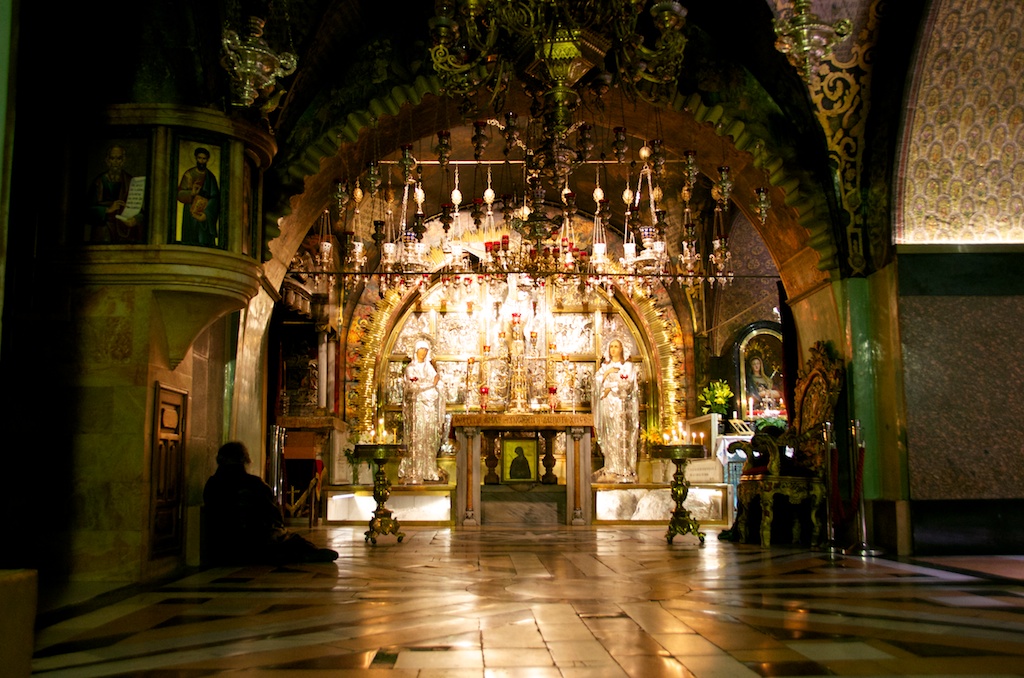 A few months ago, it was my great joy to make a pilgrimage to the Holy Land. Without a doubt, the high point of my time in Jerusalem was a night spent in the Church of the Holy Sepulchre. It turns out that, most nights, a few pilgrims are allowed to stay overnight in this most sacred place. On the night I spent in what was once viewed as the center of the world, there were just eight pilgrims in the building, alone. We had the place to ourselves.
For some of the night, I wandered through the building with my camera, getting some photos that you simply can't take during the day when the Church of the Holy Sepulchre is overrun by busloads of tourists. Mostly though, I spent the night praying, reading, meditating, and just savoring the silence of the place.
My first stop was to visit the Tomb of Christ — the place where tradition says Jesus was buried and then raised from the dead. During the day, you're lucky to get 30 seconds inside the Tomb. I spent almost an hour there, in which I read one of the Gospels to myself by candlelight in this most sacred place.
When I finished, I realized I wanted to back up a bit, as it were. So I walked over to the spot tradition says Jesus was crucified and died. In the Church of the Holy Sepulchre, it is almost impossible to separate Christ's death and resurrection. They are close physically, ritually, and theologically.
If you have been to Calvary Chapel there, you'll be able to picture it. There's an Altar over the spot where it is believed our Lord's cross was placed at his death. On either side of the Altar, glass panels reveal ancient outcroppings of stone, the top of the spot we know as Golgotha. It is stunning.
I found a spot not far from the Altar, plopped myself onto the marble floor and began to read the Passion according to St. John. It was, to use a common word advisedly, awesome.
At some point, I remember pausing and looking up at the scene. Another pilgrim was nearby praying. But that's not what I noticed. The wall behind the Altar — to place of the Crucifixion — is decorated with candles, golden metal, cloth, mosaics, and more. It is almost gaudy in its glittering adornment.
I found myself thinking about the incongruity. How could this sacred, sad, desolate spot, on which the Savior of the world died be so, well, festively decorated? It struck me as incongruous and possibly a bit outrageous. At the time, I left it at that.
Just as I was preparing to preach today did I have some clarity about why this might not be so much outrageous as appropriate, or even fitting. Today we will venerate the cross, in prayer, song, and with our bodies. But what we are venerating is not just the cross itself, but what it represents. To venerate the cross, or to gaze at the stunning adornment at the site of the crucifixion, requires us to enter fully into the heart of our faith. We have to ponder what it might mean for God himself to die, for Jesus Christ to be killed by the willful sinfulness of humanity, for love incarnate to appear defeated by hatred. Because we know how the rest of this wondrous and sacred story unfolds, we also know that this same cross, this same place, is the means by which our salvation is accomplished. The cold stone of a rock and the hard wood of the cross bring about the redemption of the universe. Veneration, indeed!
+
In the Passion, Jesus appears at the center of a world spinning out of control. Especially in St. John's telling, our Lord is supremely in control. Questioned, he maintains his silence. Writing about this, Romanus Melodus poetically says,
The Thunderer stood voiceless–the Word without a word;
For if he had spoken out, he would not have been overpowered.
Jesus knows what must take place. And he does all this willingly, out of his perfect love for us woefully imperfect people. As the story continues, Jesus seems to embrace his agonizing fate and eventual passage out of this early life. Jesus says, "It is finished," almost eager, it seems, to pass from life to death, and soon, from death to life again.
Eusebius says,
He did not wait for death, which was lagging behind as it were in fear to come to him. Instead, he pursued it from behind and drove it on and trampled it under his feet as it was felling.
Jesus doesn't just welcome death. He chases it.
This is the act of a God who loves us beyond measure, who desires intimacy with humanity so much that the One who was present at the moment of creation would condescend to dwell among us, knowing every sorrow, pain, and sting of humanity, even death. The very fact of what happens on Good Friday should end any question of God being distant from us and our ills. God could not, in fact, be closer to us than the Passion reveals for all to see.
We venerate the cross because of what is accomplished by it. When Jesus says, "It is finished," he is surely referring not merely to his earthly life, but to our salvation. "It is finished" means our salvation is accomplished. "It is finished" means that death defeats death itself.
Even today, with black vestments and greatest solemnity, we are not far removed from Easter. In a few moments, we will say these words:
V. We glory in thy Cross, O Lord:

R. And praise and glorify thy holy Resurrection: for by virtue of the Cross, joy hath come to the whole world.
We should not for a moment look away from the horror and sorrow of Good Friday. It is a necessary reminder of the depths to which God was willing to go to for our salvation. We should also never forget for a moment the wonder of the empty tomb, made possible by a man hanging on a wooden cross on a rocky outcropping in ancient Jerusalem.
These days, many Christians look at the cross one dimensionally, seeing it only as the means of atonement. That is surely what happens here, as the scriptures say. But our liturgy bears witness to a broader understanding of the Cross, a view which encompasses the inextricable connection between life, death, and resurrection the ancient church proclaimed.
Good Friday is the day we stare at the cross, at the wounded, dying body of our Savior. Good Friday we remember the profound depths of God's love for us. Good Friday fills us with sorrow at the power of sin and its consequences. And even on Good Friday, we balance all that with joy in the hope of new life.
It is finished. Our salvation is accomplished.
It is finished. For us this is not an end, but a new beginning of our own earthly pilgrimage. Anglicans should not imagine that the cross functions only as the completion of a cosmic equation which somehow removes our need to follow Jesus. The Cross does not prevent our need to seek to grow into the full stature of Christ. Rather, the Cross invites us to contemplate with joy the mighty acts of a God who has sought our salvation relentlessly. The Cross should perhaps provoke both horror and gratitude as we gaze upon it.
We can go on about the work and ministry of following Jesus knowing that God's love for us is boundless and deeper than we can imagine or than we deserve. We can go on about the things God calls us to do, fearless in the knowledge that God has faced evil and death on our behalf.
It is finished. Our salvation is accomplished.
The Cross fills us with hope, because we see that God could not possible love us more and we know that death is defeated. In gratitude for our salvation, we glory in the Cross.
As the Letter to the Hebrews says,
Let us hold fast the confession of our hope without wavering, for he who promised is faithful; and let us consider how to stir up one another to love and good works, not neglecting to meet together, as is the habit of some, but encouraging one another, and all the more as you see the Day drawing near.
It is finished. Our salvation is accomplished.
Amen.