Palm Sunday: Lo, your king comes
From the morning readings of the daily office: "Lo, your king comes to you; triumphant and victorious is he."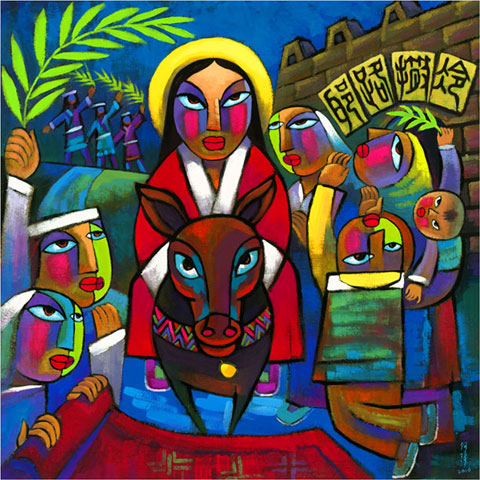 Zechariah 9:9-12
Rejoice greatly, O daughter Zion!
Shout aloud, O daughter Jerusalem!
Lo, your king comes to you;
triumphant and victorious is he,
humble and riding on a donkey,
on a colt, the foal of a donkey.
He will cut off the chariot from Ephraim
and the warhorse from Jerusalem;
and the battle-bow shall be cut off,
and he shall command peace to the nations;
his dominion shall be from sea to sea,
and from the River to the ends of the earth.
As for you also, because of the blood of my covenant with you,
I will set your prisoners free from the waterless pit.
Return to your stronghold, O prisoners of hope;
today I declare that I will restore to you double.
Let us pray.
Gracious God, in your mercy, help us to enter fully into the awe, wonder, sorrow, and joy of this Holy Week. Through Jesus Christ our Savior. Amen.
Image: The Triumphal Entry by He Qi.